Cyprus is getting tons of press but unfortunately for all the wrong reasons.  Not for its sunny climes, gorgeous beaches, friendly folk or delicious food…which it should…but for the unwanted "haircuts"  that are being forced on its hardworking citizens.  If you are a regular to Cyprus (which I am becoming since dating one Greek-Cypriot lad), you can already see the changes that are occurring to its capital city. There really is no guide book that can keep up to date with the day to day changes.

The majority of tourists forgo a trip here – collecting their bags and heading directly to the beach but if you make that special effort there is a lot to see…it is the capital after all.
Before the recession hit, the new part of Nicosia was booming.  Stassicratous Street was lined with stores like Versace and Dolce & Gabbana and successful Nicosians would shop and then sip their lattes at the outdoor cafes.  The old town which encompassed everything within the Renaissance Venetian walls was dead: only one or two museums and a few wonderful restaurants but really not a place you would spend much time.
Now everything has changed.  Unfortunately almost everything on Stassicratous Street is empty or closed.  The action has moved to the old town.  Not that everything is now hip, it's just a rediscovery of the old ways of cooking being cherished again and new bars are popping up everywhere.  The ancient buildings lend themselves to secret trysts – what looks like a plain doorway on a nondescript building opens into back gardens, fountains and courtyards inviting you in.
It's all happening on or around the pedestrian friendly Ledra Street, the main street of Old Nicosia.  At one end is the border crossing into Northern Nicosia and the other exits out onto Eleftheria Square which is being totally transformed by Zaha Hadid.  I would make the effort to experience Nicosia before it is Zaha-ised.
(Nicosia has the burden of being the last divided city in Europe since the Berlin Wall fell – literally split in two parts: the North (Turkish) and South (Greek).  Here I can only comment on the south as its changes as I was unable to spend more than a day in the Northern part but more on that later.)
  ZANETTOS CYPRUS TAVERN
Trikoupi 65, Tel: +357 22 765501
My first intro to Cyprus cuisine – taken here by the Cypriot himself – loud, casual, touristy but it's got to be done.  Meze is served – the Middle Eastern style of eating – thousands of small dishes that keep coming whether you are full or not – so pace yourself.  If you want hip and trendy, head somewhere else!
  KARVOUNOMAGEIREMATA (literally 'food cooked on charcoals')
154 Ledras Street, Nicosia, Phone: +357 22 680067
You would pass by this restaurant without even knowing it was there  – except in summer, when there are few tables street-side but don't sit here.  Walk past the charcoal grills straight into a true outdoor garden taverna – wooden chairs, linen table cloths, kebob, live music, sometimes a bit little louder than it needs to be.  The night we were there the playlist was old Greek love songs belted out by a bearded Adonis-like character playing his own acoustic guitar – if that wasn't worth the trip, I don't know what is!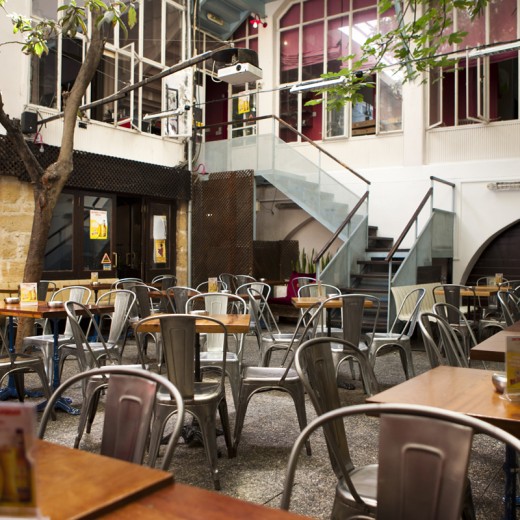 OKTANA CAFE
6 Aristeidou Street, Nicosia, Phone: +357 22760099
This was one of the hippest places around – a book store/cinema/shisha bar and restaurant all wrapped up into one.  They even have an outdoor bar across the street, but I like the original space.  Artsy-fartsy books are available in Greek and English – so if you forgot some beach reading there is Freud's Book of Dreams or the life of Che Guevara handy. On each side of the book area are rooms intimate enough to plan your next coup…but it's all happening straight ahead and down the stairs in their garden area (which is covered but airy). Great mojitos and popcorn are served at the bar and standard Crypriot fare is on hand to soak up the alcohol.  There is even a hidden bar and disco if you are a late nighter – needless to say, I was in bed when all that went down!
WEAVING MILL
67-71 Lefkonos Street, Phaneromeni, Tel: +357 22762275
So hip it's insane…the literati of Nicosia pass untold hours eating Feta flavoured Lay's and drinking Ouzo while playing chess in this tea house/bar.  Sinking into the couches, it's hard to motivate so make it the last stop of the night.
THE MARKET COMPANY
Pithonos 8 (off Onasagorou), +357 22270504
The new girl on the block…trendy and written up in every article in town. You really must book as there are about twenty tables inside and out and who wants to be inside when the summer evenings cool down.  In a little alley way linking two main streets sits The Market Company.  Hip drinks like Berry Mojitos are perfect for feeling on holiday.  The menu uses Cypriot ingredients like halloumi, calarmi, figs in tapas-like dishes for all to share.  Definitely the place to be!
HABANA
11-19 Lykourgos Street, Tel: +357 22 67 68 68
Forget going on a Saturday night at 10am – the place is packed!  Get here super early to grab your spot, sip rum inspired cocktails (the only thing Carribean here) and rock to the loud but fun videos projects on the walls. Definitely a Friday or Saturday night place as the Cypriot and I came by on a Sunday and we were the only ones here…but the drink was good!
 PRODROMOU PARK BAR & CAFE

Prodromou Park, keeping walking and you will find it!
I did think while being led here late at night through the woods, that this might be it for me.  Not that my Cypriot has plans to do away with me but it was very spooky until we came upon about twenty tables filled with revelers.  The smells emitting from this tiny shack of a restaurant were intoxicating.  There is not much choice but what there serve is some of the most wonderful Lebanese/Cypriot food in town. Order a beer and chow down on the Cypriot salad, the best I have had.  The shish taouk rivaled Beirut Express in London, need I say more.
AEGEON TAVERN
Ektoros 40, Nicosia, Tel: +357 22 433297
Spitting distance from the Famagusta Gate, one of the must sees of Nicosia, is this really wonderful taverna.  Set in the sunken garden of an ancient Cypriot house, Aegeon is everything a taverna should be: lively, delicious and atmospheric!  Their specialty is Meze – the never ending parade of the best bits of Cypriot cuisine, but here you get to choose what you want, so much less waste as there is nothing brought to you that you did not order!
IL BACARO
131D Prodromou Ave., Nicosia, Tel: +357 22-676 969
www.bacaro.com.cy
The Venetians are back in Cyprus, after how long?  Let's just say a long time and now they finally have some please to enjoy their Aperol Spritz. I promise I wasn't looking for a touch of Venice in Nicosia but it came to me.  I was brought here by the Cypriot and friends after our delicious kebab in the Park.  The Venetian owner has been in Nicosia for about 20 years and now everyone has caught up to the wonders of the Bellini and the Spritz.  If you MUST have Italian food, skip Pizza Express and come here.  You know you are in good hands!
EVROULLAS
Klokkari arcade connecting Onasagorou and Ledra street. Mon-Fri 12:00-15:00
It's not about the quality of food here – it's about atmosphere. Lunch time – it's the place to be.  You could not get more local that this.  Everyone goes here: doctors, lawyers, I was brought by an architect.  You are in and out but the cuisine is pure old time…chunks of lamb, pork, chicken, grilled potatoes, fried halloumi – always exactly what you expect and never disappoints.
AVO: LAHMADJOUN
22, Onasagorou Street, Tel: +357 22661172
Every culture has its after hours treats: smoked hot dogs in Scandinavia, chips in London, pizza slices in NYC – here in old town, there's Lahmadjoun:  "a round, thin piece of dough topped with minced meat (most commonly beef and lamb) and minced vegetables and herbs including onions, tomatoes and parsley, then baked. " (wikipedia)  Well, Suzipedia says it is fantastically amazing especially after all those drinks at Habana and the Market Company.  The best part is – it costs about €2.  AVO has expanded and now serves pizza too but it's really all about the Lahmadhjoun!!
VIENNA
147 Keryneias, 2113 Aglantzia, Nicosia. Tel: +357 22337245
9 Trikoupi Street, 2113 Aglantzia, Nicosia. Tel: +357 22 339186.
There are a few bakeries in Nicosia but Vienna takes the cake – I had to use that cliche.  There is nothing they don't do well:  olive bread, cheese bread, spinach and feta pie, baklava, kataifi (my favorite!), ice cream, cookies, rice pudding…can you tell my mouth is watering just writing this.  They pack stuff up so you can take it on the airplane too!
SIGHTS
THE FAMAGUSTA GATE
As Tyra would say – it's got that pretty ugly thing going.  You have to see it because it's on the list so my advice is go at night when it is lit up beautifully and then walk down the street to Aegeon Taverna.
CYPRUS ARCHAEOLOGICAL MUSEUM
1 Mouseiou Street
www.mcw.gov.cy
Whatever Luigi Palma di Cesnola, American consul to Cyprus in 1865, didn't steal to start the Metropolitan Museum is presented here.  (According to the Met: The Cesnola Collection remains a wonderful storehouse of ancient art and artifact, and it is by far the most important and comprehensive collection of Cypriot material in the Western Hemisphere.)  Well, it's never coming back so be thankful there is something left to see and it's all here!
HATZIGEORGAKIS HOUSE & MUSEUM
20 Patriarchou Grigoriou Street
A super cool house belonging to a really rich guy from the 1700's  – the last of its kind.  According to the guide wikimapia "Hadjigeorgakis Kornesios was a dragoman, the official interpreter for the Divan (Council) of the Sultan for thirty years from 1779. This title, which was one of the most prestigious titles given to the local Christians by the Ottoman authorities, gave the opportunity to Kornesios to accumulate huge wealth and power. His power brought jealousy to his enemies, who cunningly managed to have him beheaded on 31 March 1809 in Istanbul." It's a wonderful example of Ottoman Architecture and worth a visit.   One of my favorite sites in Nicosia.
BEDS
HILTON CYPRUS
Archbishop Makarios III Avenue; Tel: 357-22-377-777
www3.hilton.com/en/hotels/cyprus/hilton-cyprus
Really the only place to stay in Nicosia. I have only used the pool – which is ok but there is not much choice. I wouldn't call it a Best Bit but the only Bit in town.