I know it doesn't sound luxurious but eating at a counter can be just that. You have the full attention of both the waiter and the cook. Climbing onto the stool, feet hanging, watching the ritual that makes a meal emerge from its ingredients is one of my culinary pleasures and, don't get us wrong, these are three great restaurants in Barcelona!
Be it a short stack with a side o'bacon or Tortilla Atomica, I always get a rush. Although it feels so American, I truly believe the trend began in Catalonia … everywhere everyone is eating at a bar. So on the first day of our recent trip to Barcelona, I made it a mission to eat at a counter for every meal.
Woke up and headed straight out to La Boqueria Market, off La Ramblas, home to one of the most famous tapas bars in Barcelona. As soon as you enter the market, you can see the line of people waiting for the few precious seats in front of Pinotxo Bar. Although I haven't lived in New York for more than ten years, my ability to recognize the potential of a soon-to-be empty bar seat is as keen as ever – same goes for a taxi!  So we climbed over some lingering tourists and were seated in less than five minutes. 
Those who know me well know how much I hate croissants. I am not conned by the "flaky, buttery, melt in your mouth" bread roll that the French have convinced everyone to fawn over in the morning.  No idea why they are so popular, but all that changed when I had the Pinotxo-fied croissant. I saw a lady next to me eating one and since I didn't know it was actually a croissant I naively said,"I'll have one of those please."  What a difference when brown sugar is sprinkled all over it and then it's pressed into a grill. Not only is it edible but truly a thing of beauty, especially accompanied by a café con leche. We had a whole day of eating before us, so we left it at that. Next time we need to go back to eat their real food. 
After a visit to Gaudi's work-in-progress, La Sagrada Familia, and a jaunt through the Barrio Gotico, we made our way to Enric Miralles's Santa Caterina Market. No, I didn't know who he was either…but I was quickly brought up to speed by the Cypriot.  He's not only Best Bits' photographer extraordinaire, but, by day, an architect moderno and, thus,  knows a whole load of stuff about architecture.  
Technically Santa Caterina is Barcelona's oldest market built in 1848 and redesigned in 1997 by Senor Miralles, who had previously won the RIBA Stirling Prize for the Scottish Parliament Building and "Golden Lion" from the Venice Biennale. Tragically, he died at the young age of 45 of a brain tumor, so as we sat down to lunch at the bar of Cuines Santa Caterina, we toasted to his brilliance and thanked him for adding to the beauty of the world.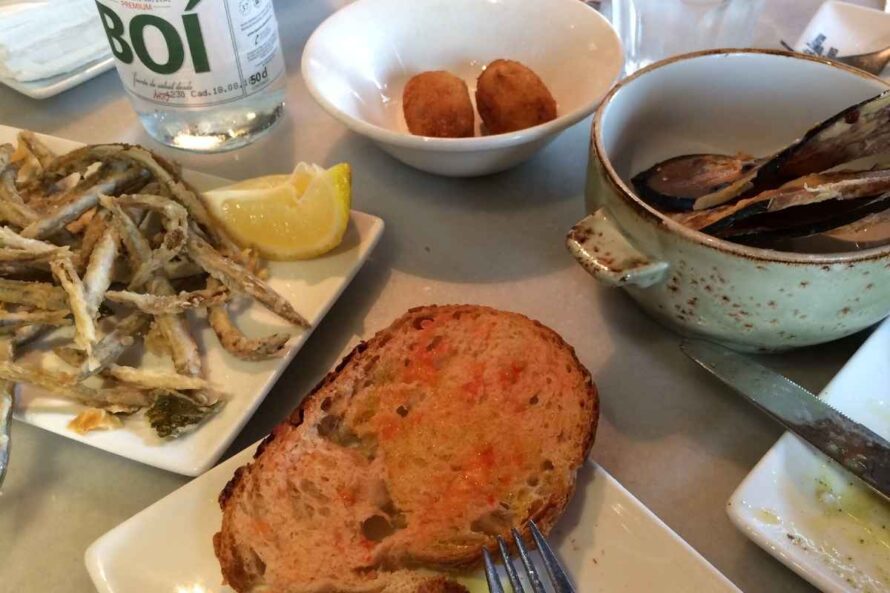 As you can see from the photo above, we ordered the Best Bits of Barcelon-ian tapas: Pan Con Tomate, Pescadito Frito, Berenjenas Fritas con Miel, Pincho de Tortilla, Croquetas and Calamares Plancha….all sloshed down with the aforementioned sangria, por supuesto! Loaded up and ready to take on the afternoon, we continued on our explorations from El Born to the Mies Van der Rohe Pavilion up the huge hill to the Joan Miró Foundation to make room for dinner! 
Cal Pep, the bar of champions – there is not an English chef who doesn't love this place: Sam Clark of Moro, Jason Atherton of Pollen Street Social, the list goes on. It's one of the most beloved restaurants in Barcelona. You just have to wait in line and we did – for an hour. It was a good thing we were still full from lunch, though, once seated, you forget all about the wait. Order yourself or just let them keep bringing things like we did. Clams in broth, sautéed mushrooms, it just keeps coming and we didn't miss their famous monkfish & potatoes served on the bone or off, if you want it that way. They make it look easy!
Sated and satisfied, we trundled home to our comfy room at the Hotel Casa Fuster. We were happy in the knowledge that tomorrow we could eat again!
NB: Don't be confused though – there is another Ca'l Pep – Vermouth bar in Gràcia.  They serve amazing charcuterie and marinated anchovies as a chaser to their vermouth. Read all about it in a different post!
Pinotxo Bar  – La Boqueria Carrer la Rambla, 89, 08002 Barcelona, Spain
Cuines Santa Caterina  – Francesco Cambó 16, 08003 Barcelona, Spain
Cal Pep – Plaça de les Olles, 8, 08003 Barcelona, Spain