Can you really get to know someone in just one date? A little light conversation over lunch, a run 'round town and a sip or two of sparkling wine as the afternoon sun begins to set? Why not! If the stars are aligned, all these ingredients have the potential to add up to at least a second date.  That's how I hoped it would go on my first date with Franschhoek, our next stop in the South African Winelands.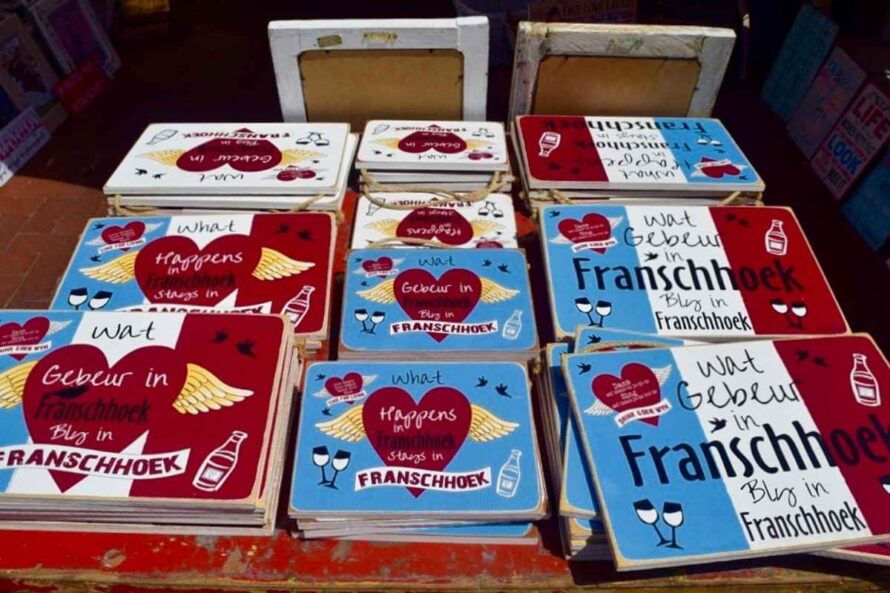 Our conversion began as we soon entered the gates of the divine hotel and working winery, La Clé des Montagnes (the Key of the Mountains) the perfect Franschhoek accommodation!
As we wandered in and out of their four delightful villas, we discovered how glorious it was to be a guest. Beds big enough to swim in and pools large enough to sleep, 24-hour concierge service, chefs on call. The pièces de résistance were what I call "buddy showers": one huge shower with two shower heads that could be turned on at the same time. Every villa has a different feel, but they were all decorated by Sarah Ord, Cape Town's interior designer extraordinaire.
Caveat Emptor: Don't sit in a chair or on the sofa without wanting to stay there all day.
Before those Circe-like sofas could tempt us, we set out to explore the adorable Franschhoek. The French Huguenots settled here in the late 17th century and as soon as they set their valises on the terroir, vineyards began popping up all around town. Hundreds of wineries cover the landscape, making one of the most visited areas in South Africa.
The main street, funnily enough, named Huguenot Road, is still lined with the atmospheric Cape Dutch architecture making it feel as if you stepped into a stage set.
The shops, on the other hand, bring you right back to the modern day. Ebony Design, set in a small square, was one of my favorites, filled with Best Bits created by local South African artists. I could have bought everything, especially the colorful mugs by Clementia Van Der Walt, a famous South African potter. Avoova, right next door, makes refined and intricate jewelry, plates, cups, tableware and decorative items all out of the same material: ostrich eggshells. Who would have thought these tiny pieces would lend themselves so well to the decorative arts?
The one Bit I was on a mission to find was a beaded hippo. OK, I admit it…I brought, not only the hippo, but a whole menagerie home with me as you can't just buy one. This tiny assembly of wire and beads never ceases to delight me and, thankfully, you can find them on practically every street in South Africa. If you see one you adore, buy it as they are all different. The Cypriot received the one and only purply beaded armadillo I could find.
The hooting of the Wine Tram bell, as it chugged on by, taking thirsty punters to their next tasting, reminded me that our own wine was being chilled and waiting for us back at La Clé.
We arrived back laden with purchases to find lunch being served on the porch of my favorite of all the villas, Le Manoir. They popped the cork as we sat down, sipping while soaking in the sun, overlooking the montagnes that give La Clé its full name. An afternoon such as this was sure to guarantee that second date. 
NB: I was the guest of Ethos Marketing,  South Africa Tourist Board, and South African Airways.  It was one of the most amazing trips of my life and I can't thank them enough.