The beauty of Inle Lake lies in its serenity.  You know there are tourists but it is very rare to bump into anyone else on the lake and that's what makes the Inle Lake Boat Tour an essential when visiting this gorgeous area in Myanmar.

As of now, there is only one luxury hotel on the lake, The Inle Princess Resort. Nothing beats this hotel for solitude and relaxation.  We were picked up from the jetty at Nyaung-Shwe and taken by a rather chilly boat ride to the hotel. 
As we approached, the boat's motor was shut off and we slid up to a "gate house" on the water.  A young boy jumped in and guided us toward the hotel entrance with the very distinctive Inle one-legged rowing shtick.  All was calm and tranquil, as he brought us right up to the pier outside reception.
The December sunset was cooling down the area as we were led to our waterfront villa.  No heat in the rooms left it pretty nippy, but as soon as the fire was lit, it was hot enough to be comfortable.
We unpacked and then wandered down to the pretty dining room for some sustenance.   Here we found what we had been longing for – the famous Shan noodle soup.  Inle Lake is in the Shan State which borders China, Laos and Thailand, thus noodle soup would just have to be part of their diet. 
Accompanied by Red Mountain Shiraz, the local vineyard fewer than three kilometers away, we were soon warmed up.  Exhausted and a little tipsy, we headed back to the room for an early night. The electric blanket had been turned on to high and the fire tended to so that all we had to do was quickly change and then jump into bed.
We were up early for our first day out on the lake.  Fisherman and farmers were the only signs of life, except for the occasional tourist boat that would zoom past.  We sat motionless watching the fisherman at work. Throwing out their nets, gathering them up again, rowing one-legged to another spot and performing the whole dance over and over.
It was absolutely hypnotizing, until, what seemed like forever, we were jolted awake by our motor revving up. From here, we sailed through acres of floating tomato plants. Inle Lake is the largest producer of tomatoes in Myanmar.
The amazing thing is that the crops are literally floating on water – no roots at all – hydroponic farming at its simplest. Farmers move the crops around the lake by cutting them into long strips and weaving them in and out of each other.

We slowly rowed past villages called I-Dannk Kyi, Nga-Phae Chang, and Kay-Las. The houses, stores and restaurants float on stilts above the water, making it tricky to borrow that cup of sugar from your neighbor.
Sliding smoothly into Inpawkhan Village, the sound of the hard-at-work weaving looms echoed across the lake.   Ko Than Hlaing weavers are world renowned for transforming the exotic lotus flower into fabric.  I am not alone in treasuring this exclusive and rare material.  Loro Piana, the Italian fashion house, buys it as quickly as they make it.  Of course, there is a shop attached to the factory and you can purchase a lovely scarf yourself without having to detour through Milan.
A quick stop for lunch at Mr. Toe's on Thalley Village and then off to see one of the oddest-looking Buddhas anywhere, any place.  Phaung Daw Oo Paya Pagoda's blobby Buddhas have been so loved and adored, i.e. covered in gold leaf, that they look like massive gold Christmas ornaments.  You would need a mighty big tree though. Only men are permitted to perform the ritual of adding more gold leaf, leaving the ladies to surreptitiously take photos, which technically is not allowed!

After the official blinging of the Buddhas, we headed to one of the most unmissable bits of Myanmar, Indein Village.  This mysterious smattering of over 1000 temples dating between the 14th to the 18th century takes you utterly by surprise. Hopping off the boat, past a few small cafes and then under a column lined portico, the plain in front of you opens up to reveal pagoda after pagoda. 
They appear to be living, breathing creatures – half stone/half plant.  Trees and shrubbery have wormed their way into crevices and through bricks.  They are slowly being eaten up by the terrain around them. Anyone remember the film Logan's Run…

It was getting dark as we returned to our hotel.  We took full advantage of the outdoor shower as sun and moon changed places.  Drying off while the fire was burning and tea was being sipped was incredibly relaxing.  A quick nap and then off for more noodles to get us ready for Day 2 on Inle Lake, Myanmar.
There are many more places to explore in and around Inle Lake and our last days included some Bits that should not be missed.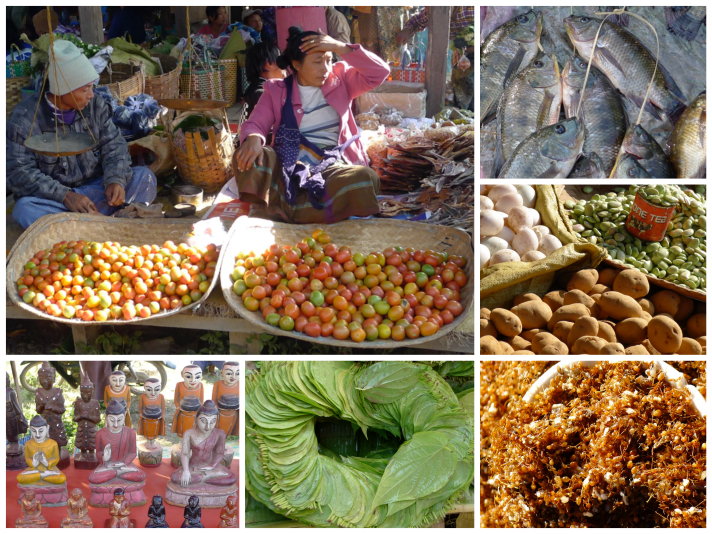 The 5 day market provided us with the best Myanmar market experience – and we love our markets!  It moves to a different venue everyday of the week, thus the name "5 day market": Ywama, Phaung Daw Oo Pagoda, Indein, Nga Phe Kyaung Monastery and Mine Thauk. 
In my opinion, a market can be the fastest and most enjoyable way to acquaint oneself with a people.  You find everything in one place: the recognizable – food, clothes, housewares, perfumes, soaps – and the exotic – betel leaves, ants for dinner, wooden Buddhas, pink rice.  After haggling over some pretty silver jewelry, we trekked up to the Mine Thauk Forest Monastery to see a view of the entire lake. 
We had a late lunch at a delicious Chinese restaurant on the lake, the Golden Moon, and then back to the Inle Princess Resort. We had tea and then borrowed bikes and went out the back to explore on our own.  People going about their business, farmers farming, children coming back from school – everything you would expect except in Myanmar.

Another unmissble Best Bit is half way between Nyaung-Shwe and Heho Airport.  If you are traveling that way, you must make a stop.  Shwe Yan Pyay Monastery is an amazing 19th century red teak decorative structure with large oval windows standing on stilts – the theme of the area. 
Inside it is covered with carved wooden bas-reliefs decorated with colorful glass mosaics and gold paint.  When we were there, about ten novices sat at the windows studying, chatting and playing with the cats that strut around acting like custodians of the place.
Next door to the monastery is a clunky white stucco building that holds a treasure trove of Buddhas.  There must be one thousand each in his own tiny niche with dancing figures in between each decorated in blue glass.  It is really beautiful and intoxicating – row after row after row beckoning you to go around and around and around the temple.

We had one more quick shopping opportunity as we approached the airport.  Our guide took us to a family run paper shop.  Paper making is an ancient Inle Lake trade which is still being carried on today.  Massive paper umbrellas, fans, stationery – buy them here if you can as we did not see them anywhere else as pretty in Myanmar.
Inle Princess Resort, Magyizin Village, Eastern Inle Lake, Tel: +95 (81) 209055
Red Mountain Estate, Taung Chay Village Group, Tel: +95-081-209366
Ko Than Hlaing Silk and Lotus Weaving, Inpawkhon village, Inle Lake, Myanmar Mobile: +95 (0)95211891 – they take credit cards.
Mr. Toe's Restaurant, Near Phaung Daw Oo Pagoda, Inle Lake.  Tel: 09 512 4861
Golden Moon Restaurant, Near Yvama, Inle Lake.
The Bling Buddhas: Phaung Daw Oo Pagoda
Indein Village
"5 day market": Ywama, Phaung Daw Oo Pagoda, Indein, Nga Phe Kyaung Monastery and Mine Thauk
Shwe Yan Pyay Monastery