Travel is all about expectations, right? One person tells you a destination is fabulous and you arrive to find the opposite and vice versa. It's all subjective and, no matter whose opinion you trust, travel is truly an individual pursuit.
When I landed on the tarmac in Bucharest, I expected to arrive in a city where cement was king. I could have bet money that the only thing to do in Bucharest was to visit block after block of communist-era, all-purpose museums, restaurants and bars built of, you guessed it, cement. How wrong could I have been?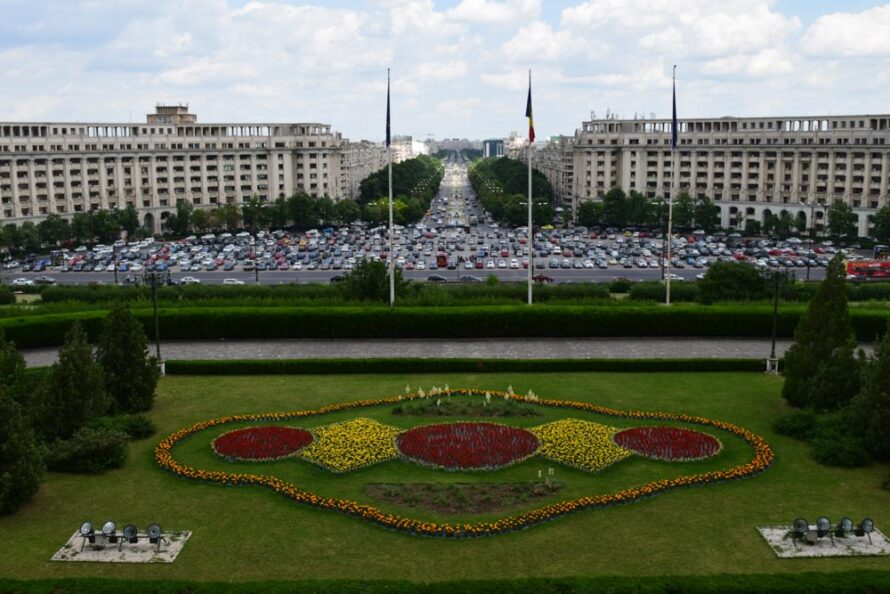 Not only was the drive from the airport to the old town, one of the prettiest and greenest of any I've visited (easily beating the M4 in London), but every other expectation I had of this former Communist city was smashed.
Here are a few of the very wrong assumptions I had about Bucharest and the reality I found instead:
Old Town
My hotel was located smack down in the middle of Bucharest's Old Town, a mainly pedestrian section of the city known for its rowdy bars, thus a stag-do magnet. The Mansion, one of Bucharest's most luxurious hotels, sits on one of its quieter streets.
Built in the late 1800's and the former home to architect Alexander Protopopescu, the Mansion was completely transformed a few years ago and now is THE place to stay in Old Town.
Each room has a completely different theme, from Art Deco, Vintage, Boho, to Transylvania. Mine was Eclectic – a blend of Pucci and contemporary styles. I loved being in the middle of it all and, yes, as my window was facing the street, there was a slight boom-boom from a club below, but it lulled me to sleep and was never loud enough to wake me again.
The Best Bit about staying in Old Town is waking up in the middle of everything: wonderfully evocative streets, orthodox churches and the fabulous Carturesti Carusel bookstore.
Ceausima vs Neoclassicism
As I said above, I assumed all the glorious historical buildings had been torn down in a wave of Ceausima- the nickname for Dictator Nicolae Ceausescu's demolition of entire sections of Bucharest in order to create his concept of a modern world. This did happen, but thankfully, he did leave a large portion of the city centre untouched.
Almost all the beautiful Neoclassical buildings in the town centre were left alone. You can stroll from one to the other from Revolution Square down the 19th Century Calea Victoriei. From left to right in the picture above, you can find the Athenaeum Concert Hall, one of the most important buildings in Romania; the Kretzulescu Church – one of the oldest in the city; the Pasajul Macca-Vilacrosse, a passage that harks back to a time when Romania was called the "Little Paris of the East; The National Museum of Art and the University's School of Architecture.
The Little Paris of the East – yeah sure!
Neoclassical buildings, passages and an Arc de Triomphe? This moniker was given to Bucharest in the 19th C after a spate of building works and it still retains that flavor. In some ways, it even out Paris's Paris. Who would even believe that Bucharest would have more green space than the City of Light? With more than 23 square meters per person, it beats Paris! Spend a few hours wandering around the Herăstrău Park and one of my favorite outdoor museums: the Dimitrie Gusti National Village Museum.
We spent the morning ambling in and out of more than 250 farms, houses and churches that make up the 1930's built, outdoor National Village Museum, where every style of village home is represented from sunken houses to churches to windmills.
Wander through and then head out the far exit, do a loop through the park and over the river's garden island to see larger-than-life sculptures of the heads of the founders of modern day Europe, e.g. Jean Monnet, Robert Schuman, Altiero Spinelli, Alcide de Gasperi, Konrad Adenauer, Walter Hallstein, Paul Henri Spaak, Jean Rey, Johan Willem Beyen, Sicco Mansholt, Joseph Bech, and Pierre Werner.
Then head out of the park to eat at Casa Doina – one of the loveliest spots in Bucharest to have lunch. See what was served below when I talk about food!
You say Covrigi, I say Pretzel
I assumed that pretzels were purely German…well I was wrong. Sitting in a biergarten in the middle of Munich with a hard German pretzel accompanied by an ice cold lager is one of the great joys in life. Still, have you tried a cherry filled pretzel? Or one named after me – see the above photo! The ultimate snack food here is as satisfying as its Germany cousin. The combination of cooked cherry within salty bread is definitely a Best Bit of Bucharest. We found ours at a tiny storefront in a edgy part of town next to the Subway Sandwich shop on Bulevardul Unirii.
Cocktails = Pálinka (Romanian Moonshine)
The drink scene in Bucharest might not be as vibrant as London, but don't worry, there's way more to drink than home-brewed firewater pálinka. Check out my interview with Alex Ciomârtan this week from Fix Me a Drink, the coolest bar in town.
Make sure you stop at Origo – a coffee bar by day and cocktail bar by night. Steps away from the old town and with a whole different vibe, Origo rivals the more high volume joints in town. I had the Endless Summer – a mix of elderflower cordial, coffee and tonic and, I swear, it was life-changing! I have a feeling I won't be replicating it at home, but I will try!
For a beer, the first place in town worth a visit is the touristy Caru cu Bere – the oldest restaurant in Romania. Glory in its original stained-glass windows and fantastically ornate woodwork. The food is good too, but it's all about the over 100 year old interiors!
If you aren't into booze, lemonade is the way to go. All different varieties are served – with lime, mint, fruit and always loads of ice. On a hot day like ours, it was perfect.
Sour Soup with Tripe for Breakfast, Lunch and Dinner
I know most of the world has evolved gastronomically, but I have to admit that I was ready to be eating ciorbâ de burtâ (tripe soup) and heavy dishes at every meal. It couldn't be more different. The Mediterranean influence is undeniable with local cheeses resembling feta and hummus like spreads. My favorite local dish was Ghiveci – an eggplant dip (upper right hand corner of picture) that is a cousin to Italian caponata.
Of course, if you want meat and potatoes, don't miss, Lacrimi Si Sfinti in the Old Town. Traditional Romanian dishes are prepared with a tongue-in-cheek twist – their "Forget Me Not" Sarmale – Stuffed Cabbage boiled in white wine served with polenta. I think this is what the 2000 year old man had in mind when he said that he was "kept alive by a strict diet of cool mountain water and a stuffed cabbage." (Mel Brooks) 
CRIBS ALLA Ceausescu
So, one thing I was right about – the Ceausescu's "Palace of the People," as it was so called in the many years it was being conceived and built and now home to the Romanian Senate, is a blot on the landscape of such a pretty city. The second largest administrative building in the world after the Pentagon, this mess of architectural styles is a constant reminder of the Ceausescu reign.
Combining a bit of Neoclassicism, a bit of seventies mod and a whole lot of bad taste, the modern day Romanians have had to find uses for it and so now it houses the Senate and several museums: the National Museum of Contemporary Art, the Museum of Communist Totalitarianism and the Museum of the Palace.
Everything is oversized and covered in marble, crystal (480 chandeliers, lights and mirrors), steel, bronze, wood (oak, cherry, elm and more), carpets, velvet and brocade, and, of course, adorned with silver and gold.
Surprisingly though, his own personal home in town, aka the Spring Palace (Palatul Primaverii), was quite modest in comparison. It might look small from the outside, but this was no typical Bucharest communist household.
Why do modern dictators all have the same taste – gold, dark wood and heavy drapery with a penchant for mosaics?
The Ceausescu's were no different – plus they liked to have their comforts which included a screening room – Kojak was Nicolae's favorite import, a spa and an indoor pool.
The only good looking things in the room were the Venetian mirrors and a gift of an Aubusson rug from another dictator of the time, the Shah of Iran.
On that same dictatorial theme, Zoia, the Ceausescu's daughter even had her bedroom suite modeled after Marie Antoinette's!
What dictator can resist a few peacocks as well!
I am not too proud to admit that I was wrong about Bucharest. I just hadn't expected it to be so full of everything I adore in a city – a sense of history, good food, great drinks and green walks. I should have known better – my great-grandmother would never have lived here without it being fabulous.
PIN IT LATER
Thanks so much to JayWay Travel who arranged all the details of my time in Bucharest! I had a great experience which is reflected in the post above and, of course, everything on Best Bits is my own opinion!