Everyone is looking for the newest things to do in Paris. Sometimes it's great to feel you are the first on the block but it's equally fun to haunt the same old place for hundredth time.  So on my last trip to Paris. the Cypriot and I not only joined the hoards in visiting the beau nouveau, but we also made time for the belle epoque.
Upon hearing that we were off to Paris overnight, my Cypriot had one thing on his GO, DO NOW! list – pop into the newly opened Fondation Louis Vuitton. This museum & exhibition space was dreamed up by Bernard Arnault, the Chairman of LMVH, way back when and, now, after overcoming a mountain of red tape and dissent, the doors are finally open.
We jumped on the eco-friendly bus from the Napoleonic Arc de Triomphe that drops you right in front of the very Frank Gehry-esque creation of glass and metal bearing the LV name. Half outside, half inside, no one tile the same, hand-cut glass, living walls – the whole fabulous mess is a wonder of superlatives plunked right down in the Bois de Boulogne.
Here are a few photos to give you an idea: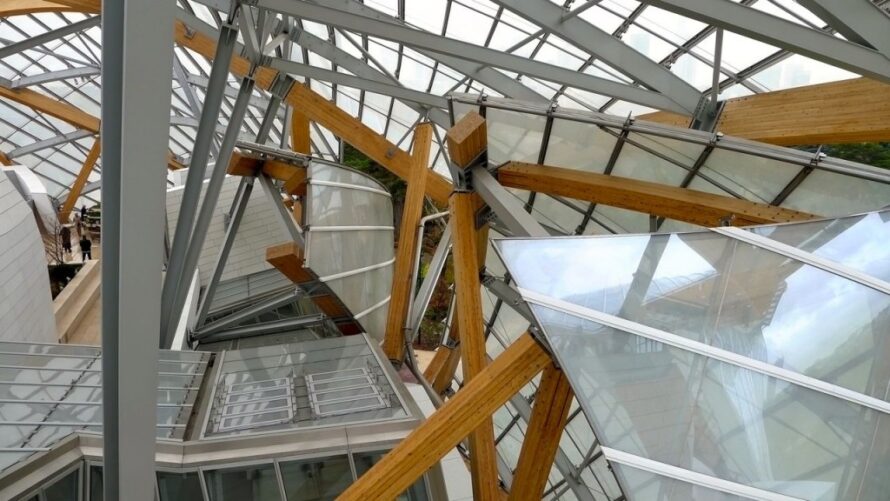 There has been a load of criticism, but just like Richard Meier's Roman Museum of the Ara Pacis and I.M. Pei's Glass Pyramid at the Louvre, it will eventually settle into its space and become part of the neighborhood.
I am sure once the Bois has blossomed, its will be less new kid on the block and more member of the Ancien Regime. After a wander round this most contemporary of French edifice, we were ready to be transported back to the Paris of yesteryear.
There is one place in Paris that draws me back every time and is one of my Best Bits Worldwide – Le Grand Colbert!
Brought here for the first time by a very picky, proud Parisian, Le Grand Colbert can only be described as the one-stop shop for all that is traditionally French. Soupe a l'oignon – √,  Escargots – √, Steak Frites – √, Tarte Tatin – √, the list goes on – all on the menu and open all day.  
I have been there for breakfast, midnight snack and, this last time, at 3pm in the middle of the week on a soggy, blustery winter afternoon.
We had only a few hours before we headed back to Charles de Gaulle Airport for our Air France to London and needed that last injection of France. 
Two onion soups and two glasses of Vin Rouge with Frites on the side was the perfect order.
Finishing up with a coffee and creme caramel, we headed back to the Hotel Indigo to collect our luggage and turned back into the rosbif that we are upon landing in Heathrow.
NB: I was the guest of Air France & Hotel Indigo and I can't thank them enough for such wonderful hospitality.  Everything I write is my own opinion!