If these hills aren't alive with the sound of music, I don't know what hills could be. Tucked outside of Innsbruck, the tiny town of Seefeld and its surrounding Olympiaregion have that idyllic combination of vistas, verdancy and wiener schnitzel!
A short or long weekend away can be a welcome respite from finding a spot on a crowded beach. Some people think these ski resorts are more glorious in the winter, just remember you can drink bier outside, without shivering during the whole summer & autumn season.
Getting to Seefeld
Easyjet & British Airways fly directly to Innsbruck! Seefeld, being only 20 minutes from Innsbruck Airport, makes it super reachable from most of Europe and the Hotel Klosterbräu is the most luxurious bit in town.
Staying in Seefeld
Hotel Klosterbräu – already been mentioned on this site many, many times. Can you tell it's one of my favorite hotels in the world.
Eating in Seefeld
In town: The Hotel Klosterbräu has breakfast, lunch & dinner – do not miss trying each and every meal there. The shelves of Plangger Delikatessen drip with both local treats and foreign culinary treasures.
Masses of tables are set up outside and in where their Tirolean Marend (literally translated as "snack between meals") is served all throughout the day. Many meat lovers sit propped up at one of the high tables, spending their Saturday' sipping the local wine and gossiping with townspeople.
In the countyside: Die Landgasthof Ropferstubm is the perfect stop in the hills to try the local dumplings after you've climbed up and down a few hills.
Perfectly Austrian in look and menu, do not miss the Südtrioler Tris mit Spinatknödel, Kassnocken & Schlutzkrapfen (South Tirolean Spinach dumplings, Cheese Noodles and Potato-filled Ravioli), followed by their homemade Apfelstrudel mit Vanillesauce which I don't think needs a translation.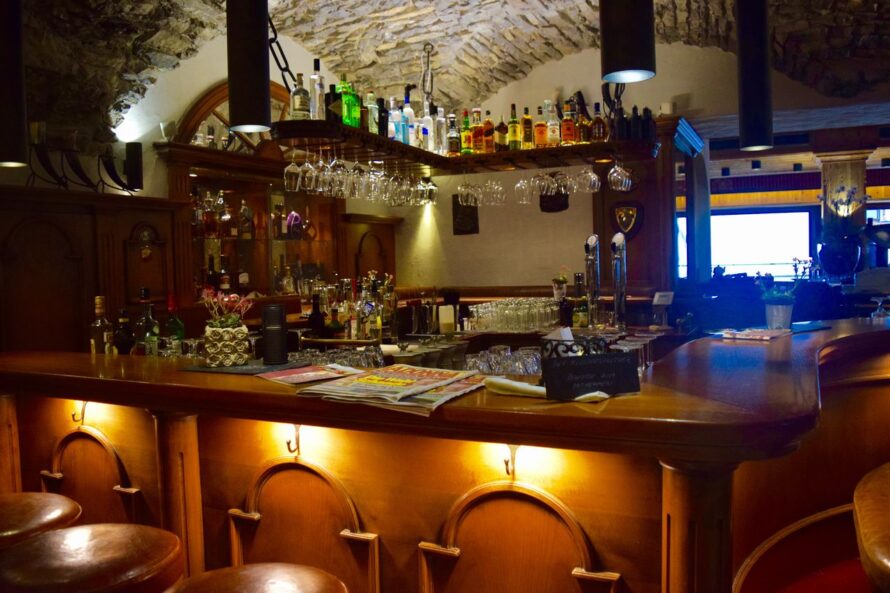 Drinking in Seefeld
Björn Bilke, head bartender at the Hotel Klosterbräu, another favorite of Best Bits – get to know him, he is the master mixologist in town. Cocktails or beer – he's got you covered.
Below he treats us to one of his favorite cocktail recipes!
Enjoying the Outdoors
In town: No matter where you are in Seefeld, the influence of Sebastian Kneipp is felt. In the park, in the spa…everywhere. The Bavarian priest and his holistic "Kneipp Cure" of healthy eating, exercise and water therapy made him the godfather of naturopathy.
A series of exercises including the elbow-dipping fountain, the barefoot path, the cold and hot pools, are purpose built for you to balance your inner and outer harmonies.
Out of town: rent a car, grab a bike, do whatever you can to explore the Leutasch region of 26 small villages right outside of Seefeld.
Town follows town with each house decorated in the "Lüftlmalerei" style, a fresco-technique depicting floral and architectural designs, applied to the exterior of the house.
If you see the word Erbhof written over the door, it means the house has been in the same family for the past 200 years.
If you get tired of sitting in the car and have eaten too much kaiserschmarrn and hear Kneipp reprimanding you from above, trundle down to the Leutascher Geisterklamm.
From entrance to gorge is a walk of about 500 meters, or you can do what we did and park at the gorge end and walk about 10 meters directly to the bridge over the gorge!
My Best Bit of Seefeld
On the way back to Innsbruck Airport, if you are with an architect, make sure you take a short detour to see the Zaha Hadid designed Ski Jump with its cobra-like head hissing auf wiedersehen as the plane takes off.
⭐ Best Bit – Try this easy Hotel Klosterbräu recipe at home!!
German born bartender Björn Birke feels right at home at the luxurious Hotel Klosterbräu in Seefeld, Austria. Here is one of his Seefeld favorites!
Ingredients
50ml Raspberry Schnapps
10ml Sugar Syrup
10ml Lemon Juice
1 egg white
Instructions
Add all the ingredients to a shaker
Add ice
Shake, shake, shake
Strain into a coupe
Garnish with red currants
NB: I was the guest of Hotel & Spa Klosterbräu and Seefeld Tourism. It was absolutely perfect and I can't thank them enough for inviting me.