What a glorious day! I had been to Chamonix and it rained, Piemonte and it rained, Kefalonia and it rained, Thailand and it rained but West Sussex in England? The country known for its rain? Well, surprise, surprise – the sun was out and it was the most beautiful, autumn day. I was off to spend it at Cowdray House playing polo, clay pigeon shooting and driving around in a Bentley.
Originally home to the Viscount and Viscountess Cowdray, this stunning property is not only the seat of British Polo, but also can be hired in its entirety for events, parties and stays. We were there to celebrate its collaboration with the Stafford Hotel in London – one of my all-time favorites!
Lucky guests of the Stafford have access to all the country activities at Cowdray and, today, I would experience everything available to them!
We began early at the Stafford for breakfast. I am not much of a breakfast eater – sweet pastries do nothing for me – but, there is one thing I adore and it is hardly ever in any hotel except in Germany – Bircher Muesli! Here it was and I could not resist – having way more than one bowl.  (Everything else in the buffet looked pretty tasty as well – even for a non-breakfast eater!)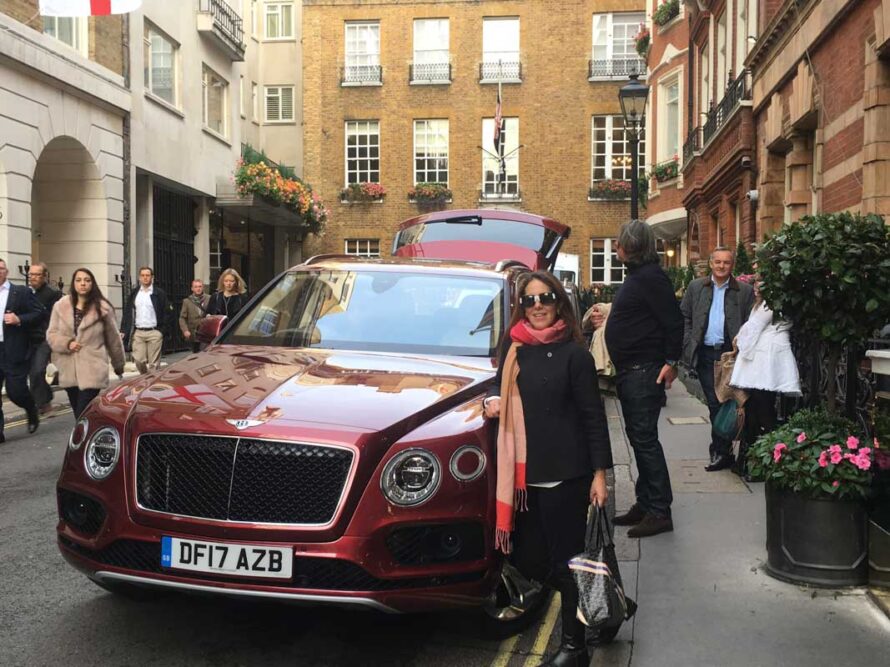 We were then shepherded out of the hotel on our way to Cowdray – in a red Bentley, of course. Why would you have any other color, but red? We packed up the back with our polo gear and settled into the car for the hour-ish ride.
My family owned a Roller when I was young, but I had not driven in a Bentley before. Instead of an 8-track tape player, which ours had, this was decked out with a TV for each person in the back, and wireless! Needless to say, the ride was smooth.
The Main House
Making our way up the never-ending driveway toward the house, you can imagine the entirety of this estate of 16,500 acres. Built in 1917 for the first Viscount Cowdray, Weetman Dickinson Pearson, the head of Pearson & Son, one of the largest construction companies in the world.
It is still owned by the same family who now live elsewhere on the property. We were met upon arrival by Jonathan Russell, CEO of the Cowdray Estate who welcomed us with tea and coffee. After a quick cup, I took the opportunity to explore the gardens around the house before the activities began.
Tree-lined allées gave way to long vistas.
A walled garden, off to one side, invited me in to reveal a lawn perfect for croquet. As I was pulled away from the house to explore more, I was roped back in to change for Polo!
Polo
I felt like a professional when I was kitted up in my shirts, boots and a mallet in hand. British Polo has had its home here for over a hundred years. Now it was time for me to create a few divots of my own. Honestly, I was a first timer, so I was saddled up for a lesson on the Trojan horse.
After practicing a few swings, I mounted the real thing. I can truly say I was a natural, having stayed on the horse the whole time and after hitting a few balls that were placed close to my mallet!
Lunch
After a few hours on horseback, a girl gets hungry. Lunch was as glorious as the setting. Especially delicious were these succulent chicken and pork pies, baked at the Cowdray Farm shop, also on the estate. Everything else on the menu was either from the farm shop or locally sourced!
Shooting
After lunch and a rest, it was time to start shooting. Targets and clay pigeons are my speed as I am not a hunter. I loved archery as a girl and I feel a thrill when closing one eye and taking aim at an inanimate object.
Jason Griffiths, the Deer Manager, claimed I was handy with a rifle, hitting the target dead center each time and shooting down 50% of the clay pigeons that were launched!  Annie Oakley – watch out!
Tour of Cowdray Ruins
On the estate grounds lie the ruins of the original Cowdray House which burned down in 1793. Owned first by Sir David Owen, Uncle to Henry VIII, he began building Cowdray House in the 16th C. Owen's son sold it to Sir William FitzWilliam, a close friend of Henry VIII, who set about building the complex that make up the ruins that we see today.
Henry VIII visited three times from London and, to commemorate his visit, William had Henry's and Anne Boleyn's portraits carved into the ceiling stucco work.
This original storeroom stole our hearts. With its mushroom-like legs, it appeared to be running away.
Inside, what would have been the Great Hall, the staff of Cowdray has planned for a Falconry Expert to be on hand with a few of her charges. Several owls deemed us worthy of attention and we truly had to be torn away from their soulful eyes and feathery touch. Only the promise of the fabulous dinner ahead that evening was enough for me to leave this graceful bird's side.
Dinner in the Main House
Moët was served in the library before we were called into dinner celebrating the best of the Stafford and Cowdray. Part of the collaboration with Cowdray is that the Stafford's menu will feature a selection of the estate's reared meats, venison and partridge.
James Durrant, Executive Chef of the Game Bird, The Stafford's award-winning restaurant and Gino Nardella, Master Sommelier, had created a special dinner just for us. When we were called into the room, I gasped – it was one of the prettiest table settings I have ever seen.
The food that followed was equally as delicious as the table. Every place setting was adorned with pumpkins, roses, candles and gorgeous greenery. My menu was Orkney Sea Scallops Ceviche, Watercress and Black Truffle Risotto (Partridge for the game lovers) and Bitter Chocolate Mousse with cherry jam, cherry sorbet and chantilly cream all paired with fantastic wines.
Helios was definitely in charge that day. The sun-kissed everything. Her job done when it was time for sister Selene to take over and for me to head home.  I truly believe Cowdray has made a deal with Helios – rain everywhere else, but not here!
PIN IT LATER
NB: I was the guest of Cowdray, Stafford London and IF PR.  I can't thank them enough for inviting me and hope to return, rain or shine. Everything I write is always my own opinion!