I knew it wouldn't be long before I felt the same soil beneath my feet that Isak Dinesen had so many years before. No, I don't have a farm and I was nowhere near her Ngong Hills in Kenya, but the people and the warmth that emanated from them made me fall in love as she had so many years before. Unlike Isak, I only had 2 hours to find the fun things to do in Pretoria!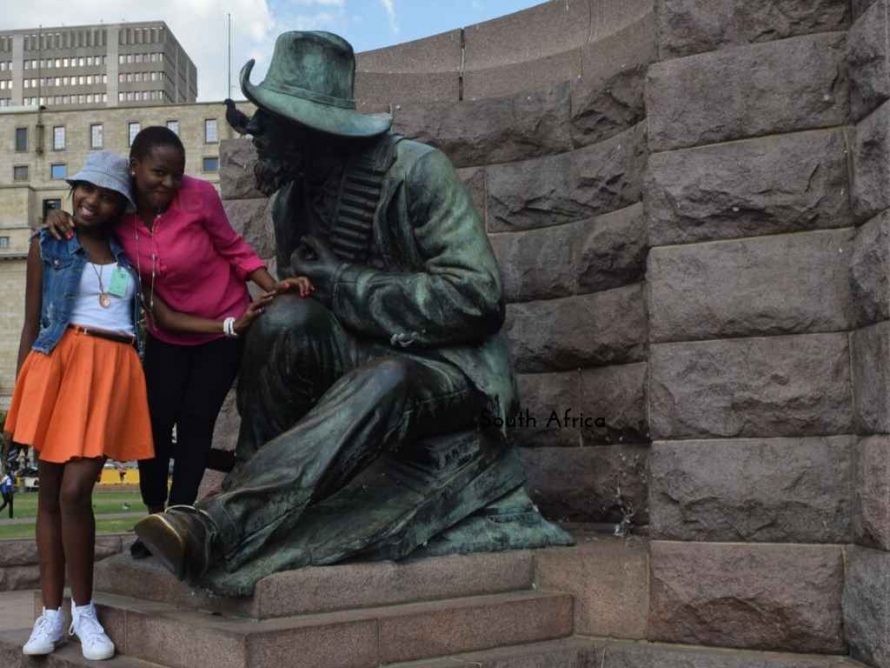 As a travel blogger, I am always seeking the unknown and am slightly embarrassed that my travels have not yet led me to the Central, East, West or Southern African. Only the very top of the continent, Morocco and Tunisia, have I experienced. So when I received an invitation to tour South Africa, I at first thought there must be some mistake. Two weeks later, as I sat down on my South African Airways flight to Johannesburg, I knew there was not.
Upon landing, we made the hour-long trip by car to the capital city, where we had five minutes at the Sheraton, one of the best of Pretoria's hotels, to get ready, before heading out to explore the city. Opening the window of my lovely room, I could feel the warm summer air rush in, a nice change from chilly London. My room overlooked one of the most famous buildings in town and the seat of the President – The Union Building – assuring me that this was not a dream.
A quick change and then we were picked up by the coolest cars the 70's produced, a Plymouth Valiant and a Pontiac Parisienne, in gold no less. Polished and buffed, they seemed the perfect intro to Pretoria and just fun to be chauffeured around town in.
People waving to us while the radio blasted Marian Makega's Pata Pata, we finally sidled up to the Mayor's house. (Truth be told, we actually got lost and a nice police officer had to escort us to the door.)
A little late, we jumped right into a cook-off led by South African celebrity chef Fortunato Mazzone and Lorna Maseko, a well-known TV presenter. We had been invited to join the wags (wives & girlfriends for those not from the UK) of the golfers participating in the Tshwane Open PGA Tour. They had about 15 minutes on us but that would not stop us from putting all our effort into the job at hand.
(The final product – salmon & mash as fine art and culinary perfection.)
Our assignment was to rustle up a dish of prosciutto wrapped salmon, lentil & onion salad, mashed potatoes and spinach in record time. Most importantly was to not only cook it well but to plate it with style, marks going for taste and creativity. (All food was whisked away and donated to a local children's charity.)
Not to be outdone, we gave everything we had and came up trumps. We thought outside the plate and came up with our own take on the "canapé in a cocktail glass." Our ingenuity even won us two bottles of South African wine!
After the award ceremony, we sauntered proudly into our stud-mobiles to see as much of the city as possible before nightfall. Our first stop was the historic heart of Pretoria, Church Square, with its colonial admin buildings, including the General Post Office and the infamous Palace of Justice where many a South African was tried and found guilty including Nelson Mandela and, most recently, Oscar Pistorius.
Coffee was had at one of Pretoria's oldest cafes, Caffe Riche, where all the journalists before us waited impatiently for verdicts of guilty or innocent. Right smack in the centre of the square sits the infamous Paul Kruger, farmer turned founder of the Afrikaner nation, and a few of his Boer-ing friends.
From there, it seemed only right to end our visit by paying homage to the man who embodied modern South Africa. Just unveiled late last year, this massive statue of Mandela is a fitting testament to his importance and a must see in Pretoria. Larger than life with arms outstretched, he appears to embrace not only South Africa but also the world in front of him.
We had a short time to enjoy our hotel room before setting off to supper. As we were served drinks in the lovely living room of Illyria House, another of Pretoria's luxury hotels, our gracious hostess, Marietjie van der Walt, proudly told us that the guest house was built the same year as Graceland. Blushing a bit and brushing her long hair away from her face, she revealed that as she got older she had developed a slight crush on Elvis.
A world away from the realities of the outside, Illyria House makes one feel as if you've fallen down the rabbit hole and into a 19th century sitting room with glass of sherry in hand. The oldest five-star boutique hotel in Pretoria, it is owned and has been run by Ms. van der Walt for 15 years. We sat outside and ate a lovely dinner, growing weary, having not stopped since we arrived in South Africa that morning.
If this was just the first day of our trip, I couldn't wait for the rest.
Stay in one of Pretoria's Luxury Hotels
PIN IT LATER
NB: I was the guest of Ethos Marketing,  South Africa Tourist Board, and South African Airways.  It was one of the most amazing trips of my life and I can't thank them enough.