All American Gen-Xers or older can't help but see the word Bologna and hum the Oscar Mayer theme tune dedicated to America's favorite lunch meat. We enjoyed it with another Emilia Romagna-inspired treat, the sickly, sweet vino, better known by its commercial, "Riunite on ice, that's nice."
If you happen to have only one day in Bologna, I want to make sure you hit all of Bologna's treats in their original manifestation. You will see there is a real difference, making Bologna the food destination of all time.
How to get to Bologna
One of the easiest small towns to get to, Bologna is in the centre of it all, literally in the centre of Italy itself. There is a airport, only 15 minutes out of town, which has direct flights from almost every airport. All the fast trains throughout Italy stop in Bologna's Central Station.  It's easy to get there driving from Milan, Florence and Rome or anywhere else in Emilia Romagna, like Parma or Modena.
What to eat in Bologna
One taste of the real Mortadella, while sipping local, flavorful Lambrusco, in Piazza Maggiore, the heart of the Italian city of Bologna, and those latent 70's memories will all be wiped away.
(We actually couldn't taste real Mortadella in the USA until the year 2000 when the U.S. Department of Agriculture determined that Emilia-Romagna was clear of disease and all its products were then allowed to enter the country. Hallelujah!)
Usually smaller Italy cities can be "described" in one magnet: Matera – caves; Naples – pizza, you get it. Although tortellini-heavy, the choice of magnets for Bologna is a combination of its food, famed towers and its wonderful San Petronio Church. Those are its most obvious attractions, but the subtleties are what make Bologna so special and give it its nickname of La Rossa, La Dossa & La Grassa.
Bologna – La Rossa (the Red)
Like most towns in Italy, look outside your window and all you see is a swath of terracotta roofs. It is a joy to behold, even with their modern antennae, telephone cables, and misshapen chimneys. Bologna's rooftops and towers are unique.
Sit outside for lunch on the rooftop bar of the sweet Hotel Touring, one of many Bologna hotels with a fantasctic view, and you can see why Bologna is called La Rossa. Like a choir, on the dot of one o'clock, the church bells all seemed to go off in synch.
The fun of Bologna is gliding through town under her sottoportici (archways) – the most of any town in Italy. Stuck without an umbrella like we were, no problem, you can still enjoy a passiaggata with nary a drop of rain to ruin your hair.
Bologna – La Dossa (the Learned)
Kids were sporting Bologna University sweatshirts from its very first semester in 1088AD, making it the oldest university in the world. Slip into the Archiginnasio to see where everyone sat for Latin 101 in the Renaissance, as it was the main building of the University. Thousands of painted coats-of-arms representing students who has been elected presidents of their class smother the outside walls of the inside cloister. Don't miss the anatomical theatre inside!
Don't miss the unassuming Santo Stefano Church  – you will be overwhelmed. In the 5th century, Bishop Petronio, of San Petronio Church fame, had the very clever idea of building a replica of the Holy Sepulchre in Jerusalem in his hometown, attracting wandering pilgrims who couldn't make it all the way to the Middle East.
The holy ones stayed, ate and drank, thus bringing loads of money into the town and they kept coming. The other parts to the church are incredibly beautiful and they say that the crèche before Xmas  is not to be missed, stuffed full of terracotta putti and angeli.
Bologna – La Grassa (The Fat One)
It's really all about food here. The Bolognese believe theirs is the best cuisine in Italy, but you have to like tortellini, bollito misto, Bolognese ragú (btw, never with spaghetti, only with tagliatelle) formaggio (parmigiana is just called "cheese" here – all the other cheeses have names) and, of course, cold cuts-Italian Style, like the world-famous Prosciutto. Taste all of the Emilia-Romagna treats in one place – Bologna.
Dip into one of the many Bologna restaurants – there are no bad restaurants, only different variations of good. Stroll down the Mercato di Mezzo, sit down in one of the busy trattorie and eat. As you are there one day, don't worry if one is better than the other. Just sit down and eat – good food is a matter of pride here.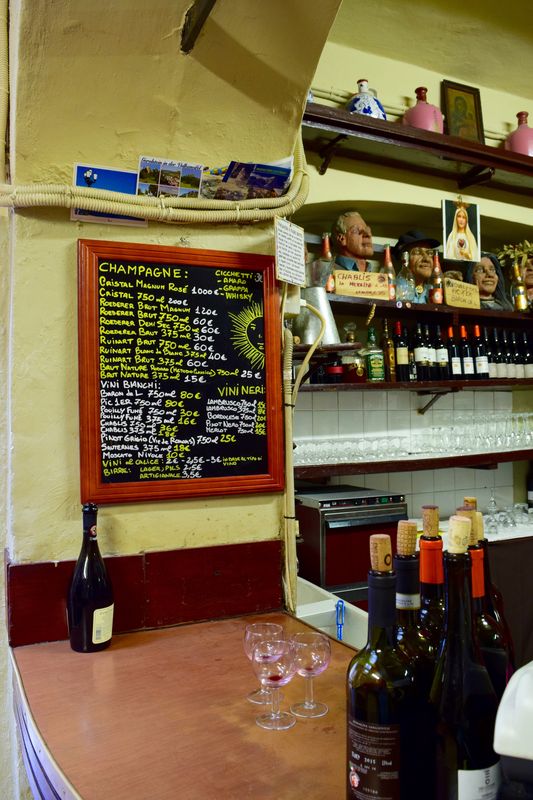 Before or after lunch, stop into the oldest bar in town, Osteria del Sole, and, by old, they mean 1465, where college kids still hangout today and have the choice of Cristal (€1000) or Vini al Calice (by the glass) (€2).
Put down your Prosecco, you're in Pignoletto territory now. Accompanying your charcuterie in Emilia Romagna is a different, but no less bright and bubbly, bibita as its ubiquitous northern neighbor. In my humble opinion, there's nothing more luxurious than having local wine, especially if it comes in pink!
A day in Bologna is not complete without gelato and go to the best in Bologna, Cremeria Funivia. With flavors such as Cavour (ricotta, lemon & cookie) or San Luca (white chocolate and puffed rice), it's very tough to decide!
Photo source: http://bit.ly/2e7tw4i
So lastly, as this postcard might suggest, the three T's of Bologna may entice you, the Torre (Towers), Tortellini & well, you can figure out the rest, but the hidden bits make you never want to leave.
I stayed at the Hotel Touring which had a lovely roof, but if you want more luxurious, I recommend the Grand Hotel Majestic "Gia Baglioni"!
Read the reviews here, if you are ready to book, use Booking.com
If you are eager for a more structured tour of Bologna, here are a few favorites:
PIN IT LATER
If you want some great guidance re food options in Emilia Romagna, check out With Husband in Tow's Emilia Romagna Food Travel Guide and a little more on Lambrusco.

NB: I was the guest of Emilia Romagna Tourist Board. It was absolutely perfect and I can't thank them enough for inviting me.