We knew where we were going – Chiang Mai, more specifically The Rachamankha. We had been there before; in fact that's exactly why we were returning.
I travel constantly (not a complaint, by the way), so when the Cypriot and I were planning a trip over annual Christmas holiday, we both simultaneously said, "Chiang Mai!"
⭐ Best Bit – Don't miss the recipe for the easiest Pad Thai below!
I know there's a whole world out there to explore, but it was so good the first time, we couldn't help being drawn back again for more.
The first time round, we found ourselves making an unscheduled pit stop in Thailand's second biggest, when our flight was diverted from Luang Prebang. A close friend of mine was actually in Chiang Mai at the same time and I rang her to ask where she was staying.
Thank goodness, she said the Rachamankha. Rooms were available and pulling into the driveway after such a tumultuous day could have been traumatic. I am happy to report it was just the opposite – ecstatic – especially when my friend greeted us, mojito in hand.
After two nights there, we waved goodbye, finally on our way to Laos, but we knew we would be back and here we were, a few years later.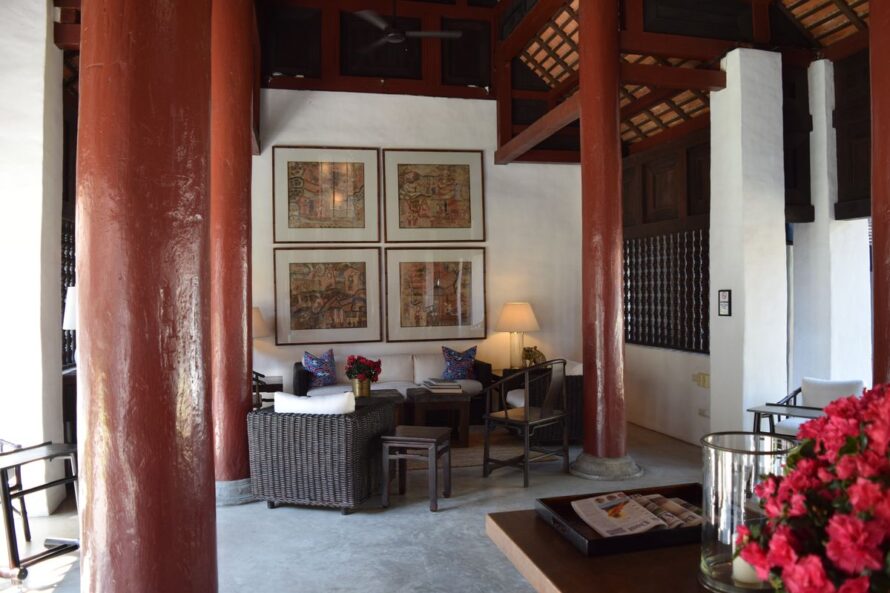 The only luxury hotel within the city walls, you would never know you were steps away from the busy centre of old Chiang Mai. Twenty-four rooms built in the traditional Northern Thai Lanna Style by leading Thai architect Ong-ard Satrabhandhu, the Rachamankha is completely hidden from view and quiet enough to seem miles out of town.
Peaceful and serene, with inner courts & hidden spots for reading, the hotel welcomes relaxing. A glorious pool, which was almost empty every time we had a dip, tempted us into lounging for hours
Spacious, simply decorated rooms with all the goodies I want and expect: comfy beds and down pillows, huge towels, closets with both drawers and ample hanging space, and lovely authentic furnishing…and did I say, quiet?
If the weather is good, breakfast, lunch and dinner are held in a lovely outdoor patio with umbrellas shading every table and chair.
A mixed European and Asian menu has anything you can think of for breakfast, with all the egg dishes you could want as well as Thai Rice Soup.
Lunch by the dining area or by the pool can be a sandwich or Pad Thai. By night, everything turns romantic, as you sit outside enjoying live music and sipping cocktails. Treats from all over Asia are represented and I was able to taste the Tea Leaf Salad I had eaten tons of in Myanmar.
It's also considered one of the best restaurants in town. If you venture out of the hotel – two of our favorite spots are walking distance from the Rachamankha: SP Chicken and Huen Phen.
You never needed to leave the hotel. The Cypriot and I actually planned our days with as much time in the hotel as we could. We scoured the city by morning, ate lunch somewhere deliciously local, and then headed back to the lovely hotel pool for a swim and cup of tea served deck-side. Although we knew the hotel was full, we felt alone most of the time, save one or two others having tea with us by the pool.
The hotel planned a few excursions for us – a boat trip down the Ping River and a trek to the highest point in Thailand – that were thoroughly enjoyed, but we ached to be back at the hotel.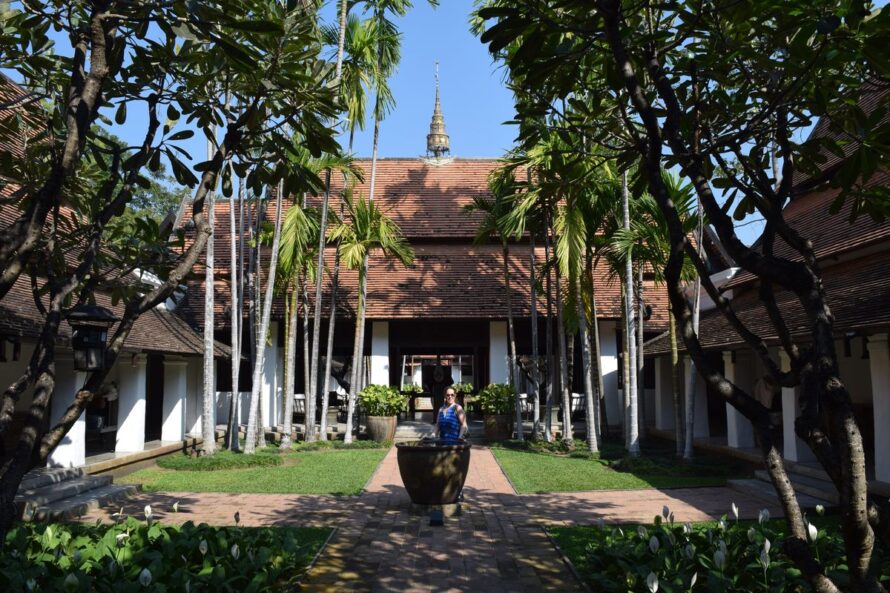 After our seven nights here, we were off to revisit another favorite hotel in Ko Lanta for the remainder of our trip, but I secretly wished we could have just stayed at the Rachamankha for another week. There was that one shop where I could have bought more…
Book the The Rachmankha in Chiang Mai!
Try this easy Pad Thai recipe at home!!
Make this easy pad thai recipe to remember all those great meals you had at the Rachamankha! Substitute any protein you like! This recipe is from BBC Good Food!
Ingredients
250g pack medium rice noodle
2 tsp tamarind paste
3 tbsp fish sauce
2 tsp sugar
1 garlic clove
3 spring onions
2 tbsp vegetable oil
1 egg
200g pack large cooked prawn
75g beansprout
handful salted peanut, chopped to serve
lime wedges, to serve
Instructions
Tip the noodles into a large bowl and pour over a kettle of boiling water until they are covered. Leave to stand for 5-10 mins until the noodles are soft, then drain well. (You can do this part ahead of time – then just run the noodles under cold water until cool, and toss through a little oil to stop them from sticking.) Next, mix together the tamarind paste, fish sauce and sugar in a small bowl.
Peel and finely chop the garlic. Trim the ends off the spring onions and cut into thin slices about 1cm long. Heat a wok or frying pan over a high heat. When it's really hot (a drop of water should sizzle straight away), pour in the oil and swirl around. Tip in garlic and spring onions. To stir-fry, take a spatula or tongs and toss the veg around the wok so they're moving all the time. Cook for 30 secs, just until they begin to soften.
Push the vegetables to the sides of the wok, then crack the egg into the centre. Keep stirring the egg for 30 secs until it begins to set and resembles a broken-up omelette.
Add the prawns and beansprouts, followed by the noodles, then pour over the fish sauce mixture. Toss everything together and heat through. Spoon out onto plates. Serve with some chopped peanuts sprinkled over and wedges of lime.