It's hard not to compare Portobello Road Antique Market London today with what it used to be, even just ten years ago. Gone are the days when you would see stalls lining the streets with tables laden with knick-knacks next to silver next to china.
Arcades stuffed with antique jewelry have given way to pies shops, cupcake cafes and high street fashions. Most of the dealers I knew are long gone – some selling online or at fairs all over the country, but no longer at home on Portobello Road Antique Market.
Saying all that, it's not all doom and gloom. We headed down to Portobello Road Antique Market to see if there were anything we could find among the global brands that had moved in.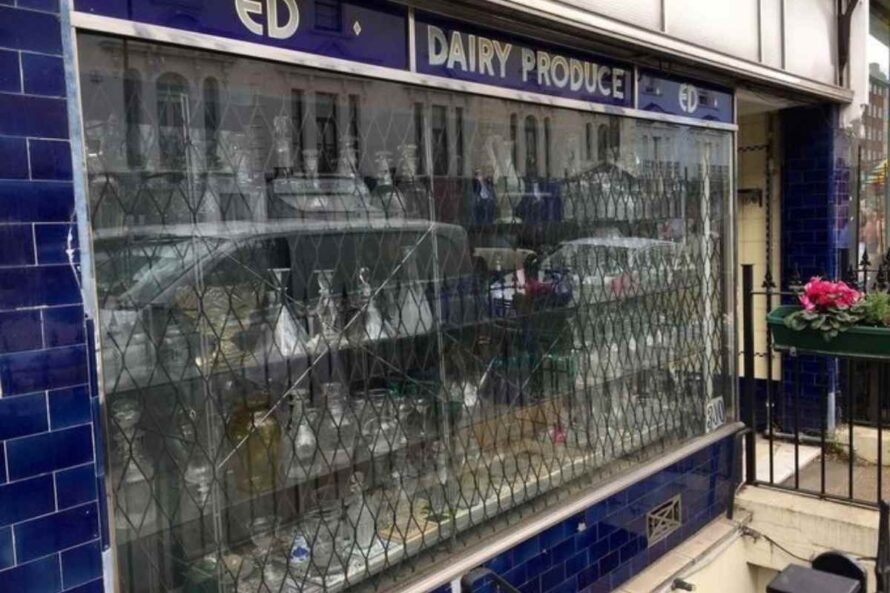 1. Antique Glass
I am a keen collector of antique glassware. Although almost every other dealer has gone, behind this rather unwelcoming window, is a spectacular selection from every era. Whatever century you desire, David Glick has it all – just get there early, as he tends to leave just after lunch, and is only open on Saturday! (Exact address is 300 Westbourne Grove)
2. Cutlery (Silverware)
The Cypriot and I were actually on a mission to find a set of fish forks and knives for a lunch party where salmon was on the menu. Just on the corner of Westbourne Grove and Portobello was a stand selling exactly what I was looking for: a bone handled, Victorian set for only £18! I wasn't even looking for a bargain and found it. Sets, singles, serving sizes – she has it all and at great prices!
3. Toy Soldiers
The earliest toy soldiers were found in the Pyramids and we've been playing with them ever since. Andy Morant continues to sell these tiny collectibles from his stall on Portobello. FYI – the stand was packed, so persevere and you will get to the front sooner or later!
4. Old Books
Any first edition collector would have fun hunting through the many booksellers here. Most don't have their dust jackets, but the imprinted covers are so pretty. Browsing is encouraged and there are titles for all ages.
5. Antique Market Arcades
Thank goodness, some of the arcades are still in existence. Wander through the rabbit warren of stalls, chock-a-block full of silver, glass, ancient artifacts, vintage clothing, paintings, ceramics and pottery. You can't leave without buying something!
6. Fruit & Veg
As you wander north on Portobello Road, the fruit & veg stalls emerge. Just-baked breads, juice stands, prepared foods – all ready to eat now! Bring your basket and stock up for the week ahead or, if it's a lovely day, have a picnic!
7. Paella
If you are not worried about your five a day, keep walking along Portobello Road, right up under the Westway to where all the lunch of every cuisine is on offer. I always pick paella – it might not be Valencia style, but it hits the spot.
8. Flat Caps
The Brits are known for covering their heads in all sorts of things and the flat cap is a favorite! Actually it was an Act of Parliament in 1571 that made it illegal to NOT wear a hat. I adore that you can still find a selection in every known tweed.
9. Sir Plus
As the market ends and Portobello Road hits Golborne Road, there is one stall among all the tat that can't be missed. Sir Plus takes surplus material from tailors and creates classic men's jackets with a twist. Everything is made with a luxurious, bespoke feel…jackets are lined with cashmere, undies are cotton, French-style boxers, just how I like the Cypriot to dress!
10. Knick-Knacks
Not to worry there is plenty of old stuff still – unfortunately, less then there was before the chains moved to town. Not as much jewelry, not as many bargains, not as much choice, but at least, vestiges of what remained can be found and they still draw in both the locals and tourists.
At the top of the Portobello road is a bridge that you walk under which is the Westway, learn all the other bridges in London!
PIN IT LATER!