Known for its sunny climates and gorgeous beaches, the majority of tourists forego even a day's visit to Nicosia, the capital city of the republic of Cyprus. They are missing one of most diverse capitals in Europe with the best food and drink on the island, and plenty of fun things to do.
Founded in the 11th Century BC, Nicosia (or known by the locals as Lefkosia) is the capital of Cyprus. Since 1974, the country has been divided into two separate countries by the green line, separating the Greek Cypriots and the Turkish Cypriots. You can visit North Nicosia through a border crossing at the top of Ledra Street in the heart of the old town.
How to get to Nicosia
Larnaca airport is the closest to Nicosia with direct flights from London via British Airways and Easyjet. It's about a 40 minute drive to the center of Nicosia, so either hail a taxi upon exiting the terminal, book a car directly or rent a car. All motorways are marked in Greek and English, so no worries getting around.
Explore the Old Town
Everything within the Renaissance Venetian walls is considered Nicosia's old town. Within these walls, the restaurants are fantastic and the cocktail bars are internationally renowned. The ancient buildings lend themselves to secret trysts. 
What looks like a plain doorway on a nondescript building invite you into back gardens, fountains, and courtyards. Dotted within the old town of Nicosia are a few historic sites, and museums that should not be missed.
The Famagusta Gate
Venice gained controlled of Cyprus in 1489 and built walls around Nicosia to protect it from invaders. One of the original "Porta" into town is still intact and that is the Famagusta Gate. You have to see it because it's number one on the things to do in Nicosia. My suggestion is to go at night, when it is atmospherically lit. Sit at one of the surrounding cocktail bars and bask in its Renaissance grandeur.
The Famagusta Gate, open Mon – Fri 10am – 1pm, 5pm – 8pm, Sat & Sun Closed
NiMAC
If you visit the Famagusta gate during the day, don't miss NiMAC (Nicosia Municipal Arts Centre) right down the stree. It's hard to miss it, as it was once the Old Powerhouse. It's complimentary to get in, so putter in a take a look at the latest exhibition there is.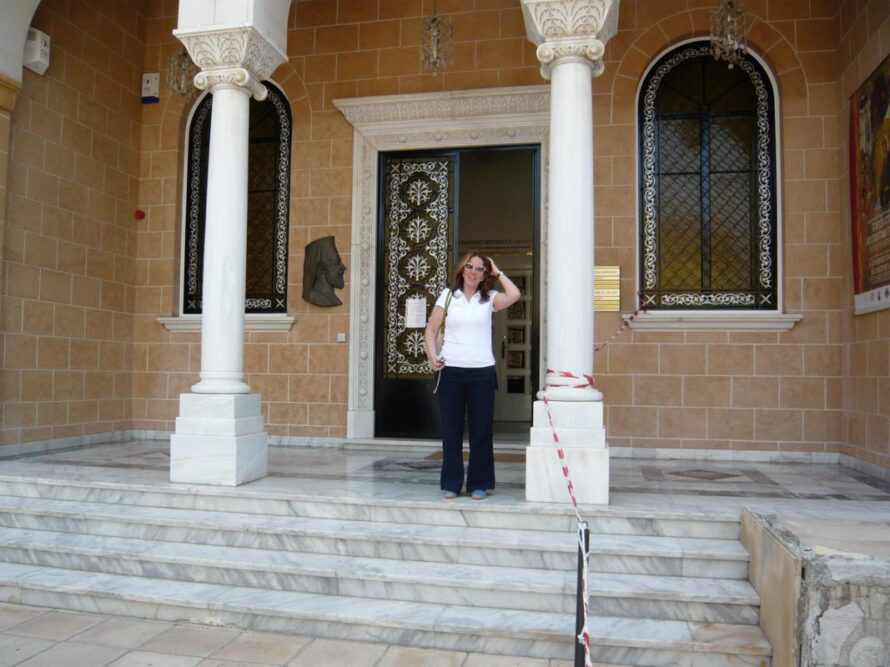 NiMAC  – 19 Palias Ilektrikis, Tues – Sat 10:00am – 8:00pm, Sun & Mon Closed
Cyprus Archaeological Museum
If anyone tells you to visit the Cyprus Museum, they mean this wonder of the ancient world. Whatever Luigi Palma di Cesnola, American consul to Cyprus in 1865, didn't steal to start the Metropolitan Museum of Art in New York City is presented here. 
According to the Met: The Cesnola Collection remains a wonderful storehouse of ancient art and artefacts, and it is by far the most important and comprehensive collection of Cypriot material in the Western Hemisphere. It's the history of Cyprus in one building.
Hatzigeorgakis House & Museum
One of my favorite sites in Nicosia, this former house, belonging to Hadjigeorgakis Kornesios, is a study on how the wealthy lived in Nicosia in the 16th century. He did splash around his power and money causing him to be beheaded in 1809, but he did leave a wonderful example of Ottoman Architecture and snapshot into life in the city.
Shacolas Tower
For a great place to see the amazing panoramic views of the entire capital city of Nicosia, head up the Shacolas Tower right on Ledra Street. There is a tiny museum at the top, but it's all about the view. On a clear day, you can even see the Troodos Mountains.
Shop for a Cypriot Souvenir
Most of the shopping in Nicosia happens between Ledra and Onasagorou Street. In olden days, fabric was sold up and down Onasagorou Sand you can still see vestiges of it remaining. All the action is around those streets and the streets in between them, including some of the places to eat in Nicosia . Here are a few of the best shopping in Cyprus!
Phaneromenis 70
A cultural foundation masquerading as a shop, Phaneromenis 70 was founded by the artist Kyriaki Kosta as a center of contemporary art, science and philosophy. He collaborates with local jewelry and fashion designers, artists and artisans and their creations fill the lively store.
Meres Bookstore
Walking from the Famagusta Gate into the old town, make sure to stop at Meres Bookstore. Located in one of the ancient stone buildings, MERES has a wide range of books on art, architecture & design, fashion, and culture. They also have a small event space, so you never know what you get when you pop in.
Meres Bookstore – 33 OdosPentadaktylou, Tues – Fri 10.00am – 1:00pm, 2:00pm – 7:00pm, Sat 10:00am – 6:00pm, Sun & Mon Closed
Bakali
This "everything Cyprus" shop has moved from its small shop in old town to a much larger shop outside the walls. Overflowing with local herbs, sweets, soaps, oils, Bakali is your one stop shop for gift getting in Nicosia. I always get my soutzoukkos there!
Bakali – 14A Mpoumpoulinas street (new town), Mon-Sat 10:00am – 7:00pm, Sun Closed 
Coffee Culture, Cypriot-style
Coffee here is not about latte art or the origin of the beans – it's about sitting for hours chatting while drinking a frappe (shaken coffee drink) and eating a sweet. There are coffee houses everywhere, but these are my favorites!
Hurricane
This institution has been here since forever! You step inside and smell everything you want to smell in a Cypriot bakery. If the weather is a little too hot to sit outside, have a coffee and baklava here and then head out into the heat.
Hurricane –  Nikokleous 7
Tria Fanaria
It's not just about the setting here…but it could be. In an irresistible square overlooking a gorgeous classical building, Tria Fanaria is one of the most popular coffee spots in Nicosia. Frappe time is all the time here, but I love it in the afternoon. Order one of their home-baked goods and treat yourself while the sun goes down.
Tria Fanaria – Faneromenis, next to Faneromenis church
Vienna & Zorbas
There are a few bakeries in Nicosia (without coffee), but Vienna and Zorbas are at the top of their game! There is nothing they don't do well:  olive bread, cheese bread, spinach and feta pie, baklava, kataifi (my favorite!), ice cream, cookies, rice pudding…can you tell my mouth is watering just writing this.  They pack stuff up so you can take it on the airplane too!
Vienna – 147 Keryneias or 9 Trikoupi Street (new town)
Zorbas – throughout the city
Eat Mezze and other traditional Cyprus foods
Zanettos Cyprus Tavern
My first intro to Cyprus cuisine – loud, casual, touristy but it's got to be done.  Meze is served – the Middle Eastern style of eating thousands of small dishes that keep coming whether you are full or not – so pace yourself.  If you want hip and trendy, head somewhere else!
Zanettos Cyprus Tavern – Trikoupi 65, Mon – Sat 6:30pm – 12:00am, Sun Closed
Karvounomageiremata
You would pass by this restaurant without even knowing it was there  – except in summer, when there are few tables street-side, but don't sit there. Walk past the charcoal grills straight into a true outdoor garden taverna – wooden chairs, linen table cloths, souvlaki, live music, sometimes a bit little louder than it needs to be.  The night we were there, the playlist was old Greek love songs belted out by a bearded Adonis-like character playing his own acoustic guitar – if that wasn't worth the trip, I don't know what is!
Karvounomageiremata – 154 Ledra Street: everyday 10:00am – 11:30am
Prodromou Park Bar & Cafe
I did think while being led here late at night through the woods, that this might be it for me until we came upon about twenty tables filled with revellers. The smells emitting from this tiny shack of a restaurant were intoxicating.  There is not much choice, but what they serve is some of the most wonderful Lebanese/Cypriot food in town. Order a beer and chow down on the Cypriot salad.
Prodromou Park Bar & Cafe – Prodromou Park (new town)
Aegeon Tavern
Spitting distance from the Famagusta Gate is this really wonderful taverna.  Set in the sunken garden of an ancient Cypriot house, Aegeon is everything a taverna should be: lively, delicious and atmospheric!  Their specialty is Meze – the never ending parade of the best bits of Cypriot cuisine, but here you get to choose what you want, so much less waste as there is nothing brought to you that you did not order!
Aegeon Tavern – Ektoros, 40 Mon-Sat 7:30 – 11:30, Sun Closed
Il Bacaro
The Venetians are back in Cyprus, after how long?  Let's just say a long time and now they finally have some please to enjoy their Aperol Spritz. I promise I wasn't looking for a touch of Venice in Nicosia, but it came to me.  The Venetian owner has been in Nicosia for about 20 years and now everyone has caught up to the wonders of the Bellini and the Spritz. If you MUST have Italian food, skip Pizza Express and come here.  You know you are in good hands!
Il Bacaro – 131D Prodromou Ave. (new town) Mon -sat 6:00pm – 1:00am, Sun Clsoed
Evroullas
It's not about the quality of food here – it's about atmosphere. Lunchtime – it's the place to be.  You could not get more local that this. Everyone eats here: doctors, lawyers, I was brought by an architect.  You are in and out, but the cuisine is pure old time…chunks of lamb, pork, chicken, grilled potatoes, fried halloumi – always exactly what you might expect from traditional cooking and never disappoints.
Evroulla's – Klokkari arcade
Avo
Every culture has its after hours treats: smoked hot dogs in Scandinavia, chips in London, pizza slices in NYC – here in old town, there's Lahmadjoun – a pizza topped with minced meat cooked with onions, tomatoes and herbs. It is the perfect combination of ingredients to soak up all the cocktails you've had the Market Company.  The best part is – it costs about €2.
Avo – Onasagorou 20, Everyday 8:00am – 12:00am
Drink at one of the best bars in the world
Lost + Found Drinkery
It's not an overstatement to say that Dinos Constantanides created the cocktail scene in Nicosia and to visit Nicosia without sipping one of his cocktails should be a crime. His combination of inherent creativity and business savvy have made his bar Lost + Found Drinkery one of the World's 50 Best Bars. I love that if you're a frequent customer, you can invest in your own Tiki glass, which is kept under lock and key on the wall.
Lost + Found Drinkery – Gladstonos & Vyronos corner (new town), Mon-Thurs 6:00pm – 12:30am, Fri 6:30pm – 1:30am, Sat 7:00pm – 1:30am, Sun Closed
Notes & Spirits
When I asked Dinos to recommend another spot in town for a drink, he suggested Note & Spirits. They have the same attention to detail, as Lost+Found and the drinks taste great. The bar is lit perfectly for an instagram photo – so I expect to see those from now on!
Notes & Spirits  – Odos Evagorou 33 (new town), Monday 12 – 1pm, 6pm–1:30am, Tues – Thus 6pm–1am, Fri 6pm – 2am, Sat 7pm–12am, Sun Closed
Weaving Mill
So hip it's insane…the literati of Nicosia pass untold hours eating Feta flavoured Lay's and drinking Ouzo while playing chess in this tea house/bar.  Sinking into the sofas, it's hard to motivate so make it the last stop of the night.
Weaving Mill  – 67-71 Lefkonos Street, Everyday 10:00am – 10:00pm
Take a Tour of Nicosia
I would only do a tour of the Historic Centre – not the other parts since you will be spending most of your time there. I recommend the Welcome to Nicosia: Private Tour with a Local or any of the others you can find on GetYourGuide.
Sleep in Style
There are really only two luxury properties in Nicosia: the Hilton Park Nicosia and the Landmark.  Both are located outside the city walls but are about a ten minute drive to Ledra Street.
If you would like to review other hotels in Nicosia, you can check them out on Tripadvisor.
If you want to book, then please visit Booking.com
Best Bits to leave you with
Nicosia has so much history and it would a shame to miss it if you are flying all the way from London or abroad. If you get to know it, you will love it. After a day or two in Nicosia, head straight to the beach, read my guide to the best beaches in Cyprus.
PIN IT LATER