Some people can't understand why one would tweet unless you are a bird. What the 302 million active monthly users are privy to, that the naysayers are not, is a chance to experience Afternoon Tea at Belmond Le Manoir Aux Quat-Saisons, chef extraordinaire Raymond Blanc's divine outpost in Oxfordshire.
Other than staying the night, the only way to get that lucky invitation to tea at Le Manoir is to jump to the phone when the Tweet above appears on your screen and reserve your spot. I was lucky enough to have been invited by the hotel to experience it for myself.
After a short train ride from London, we were invited to view the gardens where a glass of bubbly was ready and waiting our lucky group. A few of us had been invited to experience the glory that is Le Manoir. It could not have been a more perfect day – the sun was out, the sky was clear and no rain was in sight.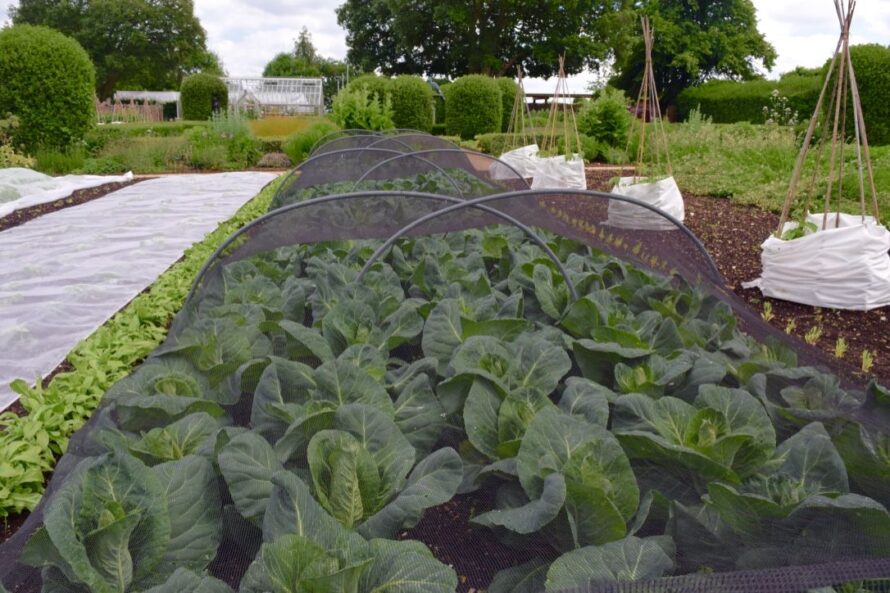 We were joined by Ms. Anne Marie Owens, head gardener since Le Manoir was conceived thirty years ago. She has worked hand-in-hand with Chef Blanc to create a two-acre potager (kitchen garden) containing 72 different vegetables with over 253 varieties.
Special care was given to the fleur de courgette du jardin, one of the signature dishes on the menu de carte. Anne Marie informed us that although zucchini grows extremely well outside – the flowers are easily damaged, so undercover they go.
Row after row of micros, including thyme, ginger, oriental mustards, coriander and basil are planted next door. Their looks echo the sound of their name – teeny tiny greens that are added to the dish to give a special boost of flavor.

We sampled several but my favorite had to be the Oyster Plant. When you closed your eyes and bit into it, you swear you were eating an oyster. The plant used to be widespread across the UK coast and it somehow absorbed every aspect of the sea – the salt, the smell and the blue-green color of the swells. Although no longer as prevalent as it once was, the plant is having a comeback and Le Manoir is helping to aid its cause.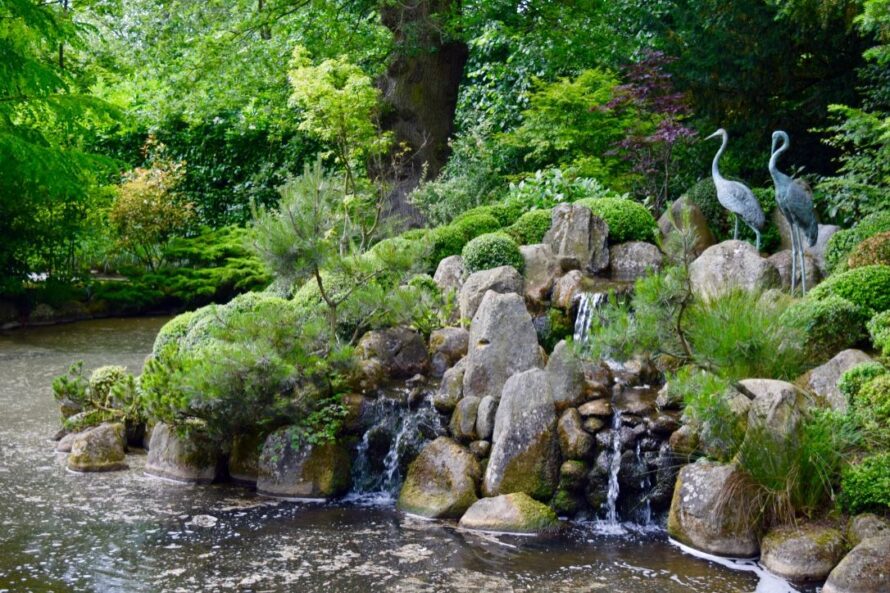 The gardens are not purely utilitarian. A lovely English water garden and a Japanese tea garden are there to be discovered and enjoyed. There is even a croquet lawn set up and waiting for someone to come along and play.
No playtime for us as serious eating was about to begin, so we headed back through the lovely ivy-covered alleys of the hotel to our table.
In my opinion, the best part of tea comes at the beginning with the sandwiches. The tray in front of me thrilled me beyond compare. These were Michelin star sandwiches in everyway. Not only lovely to look at but even better to eat! It was hard for me to not gobble up the perfectly Rare Beef and Horseradish Crème Fraîche, the Coronation Chicken and the Cucumber, Dill, Cream Cheese in a delicate and polite manner.
The requisite scone followed and they were as pretty as they were deliciously light, even with jam and clotted cram schmeared on top.
The cakes were the some of the best I have ever had, with Afternoon tea or not, and I am not usually a cake eater. The flavour combinations seemed to be made for me: chocolate and raspberry, apricot, cherry, all my favs.
After we had eaten as much as we could, we were lucky enough to peek into the one room that was not yet occupied for the night. Beautifully detailed, as well as comfy and welcoming, I could have stayed there for the rest of the day, as it was the perfect spot for an afternoon nap.
Alas, our taxi was waiting to return us to London. OK – it wasn't this fabulous, yummy antique motorcar, sitting lonely, awaiting its driver.
We waved goodbye and thought if there is one reason to join twitter now – it's this!
NB: I was the guest of Belmond Le Manoir Aux Quat'Saisons and thank them for their hospitality. It was absolutely gorgeous!