Let it be in your stills and in your storms,
Fair Lake, in your cavorting sloping sides,
In the black pine trees, in the savage rocks
That hang above your tides;
Le Lac by Alphonse de laMartine
Most of you have probably never heard of Alphonse de Lamartine – the French poet enchanted by the Savoie Wine Region. He was not only a poet who loved this area, but  a political force who spearheaded the abolition of slavery and the death penalty in France.
The "Lac" he gifted with its own poem is Lac Bourget which sits in the middle of the Savoie Wine Region and is the largest lake in France. After exploring, the region with her châteaux, Michelin stars, charming towns and, of course, the local wines, you too might be writing poetry describing the perfect weekend you enjoyed by the lake.
Getting to the Savoie Wine Region
Hiring a car is a must, but always be safe – you will be tasting wine!  We flew into Geneva Airport as it gives you the opportunity to drive through Annecy – one of the prettiest towns to start your few days in the Savoie wine region. There is Chambéry airport which puts you a little closer to the action if you want to forego Annecy.
Eating and Strolling along the Lac Annecy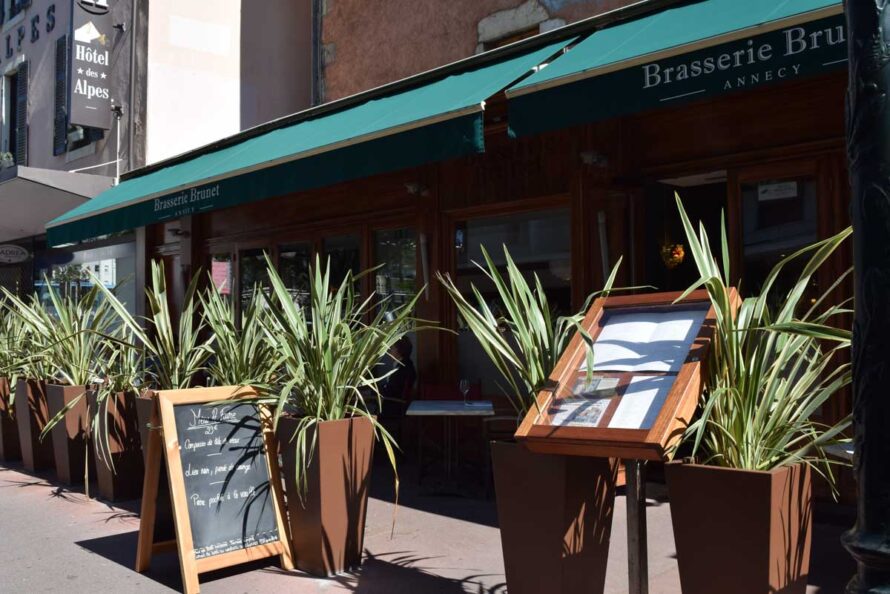 This region of France has the most Michelin stars outside of Paris, so we planned our arrival to be in Annecy at lunch time. We chose the Brasserie Brunet, run by Chef Laurent Petit who has won two Michelin stars for his restaurant Le Clos des Sens in Annecy-le-Vieux. The Brasserie Brunet is more casual, but this brasserie is anything but common.
We were quickly introduced to the grapes that would be our lunch and dinner partners during our weekend ahead: Jacquère, Altesse and Mondeuse. Jacquère had previously been poopooed by the vinerati – a favorite of the ski-bunnies who shushed their way through Chamonix and were seriously fond of fondue!  Now it's being taken seriously. Light on alcohol, it's fresh and not too fruity and can be drunk with every food, including tartiflette.
There is a special place in my heart for Altesse (or known as Roussette de Savoie) because its home of origin was Cyprus, at least that is how the rumor goes. Charlotte of Cyprus, who married Louis of Savoy in 1459, brought her favorite wine with her to France. It's a more full-bodied white than Jacquère.  
That leaves us with Mondeuse, the sole red of the bunch. With a bite that some may call spicy, you either love it or hate this young wine. I love drinking local wines, so was pleased with drinking Mondeuse with all my meaty dishes!
As the summer had not quite left, we began with Gazpacho served with a goat cheese, followed by a gorgeous dish of hot and cold mushrooms. The main course was a stunning piece of Lieu Noir, a local fish from the lake, and then a pear crumble to finish this divine lunch. As Savoie produces over 10,000 tonnes of apples and pears, I was delighted to see them in my dessert! All accompanied by the wines of the Savoie region.
After lunch, take the time to walk through the lovely town and enjoy its canals. Follow them along until they open out to Lake Annecy. Stroll around the Jardins de l'Europe, the park that sits in front of the lake, and don't miss the Pont des Amours where both French and foreign visitors pose for selfies on this iconic footbridge.
The rumor is that if you kiss your love on the bridge, as the clock strikes midnight, you will be together forever!
Walking through back through town, if you stop anywhere, stop at Pierry Gay's cheese shop. He is always ready to speak to anyone who enters – we bumped into him as we was coming back from doing an errand and he lured us in with promises of Tomme de Savoie.
⭐ Best Bit – Don't miss a Savoie Mont Blanc favorite cheese recipe below!
He won't let you leave without showing you his cheese cellar. Gaze from above as you literally watch Savoie cheeses aging. Although he won the "Meilleur Ouvrier de France" (Best Worker in France) in 2011, the shop was founded in 1935 by his grandparents. Have him take you on a tasting tour of only Savoie cheeses  – you might be there all day!
The Château with an Incredible Garden
Right above the lake is the Château de Menthon, built over 1000 years old and owned by the same family throughout its history. Sitting above the lake, it guards over the entire landscape and the view is literally breathtaking. That is not the only reason to visit! In 2017, they planted a vegetable garden, but no ordinary vegetable garden, a permaculture garden.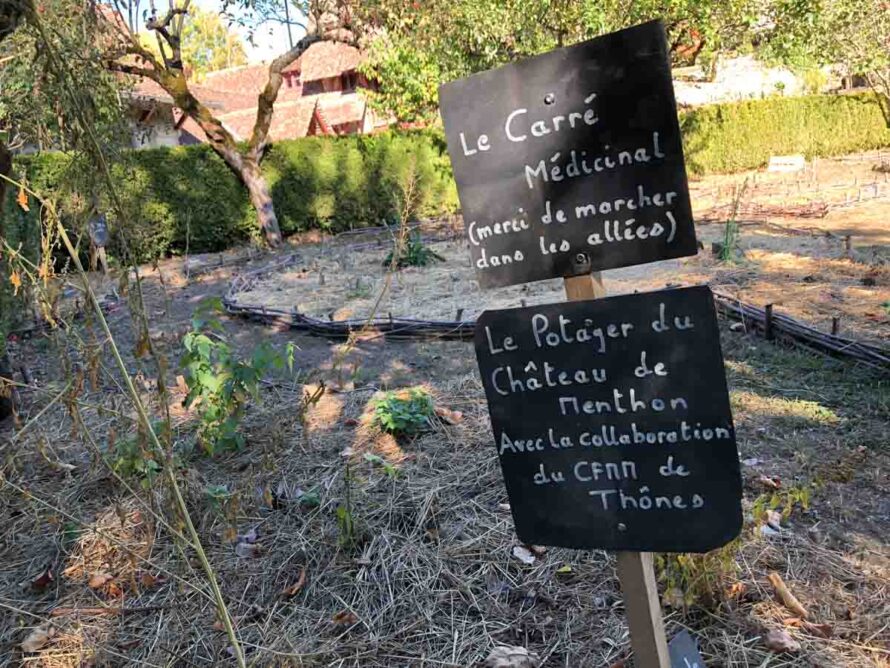 Overseen by Hughes Devreis, who previously spent his days in Corporate Marketing, the garden is completely natural – as in no agricultural input, no pesticides, no fertilizer, and no mechanical intervention at all. Everything is used and there is no waste, the goal being to produce more energy than is used. Stop by to see if the shop is open – they sell everything from carrots and tomatoes to medicinal herbs.
The neighbors were quite noisy!

Our Home for the Night
High upon a hill overlooking the gorgeous Savoie vineyards sits the 14th Château de Candie which is now a hotel! Each of the 25 rooms has its own unique style, but all are luxurious and comfortable and have their own view of the Savoie Wine region!
My room had a small balcony from which I could make out the town of Chambéry in the distance. Make sure to save one dinner of your weekend for their fine dining restaurant, L'Orangerie. You can dine outside or in, but make sure you save room for the cheese selection. You can also arrange massages in your room – the ultimate luxury!

A Tour through the history of the Savoie Wine Region!
Book a morning with Bernard Vissoud, Savoie wine specialist! Off we went right into the vineyards with Bernard leading the way. Standing among the grapes looking out over the region,
Bernard relayed us with tales of landslides, battles and clergy all playing a part in the history of wine-growing in Savoie.
The vineyards cover 2400 hectares (circa 6000 acres) spread out among four departments: Savoie, Haute Savoie, Isère, and Ain. There are 4 AOP (appellation d'origine protégée – meaning good wine!) labels and 22 crus. Savoie also holds the French record for the number of grape varieties and in Savoie, that's 23!  
80% of those are white. He can tell you much, much more, but the wines you will be drinking again and again are the White Jacquère and Altesse wines and the Red Mondeuse.
He also brought along a few Savoie treats for us to enjoy with our wine. You guessed it – cheese! This time we were eating the award winning Tomme de Chèvre, the Tomme de Savoie and the St. Mont des Alpes.
 He then sat us down for a coffee and a few freshly baked Rioute – a hard savory, anise-flavored biscuit that resembles the wicker ties that hold the grapes on the vines. A treat you can only find here in Savoie!

Domaine DuPraz
Jérémy Dupraz may have come from a family of wine growers, but after summers spent picking grapes, that was the last thing he wanted to do when he graduated. After years in computer science, he got to a point in his career and thought – do I want to be behind a computer for the rest of my life?  Needless to say, he answered no!
Now he has opened his domaine to passing guests. We reserved a tour and lunch. Opening every bottle they make, we tried his Jacquère, Altesse and Mondeuse. Even vinters take their lunch seriously and the food was as delicious as the wine.
Dine in one of the Savoie Michelin Star Restaurants
Don't miss eating dinner at one of the Michelin starred restaurants in the area. We drove around the lake to Le Lamartine restaurant overlooking Lake Bourget, France's largest lake.
For over 50 years, Chef Marin and his family have dedicated themselves to using as many local ingredients as he can.  We dined on two different fishes from the lake, Trout and Laveret, and local L'Escargot that was one of the best dishes I have ever eaten.
Chambéry Market
On Saturday morning, we drove into Chambéry for its fabulous food market with the sole purpose of buying some of the cheeses we had been eating to take home with us. They vacuum pack everything, so ask for it sous vide!
Make sure you also don't leave without Génépi, Beaufort or Reblochon flavored saucissons as well! If you are peckish, La Forge does a great brunch. There is no menu as everything is made that day from what they find at the market!

Getting on the Lac to see The Church of Kings
To get to the other side of the region, we took a boat across Lac Bourget from Aix-Les-Bains to see the Hautecombe Abbey. Built in the 12C, the Abbey is the resting home of the Savoie Royal Family from Count Humbert III in the 12th C to the last King and Queen of Italy in the 20thC. (Read my other post for Savoie Royal Family).
The beauty and grandeur of it would be missed if you didn't see it from the lake. Its impressive architecture only gets more beautiful the closer you come to it.

Chanaz – one of the prettiest towns in the Savoie Wine Region
Either head back to Aix-les-Bains by boat or arrange for your car to be driven around the lake to meet you!  Drive straight to one of the most adorable villages in France – Chanaz.
A mill town sitting on the side of Savière canal that leads to the Rhone River, Chanaz is just too picturesque for words. Tour the canal, sit by the canal and have coffee, just spend a little time here, soaking up its cuteness!

Domaine Edmond Jacquin et Fils and the St. Romain Chapel
Our next stop was to try wines at the Domaine Edmond Jacquin et Fils in Joncieux. Before the tasting began, Patrice Jacquin happily guided us through his vineyards up to the St Romain Chapel. From the chapel's high perch, you can see far and wide to the vineyards, the Rhone, and the Ain and Savoie mountains.
Sitting inside the temple, there is a 5th Century stone found in this very spot. On the stone is written an inscription to the God of Wine!  Even back then this was a haven of wine growing. We then spent the rest of the afternoon with Patrice toasting to the god of wine.

Château des Allues is more than a B&B
It would be such a shame to miss staying even one night at the Château des Allues. Labeled as a B&B, it's so much more. Stéphane, the proprietor,  was born to be a hotelier! He is inviting and warm and wants everyone to feel welcome. It's hard not to love it here with its attention to detail and its comfortable and luxurious rooms.
Every one of the XX rooms is individually styled with French country furniture, modern bathrooms and adorned with fresh flowers from Stéphane's garden. Dinner is served to all guests at one large table so you feel that you are part of Stéphane's family.
All the vegetables are grown in the Château's garden, and wines, cheeses and breads are from the region. In fact, as we were departing the baker delivered baguettes and Stephane wrapped one up for me and made me take it back to London as a parting gift!
A very short weekend to explore an historically rich region of France, but still I feel I have had a beginner's education in the wines, food and culture of the Savoie Wine Region. One more trip and I might be calling myself a true Savoyard!
Savoie Wine Region
Restaurants
Vineyards
Boat
Hotels
Try this recipe from Savoie Mont Blanc at home!
Total Time:
1 hour
10 minutes
If you can't wait to ski in Savoie Mont Blanc, try making a tartiflette at home! The Tartiflette is a classic and all the ingredient are available almost everywhere! Photo is by Office de Tourisme du Val d'Arly M. Studio!
Ingredients
1kg of potatoes, peeled
250g of lardons (bacon)
2 shallots
1 garlic clove
100ml white wine
200ml of double cream
1 whole Reblochon cheese
Instructions
Preheat the oven to 200C
Cook the potatoes in a saucepan of salted boiling water for 5-10 minutes, or until tender.
Drain and set aside to cool slightly
Fry the bacon, shallots and garlic for 4-5 minutes. Add the white wine.
Slice the potatoes thinly and layer into an ovenproof gratin dish with the bacon mixture.
Pour over the double cream.
Season with salt and black pepper.
Layer the Reblochon slices on top.
Bake for 10-15 minutes or until the cheese is bubbling.

PIN IT LATER
Thanks so much to www.savoie-mont-blanc.com, www.lac-annecy.com, www.chambery-tourisme.com for organizing this trip. All my opinions are my own!