Disclaimer: Some of these posts contain affiliate links. I may receive compensation if you click on these links and buy something, but, don't worry, it won't cost you a dime!
Covid-19 Update
Please check whether this destination and these establishments are open and ready for business. You can do this by going to their websites or calling them.
Once upon a time, the sestiere (quarter) of Canareggio was considered off the beaten path in Venice. Tourists trudged back and forth from the train station down the Strada Nova to St. Mark's Square and back. If the masses did find themselves in this part of town, it was usually to visit the Jewish ghetto for an hour and then return back to the Rialto as quickly as they came.
The trifecta of San Mark's Square, St. Mark's Church and Doge's Palace do pack a punch and there is nothing bad about sitting at Florian sipping a cappuccino while an orchestra plays Volare, but how nice to make your home in one of the prettiest hotels far from the madding crowd and experience all the great things to do off the beaten path in Venice.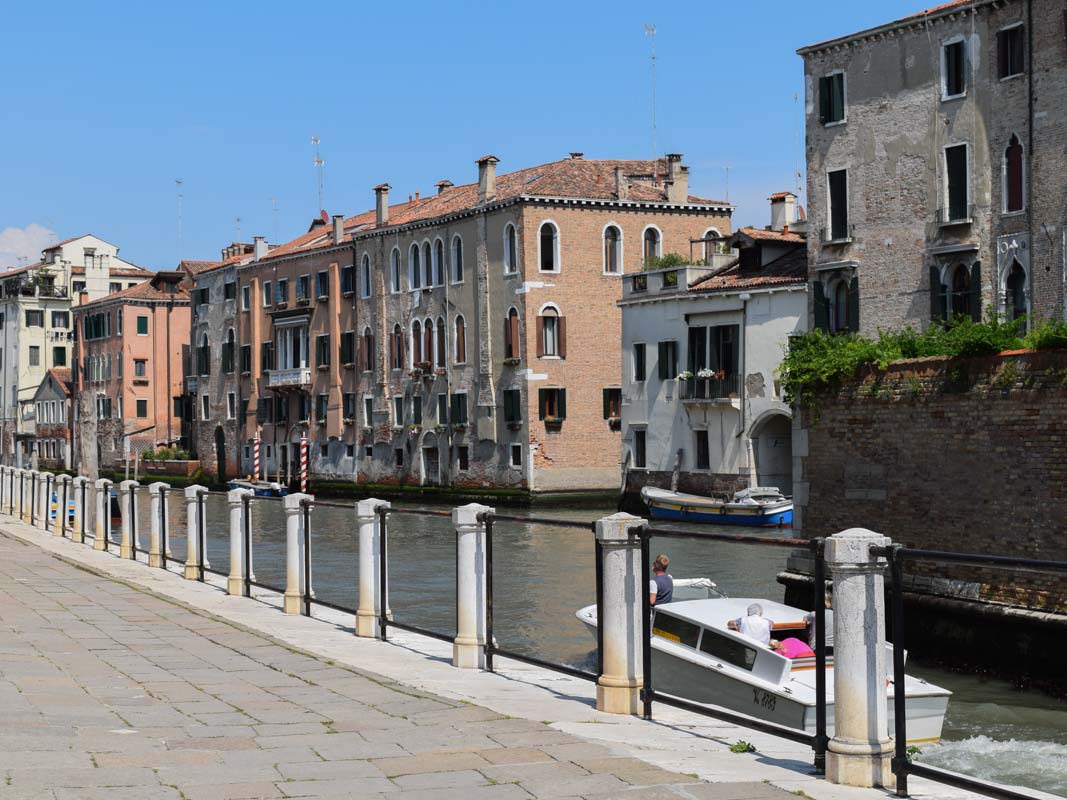 Discover What's Off the Beaten Path in Venice
Hearing the constant complaint that Venice is crowded and touristy, it boggles the mind that this area has remained a mystery. Although still the most tourist-free sestiere, Canareggio is now buzzing with more and more openings, activities and fun things to do in Venice that shouldn't be missed.
How Gold Leaf is Made
After a visit to view the paintings by Renaissance genius, Titian, one of the most famous Venetian artists, at the Accademia delle Belle Arti in the Dorsoduro sestiere of Venice, head back up north to see what's been happening in Titian's house since the 1920's. Did you hear that hammer? It's the sound of pure gold being pounded into gold leaf. Off of Calle Tiziano is Battiloro, the only place in Europe that still makes gold leaf by hand.
For four generations, the same family has been producing this most luxurious of materials for mosaics, murano glass, cosmetics and so many other uses. It's an arduous process of melting gold and then reforming it, and you can experience it all when you visit. Next time you are in San Marks' Church, look up and you can truly appreciate the effort it took to fill the whole ceiling with gold leaf.
Inspiration from a Venetian Celebrity Artist
Steps away from the hotel is the Madonna dell'Orto Church with several of the most important pieces from the Venetian Mannerist painter, Tintoretto. If his work inspires you, then sign up for a series of art classes at the Bottega del Tintoretto, literally below his very house. There are courses in drawing, oil painting, watercolor, printmaking, lithography and more.
The Oldest Working Mill in Italy
Maybe not technically in Canareggio, but close enough for it to be slightly out of the way from the touristy bits of the city, lies Bevilacqua Fabric House. A chance to pass by the best cicchetti places in Venice might lure you there! This small factory pays homage to the industrial powerhouse that Venice was. Between the 16thC and 17th C, there were 1200 weavers in Venice alone.
Technically Luigi Bevilacqua founded his eponymous company in the 1800's, but he had been from a long line of weavers. The earliest on record was Giacomo Bevilacqua in 1499. Luigi set up shop with the same machines they use today. Dolce & Gabbana, the Kremlin, the White House have all been and continue to be customers of the luxurious silk weavers, but anyone can arrange to visit these fabrics being made.
The History of Perfume
The Cypriot gloats when I bring up the origins of perfume, as the ruins of the oldest perfumery in the world were found in Cyprus, of course! Yes, the French have a large part to play, but so do the Venetians. We learned all this at the Perfume Museum housed in the Palazzo Mocenigo, minutes away from Bevilacqua.
You can even take a bespoke perfume making class, given by the luxury perfumier, The Merchant of Venice. Not only does it give you a lesson in the history of perfume making, but it also explains how Venice fits into that history, and what The Merchant of Venice is doing to both preserve that history and create their own.
How to Row like a Venetian Gondelier
If you've never seen the Regata Storica held in September in Venice, I highly recommend it. Hundreds of Venetian and foreigner rowers battle it out on the Grand Canal to win the "Campioni su Gondolini" race (champions of the gondolas). Most boats are just for show – their rowers sporting 16th century-style clothing in a grand parade of antique boats.
Once rowing in Venice was the only way to go, then the speedboat was invented and everything changed. A few years ago, a few entrepreneurial ladies thought it would be fun to teach visitors the basic stroke and started Row Venice and Real Venetian Row.  You can book a tour and if you get the knack of it, you might end the day singing Ave Maria for tourists, while rowing Gondolier style.
The Best Local Venetian Restaurants
All this exercise and activity will make even a local hungry and Canareggio has some of the best Venetian restaurants in town. The most happening stretch is the Fondamenta della Misericordia – a canal where a new place is popping up every minute. The "stand out" for me is Da Rioba where they serve inventive takes on classical Venetian cuisine.
If you want more tranditional, then the equally fabulous Paradiso Perduto is for you. Definitely have an ombra (wine) at Vino Vero – the hippest wine bar in town. For all of them, sit canal-side if you can to get the full Venice experience.
Not to be missed is La Frasca, set in a square that you can only use Google Maps to find or happen upon it when on the way to somewhere else. Perfect for a long Sunday lunch – the Spaghetti di Frutta di Mare (seafood) is worth the plane fare to Venice alone!
Finally, right out side the Palazzo Moncenigo, jump into Osteria Mocenigo – their Spaghetti alle Vongele (clams!) was fantastico.
The Prettiest Hotel in Canareggio
Gliding into the Fondamenta Gasparo Contarini from the airport, you are greeted by the staff at Hotel Heureka, a 16th C Venetian Palazzo turned fabulous hotel. Stepping inside and you are instantly transported from the 16th C exterior to a 21st C interior with its fabulous contemporary lighting fixture beckoning you to enter.
Straddling that perfect balance between the antique and the contemporary, the Hotel Heureka never lets you forget you are in Venice. One thing is for sure, you can't escape the hotel's truly iconic Venetian Renaissance architecture. The hotel's designer heightened the Venetian experience by dotting polychromatic Murano glass Chandeliers, etched Venetian mirrors and luxurious, silk window treatments throughout.
Dancing with its 16th C partner is 21st C design. Paintings by living artist Julian Khol hang in each of the 10 rooms and suites. All the contemporary furnishings and fabrics were selected to work well with paintings, so each room is idiosyncratic in feel. All have up-to-date bathrooms and the Hotel is the only once in Venice to have L'Occitane toiletries. The only item you have to request in your room is a TV – which I loved! I was here to explore and sometimes it's good to leave the outside world somewhere else for a while.
Although there is no restaurant, breakfast is a joy of local treats, and you can have snacks or a light lunch on the terrace in the garden. Oh, the garden – a true haven for anyone wanting to get away from it all. Seating is sprinkled throughout, so you feel as if the whole place is yours alone.What I found fun was curling up on a lounge chair, reading in the late afternoon, while hearing the water lapping in the distance and the hum of speed boats transporting people back and forth from the airport. You'll be napping in a second.
Best Bits of the Trip
I love Venice and have been returning here for the past 35 years.  Discovering new things to do off the beaten path in Venice is so much fun for the first timer or the 100th visit. If you want to know more of my favorite places to go, read my Venice for the First Timer or to eat like a local, check out my Favorite Cicchetti Bars.
PIN IT LATER
I was a guest of Hotel Heureka and RMG & Co in Venice and can't thank them enough for their hospitality.  They arranged Venice Quality Transfers to pick me up and take me to the airport. I highly recommend them for all your transportation in and out of Venice. Disclaimer: This post contains affiliate links. If you make any purchase after clicking on a link, then I will receive a commission at no extra cost to you. I choose to work with each and every brand.