Venice gets an undeservedly bad rap when it comes to food. Punters shepherd hungry tourists into trattorie along the Grand Canal, serving up the ubiquitous menu turistico of pizza and spaghetti with meatballs.
So try eating a few Venetian cicchetti instead! Where you may ask – well here are a few of the best cicchetti bars in Venice! 
What are Cicchetti?
Bacari are now where you can find some of the best local food.  These traditional, local bars serve wine, cocktails, and cicchetti, the much talked about food of the moment. Cicchetti are best described as the Venetian equivalent of Spanish tapas: bite-sized bits of baccalà (cod puree) smeared toast, deep-fried olives, tooth-picked pickled onions and anchovies, croquettes, etc:
Crostini: Toasted slices of local bread usually topped with olive and baccalá spread
Sarde in Saor: Sardines served with a sweet and sour mixture of cured pine nuts, raisins, and cured onions
Tramezzini: These layered sandwiches filled with tuna, hard-boiled eggs and so much more
Panini

: Small sandwiches served on crusty rolls

Croquette Fritte or Polpette: fried meatballs, potatoes, cheese, or tuna
Baccalà Mantecato: Mashed salted-cod creamy balls
Wash these down with the local white wine, glass of prosecco or a Select or Aperol spritz and you have yourself a delicious Venetian lunch.
Where to find the best cicchetti bars in Venice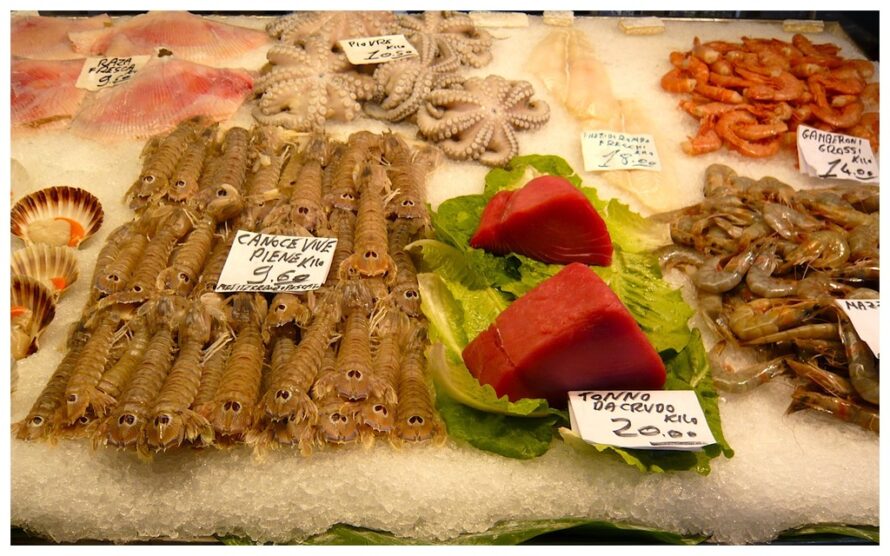 These small restaurants are found all over the city and a great way to get to know not only the city, but to taste Venetian cuisine at reasonable prices. Some are super popular and some are local favorites.
These open-faced sandwiches can be eaten throughout the day, but make sure you check the times, because a few places open first thing in the morning and close at 2 and then reopen in early evening.
Sestiere San Polo (Rialto Fish Market)
Muro Venezia Rialto
Just a little past the famed Rialto Bridge, one of only four bridges that cross the Grand Canal, The Rialto Fish Market in Venice is bustling with tourists, locals, fishmongers and seagulls, especially on a Saturday. It's one of the best places to take in the local culture of La Serenissima!
In Campo Bella Vienna, MuroVenezia Rialto cranks out salsa music making the piazza into one big party. Setting up a tent in front of their small restaurant, they offer a great deal of lightly fried fish caught a minute ago finished off with a glass of local wine.
Address: Sestiere S. Polo, 222
Al Mercà
On the other side of the campo, others huddle for a spot in front of the storefront that's Al Mercà, vying for tiny sandwiches, fried olives and croquettes.
The words "Al Mercà" translate to "on the market" and it's one of the best cicchetti bars in the city. It lives up to its name and offers an expansive selection of panini sandwiches that are filled with truffle paste, cheese, and different meats.
There's also a long list of wines that you can use to complete your order. It's a small place but makes for a perfect spot for a unique marriage of the two most traditional and popular food options, wine and cicchetti, in Venice.
Address: Campo Bella Vienna, 213
Cantina Do Mori
A few steps away, Do Mori, the grand-dame of bacari, offers a little calma e tranquilità from the madness outside.  Down a back street and a bit tricky to find, its dark wood interior, wine casks lined up against the walls and decorative polenta pots hanging from the ceiling transport you right back to the 15th century.
Cantina Do Mori offers a variety of cicchetti, ranging from creamy baccalà mantecato to mouthwatering crostini, served with white polenta squares toppings.
Since 1462, Do Mori has been feeding hungry gondoliers, merchants and even the infamous Casanova.  Don't miss the Fragolino Rosso or Bianco, a sweet local wine that tastes of strawberries.  As is the Italian way, some say Fragolino is illegal due to its method of production but some say it isn't.  While they are deciding, drink as much as you can, as it is absolutely delicious.
Address: Calle Do Mori, San Polo 429
All'Arco
Literally right next door to Do Mori is All'Arco, another of Venice's wonderful local favorites. Scramble to get one of the seats outside and you will see in front of you the arc that the name of the place refers to.
Then turn around and head inside if you can! There is usually a line around the corner. The specialties here are the raw fish, the sarde in soar made with pine nuts, the gorgonzola with anchovy and their baccala is killer!
Address: Calle Arco, San Polo 436
Cantina Do Spade
Cantina do Spade is also located near the Rialto Fish Market. The best thing that you must try at this bar is bacaro's signature polpetta that's served with smoked scamorza and spicy sausage.
Most of the time, the tables at Cantina do Spade are occupied by people who have reserved. At the tables, you can have bigoli in soar and other Venetian dishes, but, you might need to eat your cicchetti while standing.
Address: Sotoportego De La Do Spade, San Polo, 859
Sestiere Cannaregio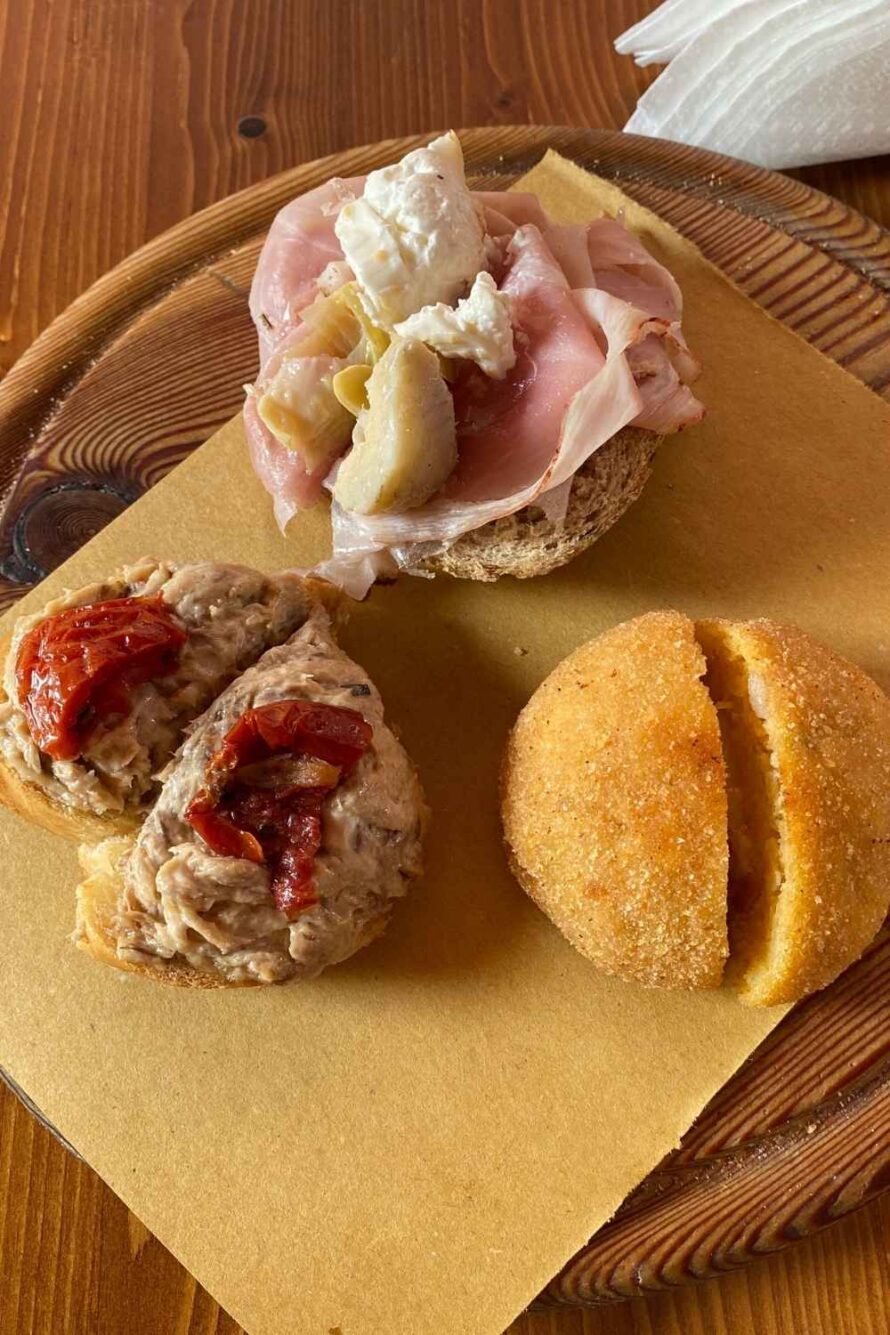 Cantina Aziende Agricole
The Cantina Aziende Agricole is truly a classic. Opened in the 1950's, it has been a favorite of locals and tourists alike. You can order pasta and other course, but I suggest you try the cicchetti.
Order the mackerel and sun-roasted tomato, the local cheese, ham and artichoke, and don't skip on the punmpkin, cheese and panchetta balls! Accompanies by a glass of marzamino or the raboso, the local red wine, and sit for days!
Address: Rio Terà Farsetti, 1847/a
La Cantina
If you started in the Rialto, you can hop the traghetto across the Grand Canal or the vaporetto will get you to Cannaregio in a flash. This is the home of the most innovative of the bacari in Venice.  La Cantina in Campo San Felice has a completely different m.o. from the others. 
Here, everything is prepared to order.  Given the choice of meat/cheese or fish cicchetti, the chef works his magic.  Most are served raw – branzino crudo with onion, monkfish with samphire, tonno and radish, all slightly drizzled with the greenest virgin olive oil.
Address: Cannaregio, 3689
Ca' D'Oro All Vedova
The meat/cheese cicchetti are made with local salamis and cheese: a hard buffalo or gorgonzola dolce or something else equally as scrumptious.  Sitting outside watching the people go by, spritz in hand, it's hard to get up.  
The last place on our list to enjoy cicchetti in Venice is Osteria Ca' D'Oro All Vedova. It offers crunchy and delicious cicchetti made with local cheese and salamis. If you can have only one thing to try at this place, it's polpette. 
It's a dish consisting of traditional Venetian deep-fried meatballs prepared with mashed potatoes and beef. They're flavorful and tender on the inside and crunchy and warm on the outside. 
The bar also offers a variety of drinks that you can pair with your order. Once you're done eating, you can go on a shopping spree in Venice.
Address: Ramo Ca' d'Oro, 3912, 30121 Venice, Italy
Osteria al Tappo
One of the newer bacari in Venice, Tappo is right near the Ghetto in Venice and has made its mark!
There isn't one thing in particular you should try – just ask them for a selection and head in the back toward the garden! Yes, it's one of the only bacari to have one!
Address: Cannaregio, 1188
Vino Vero
Vino Vero is a must-stop on your Venice cicchetti tour in Cannaregio. Relatively a newcomer, opening in 2014, Vino Vero has quickly made its mark. They have have more than 600 bottles of wine to chose from and a huge selection of gorgeous cicchetti to go with them.
The best combination to try at this wine bar is red Italian wine and crostinisti cicchetto topped with creamy baccalà mantecato and burrata.
Address: Fondamenta Misericordia, Cannaregio, 2497
Sestiere Dorsoduro
Cantinone Già Schiavi
Cantinone Già Schiavi is probably the one cicchetti place that is on everyone's list. It is well deserved! Opened in the end of the 19th century as a wine store and took on the name of the owner.
It has all the popular cicchetti recipes – sarde in soar, scampi in soar, baccalà, but don't be afraid to ask them to describe all the others in the display cabinet. Brandy-laced chopped tuna, tartare di tonno, pesto and ricotta, gorgonzola and pear, the list goes one. Grab a spritz and go outside with everyone else.
Address: Fondamenta Nani, 992
El Sbarlefo
Be smart and take the advice of Monica Cesarato, the author of Andar Per Bacari, the best book on bacari in Venice. Go to El Sbarlefo and eat their fresh anchovies and pink peppercorns, the scampi in soar and the moscardini. These baby octopus are usually not my favorite, but these were so light and the sauce was so brilliant, that I am still dreamy about it.
The fried sage was also a perfect accompiantment to the Conico Spritz, their signature cocktail made with Prosecco, lime, mint and cinnamon liqueur! Seats at in the back, so keep going back and ordering more. It's really one of the best in Venice!
Address: Calle San Pantalon, Dorsoduro 3757
Sestiere Santa Croce
Bacareto Da Lele
The Bacareto Da Lele is an ultra-traditional Venetian bacaro, located in Santa Croce. Frequented by both locals,university students and young people. Although tiny inside, it sits in front of the impressive facade of the Chiesa di San Nicola da Tolentino in Campo dei Tolentini.
They are known for their small sandwiches and little glasses of wine.If you are just off from the train station or parked your car at the Piazzale Roma, you must stop here!
Address: Fondamenta dei Tolentini, 183
Sestiere Castello
Osteria alla Scuela
If you are heading out to the Arsenale or Giardini, you might just walk past this tiny place without stopping. Make sure you stop! The interiors might look like it's stuck in the 70s, but the cooking is not.
I had the a few of the delicious cicchettis on offer – the tuna stuffed zucchini, scampi in soar on polenta and one of the best polpetti in Venice!
Address: Salizada de la Gatte, Castello, 3183/A
More cicchetti bars!
There are so many more in Venice, so it you want to have the best you must buy Monica's book, Andar per Bacari. It is in Italian but with google translate, you can figure it you!
Otherwise, take her Bacari Tours of Venice!!!
More about Venice!
If this is your first time in Venice or your 10000th, read my post all about the Best Bits of Venice to find out more.
Where to stay in Venice
Here are the most luxurious hotels in Venice
or find more on Booking!
PIN IT LATER