Disclaimer: Some of these posts contain affiliate links. I may receive compensation if you click on these links and buy something, but, don't worry, it won't cost you a dime!
Venice gets an undeservedly bad rap when it comes to food. Punters shepherd hungry tourists into trattorie along the Grand Canal, serving up the ubiquitous menu turistico of pizza and spaghetti with meatballs.  With just a little bit of extra planning, the best cicchetti in Venice is really right around the next corner.
What are Cicchetti?
Bacari are now where you can find some of the best local food.  These are the traditional wine bars that serve Venice cicchetti, the much talked about food of the moment. Cicchetti are best described as Venetian tapas: bite-sized bits of baccalà  (cod puree) smeared toast, deep-fried olives, tooth-picked pickled onions and anchovies, croquettes, etc.  Wash these down with the local wine, prosecco or Aperol spritz and you have yourself a delicious Venetian lunch.
Where to find the best cicchetti in Venice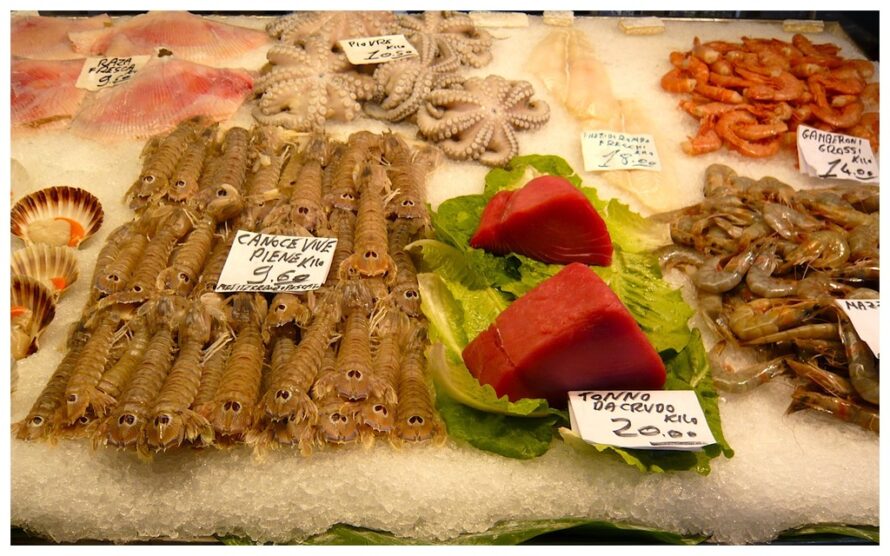 Rialto Fish Market
The Rialto Fish Market in Venice is bustling with tourists, locals, fishmongers and seagulls, especially on a Saturday. In the appropriately named, Campo Bella Venezia, MuroVenezia Rialto cranks out salsa music making the piazza into one big party.
Setting up a tent in front of their small restaurant, they offer a great deal of lightly fried fish caught a minute ago finished off with a glass of local Frizzante for only €8.
On the other side of the campo, others huddle for a spot in front of the storefront that's Al Mercà, vying for tiny sandwiches, fried olives and croquettes. Around the corner, the owners of ProntoPesce shuck oysters, sea truffles, and sweet scampi as quickly as they can. While inside, they've set up a few bar stools and tables so you can relax while enjoying their signature artichokes slathered with baccalà and fresh anchovies with onions. Just like their main restaurant, Alla Testiere, they serve both traditional cicchetti and their own interpretation of the Venetian classics.
A few steps away, Do Mori, the grand-dame of bacari, offers a little calma e tranquilità from the madness outside.  Down a back street and a bit tricky to find, its dark wood interior, wine casks lined up against the walls and decorative polenta pots hanging from the ceiling transport you right back to the 15th century.
Since 1462, Do Mori has been feeding hungry gondoliers, merchants and even the infamous Casanova.  Don't miss the Fragolino Rosso or Bianco, a sweet local wine that tastes of strawberries.  As is the Italian way, some say Fragolino is illegal due to its method of production but some say it isn't.  While they are deciding, drink as much as you can, as it is absolutely delicious.
Canareggio
If emerging from there, you are still a bit peckish, hop the traghetto across the Grand Canal.  You are now in Cannaregio, the home of the most innovative of the bacari in Venice.  La Cantina in Campo San Felice has a completely different m.o. from the others.  Here, everything is prepared to order.  Given the choice of meat/cheese or fish cicchetti, the chef works his magic.  Most are served raw – branzino crudo with onion, monkfish with samphire, tonno and radish, all slightly drizzled with the greenest virgin olive oil.
The meat/cheese cicchetti are made with local salamis and cheese: a hard buffalo or gorgonzola dolce or something else equally as scrumptious.  Sitting outside watching the people go by, spritz in hand, it's hard to get up.   Still, there is shopping to do and the Strada Nova in front of you is waiting to be explored.  One last bite of Ca' D'Oro All Vedova's famous polpetto, if you still have room, and then the shopping can begin.
San Marco
Later on that afternoon, make time for tea on the Gritti Palace front terrace along the Grand Canal.  Looking out at the Ponte Della Dogana and Santa Maria del Salute, you are reminded that you are in the one of the greatest cities in the world.  As the sun sets, a smile comes to your face as you realize dinner is not far off.
If this is your first time in Venice or your 10000th, read my piece here to find out more.
Where to stay in Venice
PIN IT LATER