Disclaimer: Some of these posts contain affiliate links. I may receive compensation if you click on these links and buy something, but, don't worry, it won't cost you a dime!
Covid-19 Update
Please check whether this destination and these establishments are open and ready for business. You can do this by going to their websites or calling them.
Bucks County is not only the spot where Washington crossed the Delaware River so many moons ago, but also where Rodgers & Hart wrote "There's a Small Hotel".   Although technically it is only the PA side, Bucks County sits along the Delaware River which cuts PA and NJ in two, so I kind of think of it as spreading across both states. Autumn is when is all happens here and get yourself down to visit while the iron is hot (and getting cooler) and check out the the five best Bucks County farms.
In the early Fall, deer frolic, wild turkeys cackle, and corn grows as high as an elephant's eye. It's a very short time in which to revel in the joys of the countryside before the leaves fall and children are knocking at your door demanding candy. Every farm is at its peak season for corn, tomatoes and peaches. I fly in from London just to overdose on these common foods made magical. The towns of Bucks County – Carversville, Lumberville, Lambertville, Doylestown, Stockton  – all hold culinary treasures – you just have to know where to look!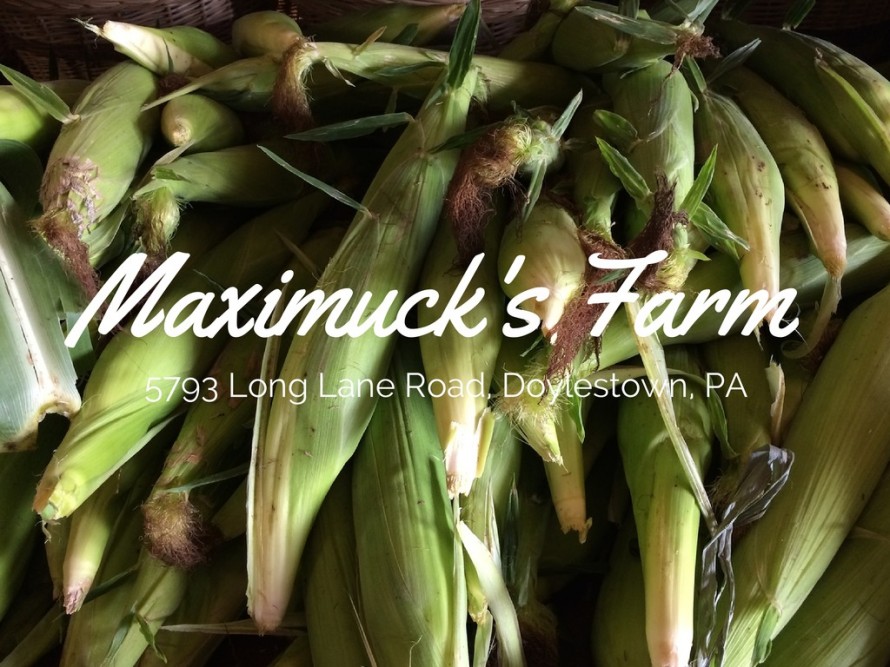 CORN: MAXIMUCK'S FARM
The Maximucks, yes that is their real last name, grow THE best white and bi-color corn I have ever eaten. We eat it everyday in August – pure without butter or salt. It's as sweet as sugar but better for you! Their working farm also grows many other delicious fruits and veggies but it's their corn that keeps pulling me back.
TOMATOES: MICEK FARM
They come from far & wide during tomato season as not to miss out on the best ruby red fruit/veggie in the hood. There are always four cars in front of us waiting not so patiently to get their hands on these beauties. My favorite mode of eating them is sliced up and layered onto Crossroads Bakeshop's olive rolls (see below) with a schmear of Hellman's Mayo – the perfect lunch.
PEACHES: MANOFF'S MARKET GARDENS
Hale is the hardest working dog in town…greeting the hoards who come in for their luscious peaches. A peach in all its furry glory is my breakfast for all the days I am in PA.  The ones you get in the UK just can't compare. If you are lucky enough to live in this area all year round then come back for the apples, strawberries, blackberries and all the other delicious just picked fruit you can gather. A trick I learned in Puglia: peel them and leave them to sit in a jug of Rosé wine – the wine develops a slight peachy flavor and by the time the meal is over you have wine soaked peaches to pour over ice cream.
You are set for the three major food groups in Bucks County – but there is so much more to find on your travels. Here are two of my Best Bits:
SOLEBURY FARMS: APPLES, BLUEBERRIES, PEACHES, TOMATOES
I've picked many a blueberry at Solebury Farm – another fabulous farm offering up the most delicious produce. Apples and pears are on offer now and that means Fall is rolling in. Their applesauce has made the journey over the ocean several times for its fans in London.
CROSSROADS BAKE SHOP: OLIVE ROLLS
Ok, I know it's not a farm, but I can't not write about Crossroads. Everything they do here is amazing but the olive rolls are one of a kind. Well, so are their fruit pies, chocolate cake, ginger cookies. Another unmissable Best Bit.
Got to go now as dinner is almost ready.  You already know the menu!