A trip to Marrakech, Morocco can make your head spin.  It's so important to come with a plan! So I compressed what I learned after multiple trips to this gorgeous city into a list of my top travel tips for Marrakech.
These travel tips for Marrakech are divided into shopping, eating, sightseeing and hotels. I hope it makes it easier to get right to the good stuff without all the hassle of trying to find everything on your own.
Everything goes down in the main square: Jemaa El Fna, so get yourself down there asap. Paul Bowles was known to say that "without the Jemaa, Marrakesh would be just another Moroccan city"  Snake charmers, henna tattoo artists (be careful: the black henna is very allergenic, found out the hard way in Tunisia), fresh orange juice stalls, t-shirts hawkers are all at home here.
At night the square transforms into the biggest restaurant  in the world with hundreds of stalls selling Moroccan fare and all out for your dirham. Choose carefully, but dive in and make one your local while you are there.
All roads off the square send you into a labyrinth of souks, bars, stalls, cafes, and hidden finds.  The fun is to get lost and see if you can find your way back and, if you can't, there are always signs to help you get at least a little less lost or so you thought.
Look up and the Koutoubia (the main bell tower) might point you back to home base.  Test yourself and who knows what you might discover when you do get lost.  If all else fails, there are dozens of little boys to help you find your way back to your riad for 10 or 20 dirham.
Marrakech Shopping
The shopping is fabulous.  You'll find glassware, linens, jewelry, loads of lamps, rugs and lovely clothes.  Many ex-pats have embraced the local traditions and brought them forward a few centuries, creating modern versions of old-fashioned crafts.  These shops live side-by-side the ones that have been in the same family for hundreds of years.
You have to master the art of haggling and just have to embrace it.  Have fun with it and accept that no matter what you pay, you are paying way too much.  If you hate even the thought of it, then there are plenty of stores with fixed prices.  Make sure you can say "No, thank you" in French and Arabic (Non Merci/Shukran) and the phrase "I am only looking" is good to know as well.  (On jette un coup d'oeil/Tan shouf).
The best overall shopping street in the souk is Rue Mouassine.  Also you must check out Guéliz, the "new" town for additional shopping adventures!
Shopping in the medina
Ensemble Artisanal – Avenue Mohammed V
Our shopping alla Marrakech began at this state-sponsored series of small stores within its own complex – like a mini mall   Everything has a fixed price but you get an idea of how much things should cost before you start haggling.  There is some stuff here: the slippers you see everywhere but both in groovy colors and in suede. (see the photo above)  Didn't see those anywhere else.  Take your time and look through everything and buy something if you like it, as you may not see it again.
Maktoub by Max & Jan – Route Sidi Abdelaziz
There is a big sign and arrow welcoming you into this store.  A very friendly Jan who travels back and forth from Agadir took us through the collection.  The prices are high but the designs are worth it.   There is a slightly less expensive sister store around the corner.  If you have trouble finding anything anywhere in Marrakech, just ask him…he led us by hand to the next place.
Atelier Moro – next to the Fontaine Mouassine.
Literally catty-corner from Maktoub (Jan will point it out) is Moro. Make sure you look up as the sign is hidden above the door.  Up the few steps to a lovely little boutique filled with great bits designed and curated by owner

Viviana Gonzalez

: jewelery, divine silk slippers, lovely caftans, and her assistant is super welcoming.
Artouarzazate – 15 Rue Rahba Kdima
If you are heading from the Fontaine Mouassine to the Jemaa El Fna, you will hopefully find this place.  We happened upon it when we heard a chic French woman squeal with delight over a bag. Quirky handmade shirts and bags in beautiful patterns, some really interesting designs and if you are into fur there are some really cool jackets.
KIS (Keep It Secret) Boutique – 36 Derb Fhai Chidni (Rue Mouassine)
This is another great store that was on our list but we found it by chance. Again hidden upstairs like Moro with more fun variations on the bag, jewelry and caftan theme.  This time designed by Adriana Bittencourt and  Caroline Constancio.
Mustapha Blaoui – Rue Bab Doukkala 142-4, Tel: 212-5/2438-5240
We were so proud of ourselves to have found this huge warehouse hidden behind a teeny door.  I admit that we did have to ask the tailor next door to point it out, but we were so close and the door was so small.  Behind door #1 was a treasure-trove of Moroccan themed furniture, lamps, rugs, pictures, etc.  If your next house is a Riad or you want your dining room to copy La Mamounia then here you will find everything.  They leave you to wander around while the man himself sits and holds court. (I really want to use "treasure-trove" to describe every store in Marrakech but left it until now as this is really a trove of treasures.) 
 Al Matjar au Fil d'Or Bazar – No 26 Souk Semmarine
If you are into rugs, then this is the place for you.  There is a huge entrance with a wonderful door.  Mr. Bentahar is on hand to unroll and his poufs are made of linen and are perfect for the Cypriot's house above Paphos.  Tucked into a corner of his office is a photo of Camilla, Duchess of Cornwall, shaking his hand taken on her last visit to Marrakech.  This made me giggle…the Duchess and I have the same taste in tapis!
Achab Atlas -Rue Sidi El Yamani Kissour
There are a million places for herbs and spices but this herboriste is still in its original building.  The owner gave us a tour and was still smiling as we left even though we didn't buy anything.
Essence des Sens – 52 Rue Mouassine, 212-6/7696-3107
Supposedly this is THE place to buy Argan Oil, so we did!  Beware buying it in other places as it is probably cooking oil!
Souk Cherifia – Sidi Abdelaziz, Dar el Bacha entrance
This is the trendiest of all covered souks, comprising of about ten of the hippest shops.  It houses not only Laetitia Trouillet's Lalla Studio but also tons more including Stephanie Jewels and gorgeous linens at La Maison Bahira.  Then go upstairs and have a Mint tea at La Terrace.
Souk Madness!  Couldn't find Akbar Delights & Moor but they are supposed to be fabulous. Beldi was closed when we arrived and we never went back to that exact souk.  Go out and find your own favorite stores and shopkeepers.

Shopping in Géuliz
A great Saturday or Monday thing to do is head over to Yves Saint Laurent's Marrakech garden open to the public – see a bit more of that below – then check out the shops on Rue Yves Saint Laurent – with a name like that you are destined to find chic things.
33 Rue Majorelle
I wanted to hate this store because it was heralded as the first concept store in Marrakech and that is so early Naughties, but I loved it.  The products were pricey but so adorable.  It was created by Monica Bresson, another French expat, and there are products by Hassan Hajjaj, and bags and headscarfs and posters and various and sundry bits.  Attached is a juice bar, Kaowa, of course and there are only shops to investigate that have popped up recently.
Hop a taxi and try to get him to turn on his metre, if not, don't give him more than 20 to get there!  Rue de la Liberté, which is off of Avenue Mohammed V in Guéliz, has grown into a neighborhood of fab stores.  Make sure you don't go on Sunday as they are all closed.  No haggling here  – all fixed prices.
Attika Shoes – 34 Rue de la Liberté, +212-24-43-64-09
This must be your first stop on the Rue as it takes a bit of time to try on every shoe here, which you will want to do, trust me. Ok, they look like Tods but they are about $75 and are in every color you could want.  It was packed with tourists the Monday we were there, so be patient.
Côte Sud & Maison Rouge – 4 & 6 Rue de la Liberté, +212  524-43-84-48
These two shops have some of the cutest linens in Marrakesh.  I loved, and bought, several wash clothes with tiny embroidered knots in amazing colors.
Studio Lalla – 5 Rue de la Liberté, +212-661/477-228
The second and bigger store in Marrakech – other one in the Souk Cherifia which is filled with her take on expat accessories.
There are tons of other stores on the street not to miss, so check them all out.
Place Vendome (141 Ave. Mohammed V; 212-24-43-52-63): leather goods
L'Orientaliste (15 Rue de la Liberté; 212-24-43-40-74); all fun things
Darkoum (5 Rue de la Liberté; 212-24-24-67-39): furniture
Jeff de Bruges for the best chocolates in town (17 Rue de la Liberté): chocolates
Al Jawda (11 Rue de la Liberté; 212-24-43-38-97; ): pastries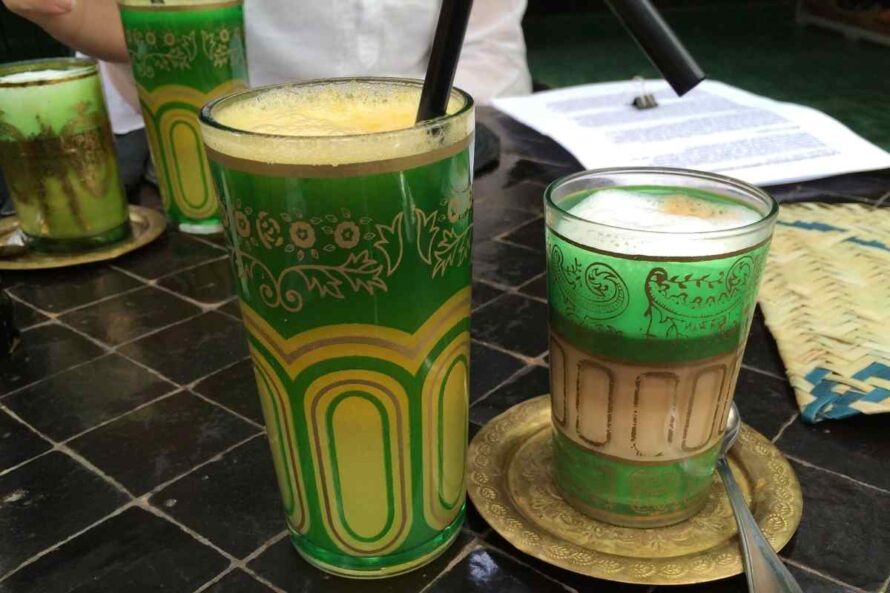 Marrakech Eating
You must be hungry now with all that shopping and there are plenty of places to eat everywhere.  We were only there for a weekend so stuck to cafes and restaurants that were recommended by locals.  Tagines & couscous are the way to go.
Restaurants in the Medina
Le Jardin, Café Des Épices, La Terrace des Épices
If there is any "chain" in Marrakech, then this is it.  One owner and three lovely places all for your different dining needs.
Le Jardin – 32 Souk El Jeld, Sidi Abdelaziz is the latest in the triumvirate and we had a late breakfast here.  The first taste of the amazing fresh orange juice that is served in the de rigeur tea glasses city-wide.  Norya has a pop-up shop up a tiny flight of stairs, but she is off to Brooklyn soon so catch her there only for a short time
Café des Épices – 75 Rahba Lakdima, above the Souk des Épices is the perfect venue for a lazy mint tea or fresh lemonade in the afternoon.  Haggle in the market below for spices, very chic sequin covered wicker baskets and/or a turtle or two take home for good luck.
La Terrace des Épices (above Souk Cherifia) – After a long hard day of shopping, you want to climb up to La Terrace for the view over for a cafe frappe.
Le Fondouk – 55, Souk Hal Fassi +212 24 37 81 90)
Steps away from our Riad was this amazing restaurant.  It was recommended to me by two locals and it is a MUST.   Make sure you book for outside on the rooftop.  It should be your first meal here – watch the sunset as you drink loads of Moroccan wine.
Dar Moha – 81 Rue dar El Bacha, Medina +212 5 24 38 64 00
We went because we wanted to see Pierre Balmain's house and also the chef is known for his nouvelle approach to the traditional Moroccan fare.  There isn't much left of the original interior design and I am not sure Mr. Balmian would approve of what they have done with the place. Still sit outside around the lovely pool, listen to the musicians and amaze at the starter of twelve salads.  Not sure I would call this nouvelle but c'était délicieux!
Maison de la Photographie Terrace
Lunch here on one of the highest rooftops in the Medina is casual but almost perfect. Not only is there an amazing view, but a cool collection of photos as well.  See the pictures, stay for the set lunch menu. I am dreaming of the eggplant dip and chicken tagine now.
Caffé Internazionale, Mellah
We stumbled upon this pastrami place, yes you read it right, pastrami place in the Jewish section of Marrakech.  It is in a wonderful riad that Marco Migliore is redoing.  He already has two place in Belgium and this one is now open for business.  We didn't try as we were having a big lunch at the VIlla Des Orangers planned but next time we must!
Restaurants in Guéliz
Al Fassia – 55 Boulevard Zerktouni,  +212 24 43 40 60
It is really rare that you see females working outside, but here the whole restaurant is run by my lot.  It's on everyone's list and our hotel told us it was amazing we got a reservation at all. You want to order the selection of salads and there are so many choices of tagine that I had to ask the waitress to help me.  She suggested lamb with eggplant and tomatoes – fantastic and we finished off with date ice cream!
Grand Café de la Poste – Angle Boulevard El Mansour Eddahbi et Avenue Imam Malik, +212 5244-33038
"You must remember this, a kiss…" OK so you're not in Casablanca BUT the movie was filmed in a lot in LA, so there.  You could be right back in colonial Morocco – rattan chairs, white umbrellas and even the sign looks aged.   The food is French but the atmosphere is pure decadence.  Lunch was great but come also for an aperitif…linen jacket on your shoulders and the panama hat tipped to one side and you'll be right at home.  Make sure you reserve even at lunch as the regulars snap up all the good seats in front.
Marrakech Sightseeing
With all our shopping and looking and eating, we didn't see as many sights as we had planned.  The ones we did see were fantastic.
Jemaa El Fna
Start your trip here…as I said above it's where it's all happening.  It's a must at all times of the day and keeps changing moment by moment, so keep going back.
Ben Youssef Medersa
A 14th-century Koranic school that is lovely to look at and one of the most important in Morocco: tiles, stucco, carvings, not to be missed.
Mellah
The old Jewish section has its own souk and a bunch of synagogues, which we missed by visiting on a Saturday.  Make sure you do not miss the storks living on the rooftops!
Majorelle Garden

– Avenue Yacoub El Mansour, Bab Doukkala, Guéliz


A must see just for the Majorelle blue alone. 

Yves Saint Laurent lived here with his partner Pierre Bergé and a portion is now open to the public.  Go early to avoid crowds, see the very interesting

Musée Berbère inside the gardens and don't leave without looking in the shop.

Les Bains Des Marrakech, 2 Derb Sedra, Bab Agnaou, Kasbah
I am not sure if this can be regarded as a sight but we saw and experienced it.  Had the 45 minute hammam with my friend.  Don't be shy as we were put in a room together and stripped naked, as the ladies went about their business dousing us with water, scrubbing our dead skin off and wrapping us with mud. If you are a foriegner and want the Hammam experience, this is your place to be.  Otherwise, you need to find a Marrakechi lady to escort you into her local.  I came out smoother than I had been in years.
Marrakech Hotels
For my first Marrakech trip, I wanted to stay in a riad.  There is something very Alice in Wonderland-esque about stepping through a door on a mad crazy street into totally serene garden oasis.  There are many glam riads and you have to book early as they are small and in high demand.
Riads are technically guest houses so don't expect the same attention to detail as a hotel – bring your own shampoo and, if you forget, like I did, there are small shops everywhere selling toiletries.  Most riad rooms face into a square with no window, so no walking around in the buff!
La Villa des Orangers
Like all riads, you would never know what lies behind its unassuming entrance.  We were invited to lunch by the General Manager of this beautiful property as friends of mine have returned here for two weeks every year since it opened in 1998.Technically it is a riad and within the Medina walls, but as part of Relais & Chateaux, it is quite luxurious indeed.  The rooms are fabulous and almost all of them have terraces.  Two pools, lovely public rooms and an incredible hammam make it a must stay.  Lunch is even served everyday gratis to its guests which is such a lovely gesture.
La Mamounia
You say Marrakech and everyone says La Mamounia.  The greats of the world have bedded down here and after its three year restoration it does glimmer, even at night.  We went for an after dinner drink and it was deserted, leaving us to tour the gardens by ourselves.  I think everyone must have been in their very luxurious rooms luxuriating.  I would be if the rooms are as grand as the hotel grounds.  Next time, lunch by the pool!
Best Bits of the Trip
Marrakech is absolutely divine and I have plans to return already with my entire family for Christmas and New Years.  It has gotten under my skin and a yearly trip might be on the cards from now on.  Just like the storks which are holy to Marrakech and live on its rooftops, I feel that I could easily nest here for a long long time.
PIN IT LATER