Thinking of heading to Belgium? Don't forget a trip to Ghent – a city made great in the Middle Ages, but still so much fun today. It's a great place to drink your fair share of Belgian beers and devour up loads of frites.
I would be a fool to try and steer you away from this ritual, but I don't think I need to tell you that there so many other fun things to do in Ghent that might tempt you to leave your beer drinking until later! Don't worry, below there is also list of the best frites in Ghent!
Where is Ghent, Belgium
Ghent is located in the Belgian province of Flanders and is the second largest city after Antwerp. The Leie and Scheldt rivers run right through it which made Ghent one of the most important port cities in medieval times under the rule of Charles V, the Holy Roman Emperor in Europe and throughout the ages.
If you judged this city by its outward appearance and historic buildings, you would be forgiven if unaware of its history as one of the great industrial hubs of Europe, twice. Ghent's history began in 940, when it was the busiest place on earth and the central market for barley, wheat and rye. In the 19th century, this tiny city was the second, most powerful commercial hub after Manchester with cotton sales over the roof.
Ghent has suffered sackings, war, and devastation from its foreign enemies. Now, doing slightly less damage, 40,000 students descend every year to attend one of the best universities in Europe. This yearly influx makes the city always vital and dynamic, and a home to fine arts, famous art work, great food, and beer lovers!
How to get to Ghent
If you are flying, Brussels airport is the closest. Then jump on a train and Ghent is about an hour from there. The most convenient way is to come by car from the airport. You can also drive yourself. Make sure you obtain international driver's license for Belgium – just in case.  If you are traveling from London, the Eurostar can get you into central Brussels in two hours and then switch trains and it's only 30 minutes to Ghent train station from there.
Ghent Weather
Ghent weather never varies too much. The winters can be cold, long and wet, but the summers are rarely too hot. The range is usually about 30°F. To 80°F. The best time of year to visit is between May and October.
Sightseeing in Ghent
There are so many tourist attractions in this Unesco World Heritage Site that should not be missed, starting from seeing the famous Adoration of the Mystic Lamb by Jan Van Eyk, its other iconic architecture both old and new, Ghent river walks, but leave time to try a few of the best bars in Ghent and a few of the Ghent restaurants which have to be tried.
See one of the most famous paintings in the world
The one unmissable painting in town and one of Ghent's top attractions is Jan Van Eyke's triptych, The Adoration of the Mystic Lamb. Like eating frites, it's at the top of the list of things to do in Ghent, for good reason. Nestled into a silent room in the impressive Romanesque St. Bavo's Cathedral, the Ghent Altarpiece is finally home after a life of pure drama: stolen, attacked, and treated badly by its own restorers.
This one painting has been called the most important painting in European history of art – first to be painted in oil and first to record the world in all its harsh realities.  Finished in the 15th centurry, The Adoration of the Mystic Lamb is huge and is made of 12 different panels. you'll find pilgrims honoring the Lamb of God and other biblical stories of note, Adam & Eve, the Annunciation, John the Baptist and more
It's the most stolen painting in history, with Hitler being the most famous of its thieves!  Still one of its panels is missing, someone having stolen in 1934.
I would suggest heading straight to the back of the picture where fewer people are standing listening to their headsets, then coming around to the front to revel in its Northern Renaissance glory!
Make sure to check out the bottom right hand corner to see a man all smiles. He's the devil – knowing that no matter how much you might confess, sinning is going to be all the rage until kingdom come.
Across the square between the Cathedral of St Bavo and St. Nicholas' Church are the Belfry of Ghent and the Cloth Hall. Climb to the very top where it's the best way to see not only the centre of Ghent and its narrow streets, but also the countryside surrounding.
Visiting Saint Bavo's Cathedral: Summer 9.30am – 5.00pm; Winter 10.30am – 4.00pm;  On Sundays all through the year the chapel is open from 1.00 pm. Tickets are  Individual visit (audio guide included): €4  FYI: Every day at 12 am till 1 pm the outside panels of the triptych.
Belfry of Ghent (Bell Tower)
⭐ Best Bit – Are you in Ghent on a Sunday, then check out my walking tour of all the things you can do only on a Sunday, which includes a visit to STAM – Ghent City Museum!
Experience Ghent from the river
As I said above, the Scheldt River and Leie River run right through Ghent. I think the best view of the city center to see it from the water and the best way to do that is take a boat trip.
You'll sail past under St. Michael's bridge and view the impressive and foreboding 12th century Gravensteen castle, the medieval Castle of the Counts, the last remaining wooden house, the angel with the gas mask and other sites that you would never experience on foot, plus learning even more history about the town.
There are so many options, but I can recommend the 50-minute Ghent River Tour.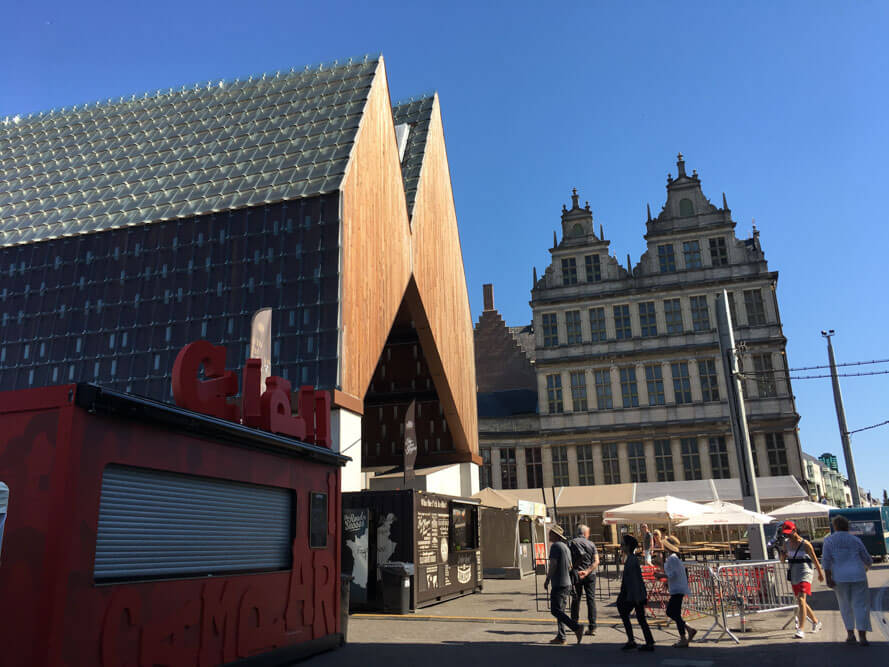 Wonder at the diversity of Ghent's architecture
The Ghent style of architecture is a cocktail of beautiful buildings from Gothic style, Pre-Renaissance, Renaissance, Baroque, Napoleonic, 20th century and Contemporary all sitting side-by-side harmoniously in the historic center of Ghent.
Primarily filled with those iconic gabled, Renaissance "skyscrapers" along the river, Ghent architecture also hints at modernity with its Stadt House, its new library De Krook, and even step into the spacious, airy, Marriott Hotel.
The best way to truly appreciate it is if you do loads of research beforehand or take a walking tour or a guided tour of the city.
Eating in Ghent
Pakhuis
What is the Ghent cuisine? Banish the idea of mussels and frites at every seating. Ghent is changing its perception and moving into the modern world. That is not to say you shouldn't have your share of a few of the local dishes: Gentse kop, a local speciality made from pig's head; stoverij (beef slowly stewed in beer),  Gentsewaterzooi (a local soup) and many others!
You're lucky if you catch the tail end of asparagus season in April at Pakhuis, one of the city's most popular restaurants. A former warehouse converted into a cool, hip place with a great bar. If you can't, don't worry everything else on the menu is amazing.
Pakhuis, Schuurkenstraat 4, 9000: Mon – Thu 11:30am – 1:00am, Fri – Sat 11:30am – 2:00am, Sun Closed
De Superett
Try one of the new Ghent restaurants like De Superette, the bakery/restaurant from one of the great chefs of Ghent, Kobe Desramaults. A wood-burning oven is at its heart and the pizzas were fantastic. As we were leaving, the restaurant was closing for the night and they gave us two loaves of their incredible bread, which we sliced up and threw in the freezer!
De Superette, Guldenspoorstraat 29, 9000: Wed – Fri 6:00pm – 10:00pm, Sat – Sun 10:00am – 4:00pm, 6:00–10:00pm, Mon – Tues Closed
Balls & Glory
If you want to try Ghent fast food, one of the best places is Balls & Glory for its name alone! It's a chain, with one in Brussels & Antwerp, but it has to be done. They've taken a national dish, bollekes, and updated it. Try the truffle, mushroom and chicken, served with mashed potatoes and gravy. Not the lightest summer meal, but delicious nonetheless!
Balls & Glory, Jakobijnenstraat 6, 9000: Mon – Sat 10:00am – 9:00pm, Sun Closed
The oldest mustard in town
Don't miss the Tierenteyn-Verlent Mustard Shop behind the rival Cuberdons sellers. It's been there since 1867 selling only one type of mustard. Pick the size of the container you want and go!
Fuel the fight
Cuberdons are as famous as frites in Ghent. What interested me more than the nose shaped, fruit jelly-like candies themselves was the rumor that two of the sellers in Korenmarkt were vicious rivals. The Cypriot and I bought one bag for 2 euros from one seller and one bag for 5 from the other.
When I complained about the price difference, the one seller quickly pointed out there were many more in the bag he gave me, which was true. It allowed me to try more flavors – not just the popular raspberry. Similar to fruit jellies, which I adore, with runny insides, I was hooked. My advice is to ignore their feud, decide if you want to spend 2 or 5 and then leave them both to go at it!
Taste the National Dish at the Friday Market
There is a weekly market in the heart of Ghent every Friday. That's where we tried the national dish of Belgium – the frites! You just have to eat frites in Ghent – it's the pride of the country.
Here is a list of the best places to try them in town other than the market!
De Frietketel (Papegaaistraat 89) is the best known – the portions are huge and the tartare sauce homemade.
De Papegaai (Annonciadenstraat 17) – they also have a place to sit inside & outside. Don't miss their beef stew sauce
Bij Filip (Pensmarkt 8)  – inside one of the Great Butchers' Hall, you'll find Filip who also serves escargots, croquettes and other frikadels.
De Gouden Saté (Sint-Pietersplein 28) – open until 6:00am! No matter what time in the morning you want Ghent frites, they are open!
Drinking in Ghent
Taste a local beer made with no hops
If you like beer, I would suggest beginning your Ghent itinerary with a tasting the beverage that is synonymous with Flanders – Ghent beer. Where best to try this is Gruut Brewery? What makes this Ghent beer different from all the rest! Annik De Splenter, the founder of Gruut,  spent almost two years figuring out a way make a beer without hops and she did it. She reinvented a drink that the monks had mastered in the Middle Ages.
You can visit the distillery during opening hours to taste all of the beers she makes, even the one with hops, by ourself or make a reservation for a guided tour to discover how it's made. The tour is about an hour is is only 11€. If you want taste some local cheeses and meats with it, then it's 16€. Both tours included 3 tastings.
They also do a Brewery visit with boat trip which is 50 min. on the rivers of Ghent with a guide, a brewery visit and 3 tastings which is €22 per person (min. 10 persons), 60 min is, €24 per person (min. 20 persons) and 90min is  €28 per person (min. 20 persons)
Gruut Brewery, Stadsbrouwerij Gruut, Rembert Dodoensdreef 1: Open Mon – Thu 2 – 6pm, Fri-Sat 11am – 11pm, Sun 2-7pm
⭐ Best Bit: Searching for a Trappist Beer in a 15th Century bar, then head to Dulle Greit! As a new customer, you can swap one of your shoes (they will get it back!) for a beer served in a boot-shaped glass! They have over 500 types of beer!
Sip a Genever (& other local spirits!)
It used to be a shot of Genever a day kept the doctor away. Try making the Flemish Coffee recipe below or go to one of these bars
At 't Dreupelkot, feel free to enjoy more than your one a day, and never have the same flavor. A tiny bar, you could easily miss, snuggled in between two bigger bars, 't Dreupelkot seems as if it rose from the banks of the river in the 940's. Don't expect the older gentleman behind the counter to speak English, but the menu is in English, so you can point.
't Dreupelkot, Groentenmarkt 12, 9000: Sun-Thu 2:00pm – 1:00am, Fri – Sat 2:00pm – 2:00am
Proof is a one-stop shop for sipping. They have over 350 spirits on sale and you can try all of them before buying. Settle into the back of the store, along the canal. Every gin you try is served with tonic, so no need to ask!
Proof, Jan Breydelstraat 34, 9000: Thu 5-8:30pm, Fri 4-8:30pm, Sat 2-8:30pm; Sun-Wed Closed
After your genever shots, try Jigger's, the bar that makes mixologist-enthusiasts happy. Award-winning cocktails are the draw. Creep downstairs and you'll be met by Olivier who will make you one of his own creations or anything you order to perfection.
Jigger's, Oudburg 16, 9000: Tue – Thu 5:00pm – 1:00am, Fri – Sat 5:00pm – 2:30am, Sun 4:00 – 11:00pm, Mon Closed
Best Bits of the trip
You're really going to get a feel for the city, if you take the time to experience these fun things to do Ghent. It's a vibrant, university town with a load of history, stunning architecture and great frites! If you are in Ghent on a Sunday, check out my guide of  What to do on Sunday in Ghent!  Let us know what you loved to do in the comments below!
Take one of these Ghent Tours
Try making this Flemish Coffee recipe at home!!
If you love Irish Coffee, then try your hand at making a Flemish Coffee this time. Using Genever instead of whisky brings a whole new dimension to it!
Ingredients
2 tablespoons of Genever
1 teaspoon of brown sugar
1 oz of double cream
1 espresso
Instructions
Brew the coffee.
Pour the Genever into a heatproof glass, then add the sugar.
Pour in coffee to 2-3cm below full, then stir and taste. Add more sugar if needed.
Whip the double cream until it's just aerated but still pourable.
Hold a teaspoon in the glass so the tip is just touching where the coffee meets the glass edge and the bowl of the spoon is upside-down.
Carefully pour the lightly whipped cream over the back of the spoon so it slides gently on top of the coffee to fill the glass, rather than sinking in.
Serve immediately. 
PIN IT LATER
Thank you so much for Visit Gent and Visit Flanders for all their assistance and support, making this dream trip a reality. The Visit Gent City Card made the trip a whole lot easier and I highly suggest getting one if you are there for more than a day. We had a great time and, of course, everything on Best Bits is my own opinion!