Sundays are sacred in this Belgium city. Most of the shops are closed and students go home to have lunch with their parents. Still in a city as vibrant as this, you don't need shops or students to have a fantastic day and find loads of things to do in Ghent on Sunday.
The Cypriot and I discovered a great self-guided walking tour of Ghent where you discover things out of the tourist center of Ghent, but are completely walkable.
⭐ Best Bit – Don't miss the easy local Ghent recipe below! Perfect for Sunday lunch!
Go To School
Start at the University of Ghent's cultural centre Het Pand – the former Dominican monastery built in the 13th C on Sint-Michielsstraat.
Linger at One of the Best Coffee Place in Town
Stop for coffee at More More on the corner of Onderbergen and Jakobijnenstraat.
Gaze at the Lys River
Walk down Onderbergen gazing into all the great shop fronts (closed), picking which ones you want to visit the next day, and then turn left onto Gebroeders Vandeveldestraat across the bridge over the Lys River.
Wonder at the Neo-Classical Architecture
Pass the neo-classical Court House, completed in 1846, and find yourself immersed in the absolutely divine, only on Sunday, Flower Market!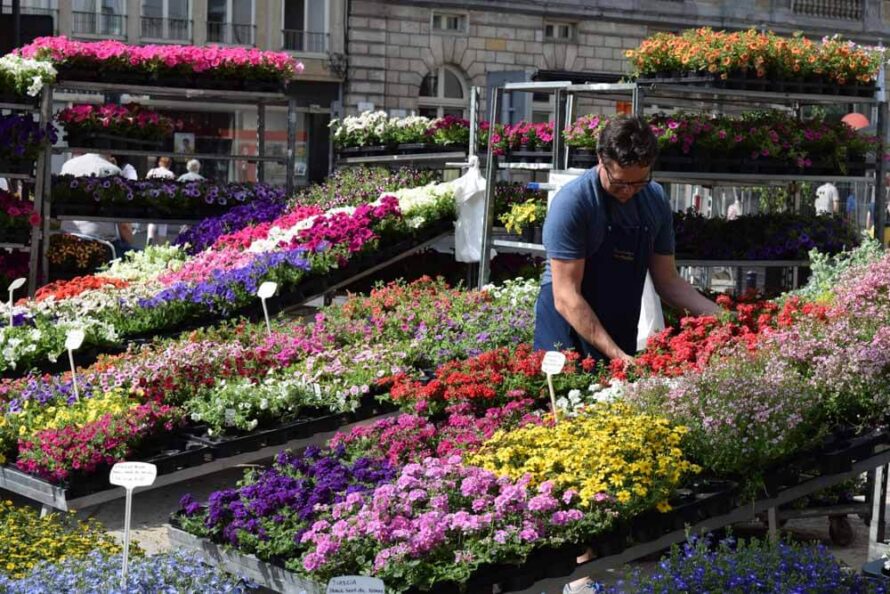 Enjoy the Sunday-only Flower Market
Here on Kouter Square, there is actually a flower market everyday, but on Sunday it explodes, taking up the whole square and acting as a magnet for locals and tourists alike.
We were there when hydrangeas were being sold fast and furious, but April must be incredible when the tulips are in season.
As you approach the flower market, you would be right to think that speakers are set up to play classical versions of modern hits. You would be wrong. Set right in the middle of market is a band shell and, on the Sunday we were there, a small orchestra was performing:
Indulge in Oysters & Champagne
The only thing that could tear us away from the music was the rumor of a few Oysters and Champagne at De Blauwe Kiosk (The Blue Kiosk).
This kiosk has been here for as long as anyone can remember, serving seafood on toast or seasonal oysters, always accompanied by some bubbly.
Go to the Opera
When ready to move on, pass by the Opera House unto Kortrijksepoortstraat to head to S.M.A.K., Ghent's Museum of Contemporary Art, nestled into Citadel Park.
Another great street for window shopping and another coffee, if you need it after a few glasses of Champagne.
See Some Modern Art
Turn left onto Charles de Kerchovelaan and you will see the park in front of you. Walk in and it's as if you left the city far behind.
Keep walking and you will hit what you think is a casino, given the word CASINO at the top.  Actually it was the city's Casino, built in 1910, but SMAK was officially opened in this space in 1999.
I won't go on about the exhibit we saw as you may be going at a different time, but make sure to check out the hanger space in the back – which wasn't being used for an exhibit but was pretty impressive!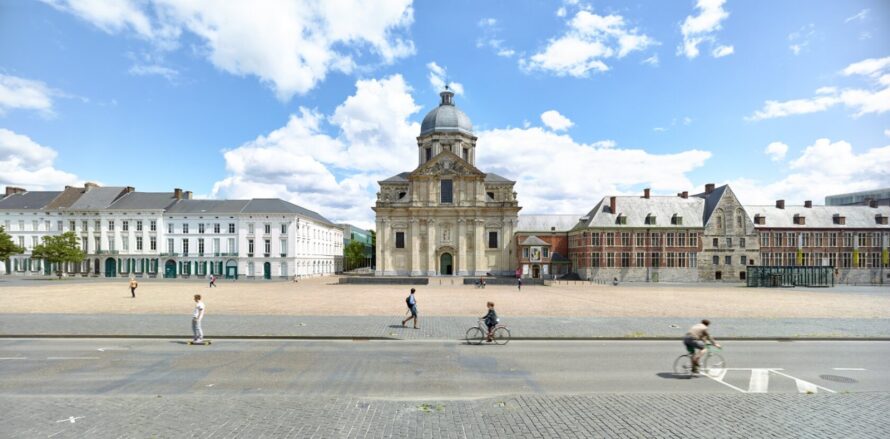 Let Ghent's Architecture Awe You
After you're done taking in the art, it's time for the architecture tour! Continue onto Charles de Kerchovelaan and Turn left onto Overpoortstraat, which becomes Sint-Pietersnieuwstraat.
To be honest, the Cypriot and I jumped on a bus, but we realized we should have walked when we zoomed past Sint-Pietersplein  – a gorgeous church, square, museum and garden.  If you have the stamina, do everything by foot.  Turn right onto Korianderstraat and then turn right onto Platteberg.
Next on the list was De Krook. Remember the Cypriot is a contemporary architect! A gentleman stopped us and wanted to know if we were lost. We told him we were looking for De Krook – not really knowing exactly what it was, but having seen it on the map. He explained it is to be the city's new library and, the little that is open, has been a success.  We wish De Krook luck and I know there is one Cypriot who was impressed!
Double back onto the main street and take in all the fab architecture:
Art Deco and Renaissance and just weird unite into one Ghent!
Head Back to the Flower Market Again
Head straight over one more bridge and you will find yourself back at the flower market in no time! If it's before four, have a second glass of champagne before they all pack up until next week!
That is our Loop in Ghent, more loops in more destinations to come!
You can take a Ghent tour!
Try this easy yummy Ghent recipe at home!!
Waterzooi is a classic stew of Flanders. Its name is Dutch, "zooien" meaning "to boil". It is sometimes called Gentse Waterzooi (in Dutch) which refers to the city of Ghent.
The original form is made of fish, either freshwater or sea, though today chicken waterzooi is more common. The most accepted theory is that rivers of Ghent became too polluted and the fish there disappeared The stew is made of the fish or chicken, vegetables including carrots, leeks and potatoes, herbs, eggs, cream and butter and usually served as a soup with a baguette to sop up the liquid.
Ingredients
1 chicken
3 leeks
½ celeriac
3 carrots
1 onion
4 potatoes
2.1 quarts chicken stock
0.21 quarts quarts cream
1 lemon
2 egg yolks
Instructions
Melt the butter, cube the vegetables, sauté the vegetables for 4 to 5 minutes
Add the chicken
Add pepper and salt and the stock (the chicken has to be entirely submerged; add water if necessary)
Allow to simmer on the hob for 45 minutes
Take the chicken out of the pan, cut it in pieces and remove the skin and bones
Beat the two egg yolks and cream and carefully pour it into the soup
Add lemon juice.
Put the pieces of chicken back into the soup
Serve very hot with a baguette.
TO PIN LATER
Thank you so much for Visit Gent and Visit Flanders for all their assistance and support, making this dream trip a reality. The Visit Gent City Card made the trip a whole lot easier and I highly suggest getting one if you are there for more than a day. We had a great time and, of course, everything on Best Bits is my own opinion!