I'm not a food blogger per se but I do like to eat and where is better to eat than in Rome?  It's home to all my favorite pasta dishes: arrabbiata, amatriciana, cacio e pepe, and carbonara!  So I jumped at the chance to take part in a Walks of Italy food tour.  Eating and drinking while exploring Rome's Campo dei Fiori was my idea of heaven.
The morning just couldn't have started any better.  I had slept like a bambina in my amazing suite at the lovely Babuino 181, a small but luxurious boutique hotel owned by my friend of at least 25 years the hotelier Alberto Moncada.  The cappuccino was perfect, the bath huge, the pillows down and what a view…from my private terrace!
My friend and fellow travel blogger, Murissa of Mad Travel Diaries, met me in the center of the square under Giordano Bruno's cape. His statue occupies the site where he was burned at the stake 500 years ago.  
Bruno had the misfortune to be a 16th century Dominican friar and layman astrologer who claimed that the Earth revolved around the sun.  Silly him, everything revolves around food in Rome, non?
Andrea, our proud homegrown tour guide, regaled us with romantic stories of Campo dei Fiori's distant past, while we chomped through pizza bianca. This busy urban market was once a peaceful field of flowers (thus campo [field] dei fiori [flowers]).  All that changed in 16th century due political wars and it was not the best neighborhood to be wondering around after dark.  You might bump into that scallywag Caravaggio and end up sliced through like the pizza bianca we were downing. We had begun eating at the Forno, otherwise known as bakery, for a true Roman breakfast – not the pizza that New Yorkers or Neapolitans call their own, but a small slice of crunchy baked pizza dough with a schmear of olive oil sprinkled with salt.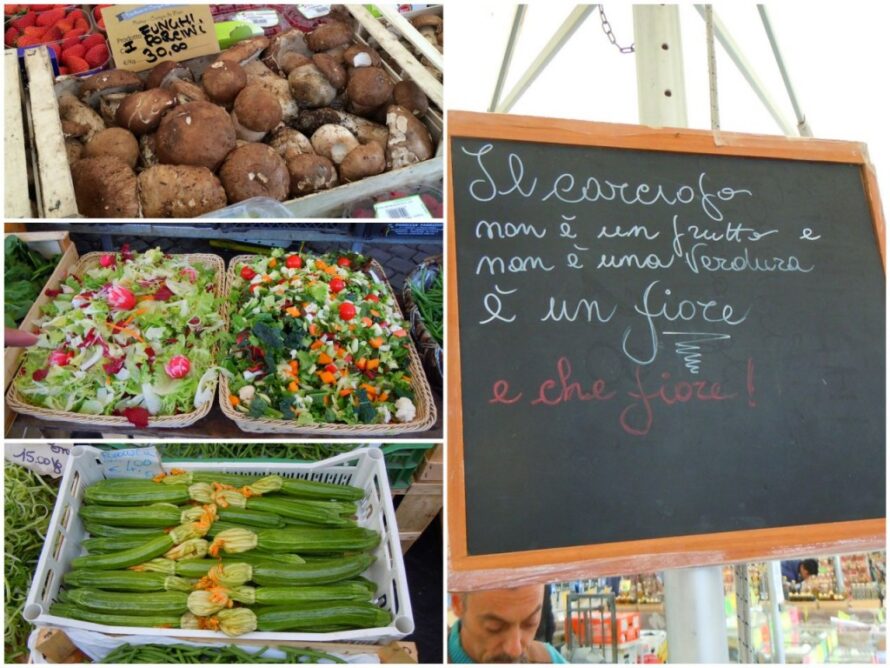 We nibbled as we wandered in and out of the veggie sellers learning that Rome is the only place in Italy that serves pizza by the slice. Andrea's personal favorite was pizza alla mortadella – a salami/bologna/head cheese substance – which is actually illegal in the USA. All the autumn produce was on view: zucchini with their flowers, pumpkins, portobello mushrooms, truffles and, my favourite of the day, pre-chopped veggies for minestrone. If, by chance you didn't know that funny looking green vegetable was, there was a sign to enlighten: "the artichoke is not a fruit, it is not a vegetable, it is a flower and WHAT A FLOWER!"
After easing us in with a few tastings of Italian olive oil and balsamic vinegar, it was time to start digging into the real food. By that I mean pork, pork and more pork. Norcineria Viola has been selling to the hoards since 1890.  I had never heard of a Norcineria – usually these shops are called Salumeria. They are practically the same thing but here most of the items are from Norcia, a tiny town in Umbria where obviously they produce a lot of pork products.  Andrea popped open a bottle of chilled red, which he sold as going "very well with cold cuts."  These were not your everyday Oscar Mayer lunchables but proscitto di norcia, cappacollo, coralina, soprasatta romana, wine-soaked salami, truffle salami and, to top it all off, coppietta alla romana – a chewy pork jerky flavored with red chili.  Most of these you don't even get outside of Italy and we were having them all in one place.
With our bellies full and our heads slightly lighter, we wandered a few feet over to the local Latteria Cisternino to top up with cheese this time.  Here we were greeted with chilled white which accompanied our lovely, silky burrata, the cheese on everyone's menu now.  How can we, non-Italians, not have been eating cheese filled with more cheese for all this time?  Mozzerella was next, both regular and smoked, and then sheep followed buffalo with pecorino dipped in truffle honey, chili-speckled pecorino, and then a hearty, salty pecorino romano.  Onto my favorite of the tasting – a softish milk cheese flavored with saffron and black pepper, then we ended with the king of the cheese world – Parmigiano di Modena.  An Italian urban myth was proved when Andrea assured us that all Italian mothers know that if their child won't drink milk, you can load them up with parmigiana for their daily-recommended allowance of calcium.
I really didn't think I had anything left in me but as we walked into a local pizzeria, I knew I had to man up for the last task – pizza-making!  Dough kneading and rolling, sauce spreading and veggie choosing gave me a little much-needed pocket of space in my tummy and it was a load of fun.  We ended the tour drinking copious bottles of wine toasting to the love of eating and the Romans who know how to treat a tourist right!
Campo Dei Fiori Market:

Forno Campo De Fiori
Norcineria Viola
Cooperative Latte Cisternino
NB: I was the guest of Walks of Italy and I can't thank them enough for such a wonderful morning.  Everything I write is my own opinion!