Not even thirty minutes from central Stockholm, there is a tiny island where, once you're ashore, you feel world's away from the big city. Fjaderholmarna Sweden may not be so easy to pronounce for non-Swedes, but you'll want to figure it out for your next trip to Stockholm.
On the footsteps of the archipelago, there are so many things to do in Fjaderholmarna that you might not want to go back to Stockholm, especially with all the Swedish eating, drinking & being merry establishments.
How to get to Fjäderholmarna Sweden
A heavenly little boat picks you up from the Gamla Stan pier in central Stockholm & before you can say Fjaderholmarna Sweden…you're there. It's called the Fjäderholmarna Båt in Swedish. You can jump on it for free with the Stockholm Pass, or else it's normal price is Adult: SEK 150; Child (6-15): SEK 75 and leaves every half hour in the summer from 10:30am until 10:30pm, but don't get stranded! It only takes 30 minutes and you sail past a part of Stockholm you might not have otherwise seen.
Things to do on Fjäderholmarna, Sweden
Fjäderholmarna Bryggeri
The closest stop to the dock is the home-grown island brewery, Fjäderholmarna Bryggeri. The brewery makes several different types of beer and you can even get a flight of them for 189 kronor.  A plank arrives with five glasses of beer that's on tap and straight from the tank. You can even have an amazing burger!  Though it is only open seasonally (spring/summer), it definitely has no shortage of visitors and is absolutely worth the boat ride.
Fjäderholmarna Bryggeri: Mon – Sat 12:00pm – 11:00pm, Sun 12:00pm – 8:00pm
Fjäderholmarna Choklad
Right next door to the brewery, Fjäderholmarna Choklad is creating some crazy combinations of their own. Brazilian cocoa beans plus Stockholm ingenuity makes for chocolates filled with Bjørk (not the Icelandic singer, but Birch Syrup) and Vårbroddsirap (vernal grass syrup), not to mention the Herbal Schnapps chocolate bars would be amiss, as well. They take their inspiration from the island itself! Ask them to tell you the special history of each bar!
Fjäderholmarna Choklad: no hours listed, call just to make sure +46 70 866 33 97
Shopping on Fjaderholmarna
There is a spot of shopping on the island as well. You can watch them blowing glass at Åtta Glas or treat yourself to one of Anneli Ohlsson's lovely designs. Her textile studio also sells products from a slew of other creative local artists. Don't forget to shop in Stockholm as well.
Rökeriet
Make sure you're hungry when you get to Fjäderholmarna because you won't want to miss a meal at the Rökeriet. Sitting seaside savouring Swedish smoked shrimp while sipping snaps is worth the airfare alone. Followed by a Ängsholmens fisk- & skaldjursgryta – a Swedish bouillabaisse – you know you are becoming Svensk by the second.
Another great place to find Swedish food is Nynashamn – so try and visit there as well.
Rökeriet: open daily 12:00pm – 11:00pm (temporarily closed)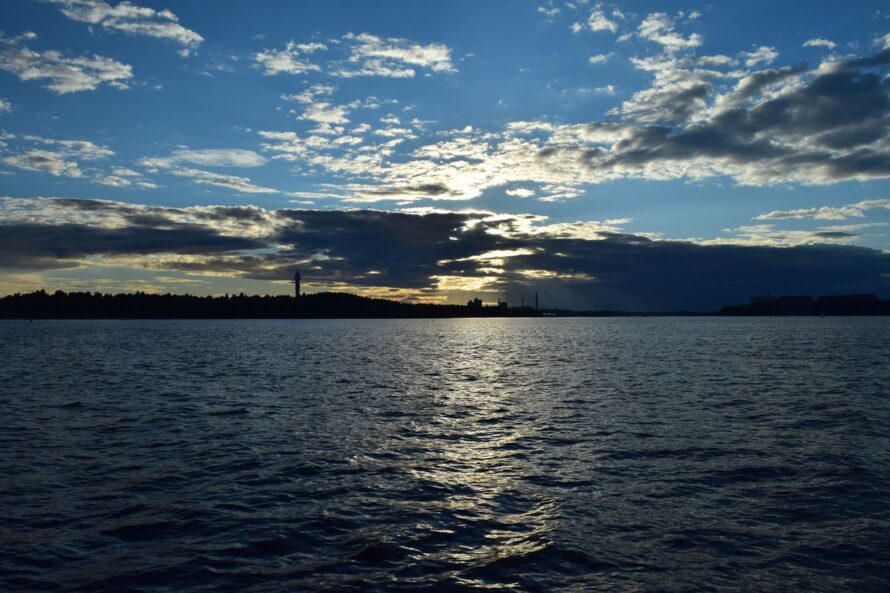 Watch the Sunset
Watching the sunset is its own activity on Fjaderholmarna Sweden as you wait for the next boat to take you back to the big city. A perfect day out and you aren't even 20 minutes away from central Stockholm! If you want more time on the water, book an archipelago tour!
Where to stay when visiting Fjäderholmarna Sweden
I personally love the Ett Hem, full of charm and character, as well as being super luxurious. There are loads of other wonderful, luxury hotels in Stockholm as well.
Grand Hotel, Stockholm – the grande-dame of Stockholm hotels. The most luxurious in Stockholm  – with an incredible view of Stockholm's canals.
Nobis Hotel – the other luxury option in Stockholm. The trendy hotspot right in shopping area! Originally a bank where the term Stockholm Syndrome was invented!
Read reviews here, then book a stay on Booking.com
Best Bit to leave you with
I adore Stockholm and it's hard to leave the city when there is so much to do there. A trip out to Fjäderholmarna, even for dinner, will make you feel as if you have seen the rest of Sweden in one evening!
PIN IT LATER
Disclaimer: This post contains affiliate links. If you make any purchase after clicking on a link, then I will receive a commission at no extra cost to you. I choose to work with each and every brand.