When heading out to explore the archipelago of Sweden, make your first stop the tiny town of Nynäshamn. It's one of the foodie towns of Sweden and shouldn't be missed, There are other things to do in Nynäshamn, but involve eating! Only about an hour from Stockholm, it would have been a pity not to make the trek.
Where is Nynäshamn, Sweden
For a tiny town with only 13,000 inhabitants, at the jumping off point of the Swedish Archipelago, Nynäshamn is known throughout the country as a food-lovers paradise. It's a sweet village with an amazing view of the sea. Some of the best culinary delights produced in Sweden come out of this little seaside port. One shop with a restaurant attached was worth the trip alone!
Boats stock up on smoked fish, cheese, sausage and beers before heading out to the over 25,000 islands of the archipelago. Even marauding masses of Vikings were said to have sampled a few Swedish products here on their way to parts unknown.
If you want to stay overnight, there is a fabulous spa hotel which could lure you away from the big city of Stockholm!
How to get to Nynäshamn, Sweden
Trains run from  and Stockholm to Nynäshamn every 30 minutes. They go from Stockholm City to Nynäshamn's station in only 55 minutes. You can easily rent a car and drive here in about an hour.
If you are on a cruise which stops in Nynäshamn, then you can enjoy all of this and then take a tour of Stockholm!
5 things to do in Nynäshamn
Tour the Nynäshamns Ångbryggeri (Steam Brewery)
Parched from your journey, make your first stop the city's award-winning micro-brewery, Nynäshamns Ångbryggeri. A brewery has been in town since 1912, but after the original's decline in popularity, Nynäshamns Ångbryggeri took up the reins and literally steamed ahead. Bottling over 800,000 a year, it is now the most popular micro-brewery in Sweden.
From their first ever product, Bedarö Bitter, they have been players in the worldwide micro-brewery renaissance. Now they make up to 25 different types per year, including time specific ones for Easter, Summer & Christmas.
They have even ventured across the pond in collaboration with famed US micro–brew Dogfish Head, called Arketyp, using home grown Swedish ingredients, such as lingonberry, honey, birch, and wormwood in the recipe. We were able to try all of the
You can prebook tours, here is the direct link so don't forget to do it before you go.
Nynäshamns Ångbryggeri, Lövlundsvägen 2-4, 149 30 Nynäshamn, Sweden
Buy the best smoked fish in town at Nynäs Rökeri & Fiskhall
A friend of mine living in Stockholm ventures south to the Nynäs Rökeri & Fiskhall every month just to stock up on their hot smoked salmon. After one bite of smoked fish, unlike any I had ever eaten, I don't know why she doesn't head here every week.
It's not only the salmon that is superb, but everything else in the store: smoked & just boiled shrimp, herrings of every type – curried, mustard, pickled, smoked chili & garlic mackerel and the aforementioned hot smoked salmon. I just wish I could have transported it all back to London with me. Eat outside – it was my favorite restaurang nynäshamn!
Nynäs Rökeri & Fiskhall, Fiskargränd 6, 149 30 Nynäshamn, Sweden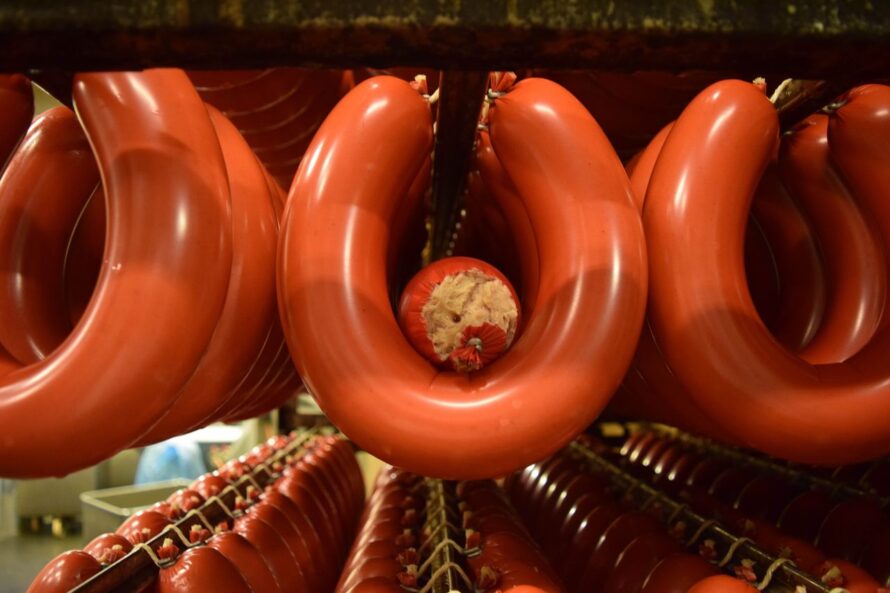 Take a bit of the sausages at Sorunda Korvfabrik
One thing you can take home with you is Sorunda Sausage. I used to think that pretty much all sausage tasted the same, well, I was wrong, after sampling the Lindqvist family's pork merguez, chorizo, garlic and their father's gold-medal winning secret recipe. We were lucky enough to visit the factory to see where it all gets made, but you can buy it packaged in every food store before leaving town.
Sorunda Korvfabrik, Segersängsvägen 10, 148 96 Sorunda, Sweden
Sample Cheese at Gårdsmejeriet Sanda
What should you do when you retire? Open a gårdsmejeriet (dairy)? Well, only if you can do it as well as the Sanda family. After a lifetime in business, they decided their life's passion was cheese, lucky for us. Their dairy produces over ten types of cheese annually, everything from brie to blue. They also sell locally made jams derived from local flowers and sap from the nearby fir trees, all to accompany their cheeses.
Gårdsmejeriet Sanda, Klockarlötsvägen 5, 137 95 Österhaninge, Sweden
Swedish Fikå time!
It seems everyone in the world knows what a Swedish Fika is – the art of the coffee break mastered by our Scandinavian brethren. Not just a coffee break, but a moment to regroup and breathe. Well, here in Nynäshamn they do it with a special cake called the Sorunda Tårta. The sad thing is that you can never make it at home! All I can tell you are the basics – butter, sugar, apple or prune sauce.
Actually no one knows the exact recipe, because it's handed down from mother to daughter. Everyone's family makes it a different way. Some similarities abound though – they all have between five to seven layers and are designed with same set of patterns. There is nothing else to reveal except that it tastes scrumptious! Try and find it while in town but you might have to befriend a local.
Stay in the best
Nynäshamn hotel
(photo taken by Daryl Hirsch, while I was busy enjoying the spa!)
There is only one hotel worth staying in town and that is the Nynäs Havsbad. It's simple with a pretty house and glorious view which you can gaze at from the hotel spa's hot tub, while enjoying a glass of wine.
Read reviews here of Nynäs Havsbad on Tripadvisor, Strandgårdsvägen 9, 149 34 Nynäshamn, Sweden.
If you want to book at stay hotel, you can do it on Hotels.com.
Other things to do in Sweden
Best Bits to leave you with
Try and get a friend who lived in Stockholm to bring you a few tasty treats from Nynäshamn. It's the next best thing to being there. If you can't get all the way out to Nynäshamn, for a closer at Stockholm archipelago experience, head to Fjäderholmarna, a 25 minute boat ride from Stockholm. If you are in Stockholm, check out the best Design Stores in town.
PIN IT LATER
NB: I was the guest of Visit Stockholm. I can't thank them enough. Everything I write is always my own opinion!
Disclaimer: This post contains affiliate links. If you make any purchase after clicking on a link, then I will receive a commission at no extra cost to you. I choose to work with each and every brand.