Every time I mentioned where I was staying in Belfast, the response was always the same: "Aye, that would be the best hotel in Northern Ireland." Those utterances made for pretty high expectations. Approaching The Culloden Estate & Spa from Belfast City Airport, our GPS lead us down a small service road and then into the driveway from below.
Driving up the windy road toward the entrance, we snuck up on the Culloden, part of the Hastings Hotel chain, and could not help but be awed by its Victorian architecture.
⭐ Best Bit – Don't miss the incredible cocktail recipe from one of the Hasting Hotels below!
Built in 1876, the Culloden has been home, not only to it original owners, Mr. William Auchinleck Robinson, former MP, but also the official residence of the Bishop of the Church of Ireland, as well as, Tony Blair, Bono, Kylie, One Direction, and now the Cypriot and me.
Passing through its doors, you were constantly reminded of its ecclesiastical history. All throughout the entrance hall and beyond, the sun passed through the multicolored stain glassed windows creating rainbows wherever you turned around.
We were led to our room, one of three still situated in the original house, with its comfy down pillows (a must!), lovely furniture and all the mod cons we modern day luxury travelers have come to expect. Have I mentioned the view yet? From both our bathroom and our bedroom, we could see over Belfast Lough on the prettiest day of the year yet.
We had been up since 4:00am to make a 6:30am flight, but there was no rest for the weary as Northern Ireland was there for us to explore. A quick cup of tea and then we hopped into the car to start our day sightseeing in County Down.
Above are a few of the sights, we beheld in this beautiful part of the world. I will be writing more in depth about County Down and our drive up and around Strangford Lough in an upcoming post.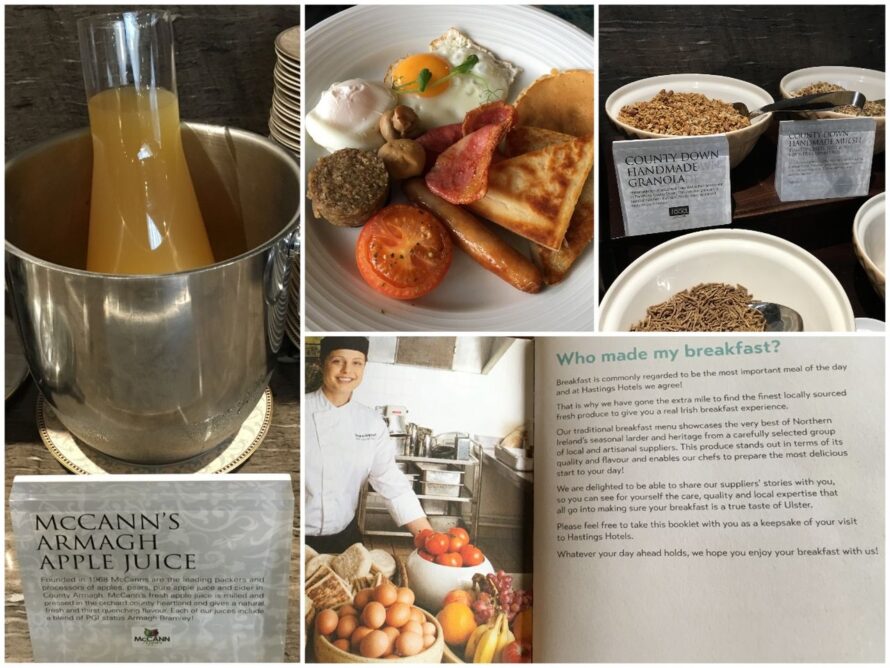 We were up early the next morning to get on the road to Country Antrim and the Giants Causeway, a natural wonder of the world, about two hours north of the hotel. The weather was being a bit tricky – by that, I mean it was raining hard!  We needed proper hardy nourishment to battle on and the Culloden did not let us down. I truly believe we dined on the most gloriously luxurious Irish Breakfast in the country.
What made it so?  Everything we ate had been locally sourced – the milk, the granola, apple juice, eggs, bacon, sausage, white and black pudding. Each of Hastings Hotels prides itself on being as farm to table as it can. Of course, Ireland has amazing purveyors and, in fact, this year is being celebrated as Northern Ireland's Year of Food & Drink!
Our day out had us stepping in the footsteps of the Irish giant Fionn mac Cumhaill, sipping 21 year-old Irish Whiskey, walking very carefully over rope bridges and driving down Torr Head, the roller-coaster of Northern Ireland. (More to come in a future post!)
We headed back to the hotel for some much-needed R&R before dining at their Mitre Restaurant. We had left space in our tummies for the supper ahead, knowing it was one of the best restaurants in Belfast.
The presentation was exquisite as the food itself. Our starter of winter beets & goat's curd was mouthwateringly divine. My main of stone bass and sea vegetables and the Cypriot's of Carnbrooke (local) ribeye and smoked mash (a wonderful woodsy tasting twist on your basic mash) were paired with glasses of Australian Wakefield Promised Land Unoaked Chardonnay 2013 and a Spanish Marques de Riscal Reserva 2009.  We were put to bed with a scrumptious dessert of Rhubarb Pannacotta.
Lounging in bed, still dreaming of our dinner the night before, we were tempted to get up only by a glimpse of sunlight peeking through the curtains. The plan for today was to explore the hotel spa. It looked so lovely outside that we went for a sunny, but brisk and blustery, walk down to Belfast Lough, only ten minutes from the hotel. Still, the pool, jacuzzi, steam room, and sauna beckoned us back and we sweated out all the aches and pains from our travels the day before, and were ready to eat again by 2:00.
This time we were treated to lunch at the Cultra Inn, a charming farmhouse, separated from the main house, and the more casual dining option at the hotel. As it was Easter Sunday, we were surrounded by families enjoying a lovely Easter luncheon buffet. We sat by one of the roaring fireplaces eating our restorative meal of Roast Beef and Yorkshire pudding, followed by apple crumble, sad that by evening we would be back in London.
It took only two short days to feel like a resident of the Culloden, thanks to their kindness and attention to every detail – needless to say, expectations were more than exceeded.
Try this easy local recipe at home!!
Situated on the 23rd floor of the Grand Central Hotel, Belfast, The Observatory is a unique and enchanting experience for guests, who can enjoy fabulous panoramic views of Northern Ireland whilst sipping on signature cocktails such as The Linenopolis.
This carefully crafted cocktail contains warming notes of rum and bitters for colder Autumn days spent in Belfast's highest bar. Unwinding with The Linenopolis you'll be hit with a lively orange zest and flavours of coffee bean to carry you into the evening as you admire the views of Belfast and beyond.
Ingredients
25ml Of Dark Rum
20ml Aperol Liqueur
15ml Dry Vermouth
5ml Coffee Liqueur
2 Dashes of Bitters
Garnish: with Orange Zest & Coffee Bean
Instructions
Add all of the ingredients to a rocks glass with ice.
Stir and garnish: with Orange Zest & Coffee Bean
NB: I was the guest of the Culloden Estate and Spa and Ireland.com. I can't thank them enough for inviting me.  Everything I write is always my own opinion!
A few of the images were curtesy of the Culloden Estate & Spa, please email me if you wish to know more.