Upon arrival at the airport, I was met by ladies bearing chocolate…I dare you to beat that. My first Caribbean Island and I couldn't think of a better place to begin my adventure than Grenada.
The country is filled with spirit; you see it driving down every road. Citizens compete to show off their patriotism using the colors of Grenada's flag: red, green and yellow. Their excitement at having you as their guest is palpable. Although I was here only a week, I was made to feel like a local. I truly cannot wait to go back.
True Blue Bay
Russ and Magdalena Fielden, the owners of True Blue Bay, have managed to forge that perfect combination of the authentic and the luxurious that Best Bits seeks. Villa #35, my home for three glorious nights, overlooked the lovely pool.
Every jet-lagged morning, I opened my French doors, skipped outside in my nightie, and made the lounger my office as the island awakened. The Wifi was perfect, not to mention the weather!
St. George's Market
There has to be one place in town where everyone congregates on a Saturday morning and, in Grenada, it's St. George's Market. You've been eating callaloo, carambola, and soursop – now find out what these edibles look like up close and personal.
Local fruit and veggies line the streets waiting to be taken home and cooked up. The covered market houses all the hand-painted bowls, bottles of fruit liqueur, hot sauce, spices and rum you can carry on the plane.
BB's Crab Back
No, we didn't spell it wrong – it's not Crab Shack – it's Crabback and on the menu. The dish that gave the restaurant its name is a blend of crab meat, wine, cheese and herb and isn't the only amazing dish on a menu filled with Grenadine treats.
BB jumps from table to table making sure everyone is happy, but if you can't be happy here then you need to order another of their fresh tamarind juice cocktails!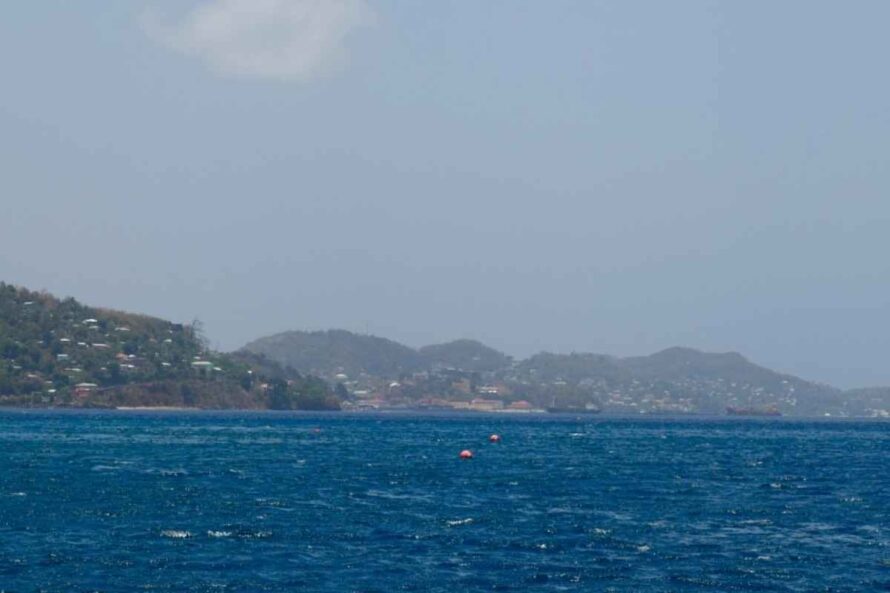 Moliniere Bay Underwater Sculpture Park
They're below the clearest, bluest, warmest Caribbean waters. Yep, the sculptures have been submerged and left to amuse the sea creatures. The gill-less can only see them by snorkeling or diving! It would be a shame to miss them as they are, not only extremely moving, but also quietly serene in their watery museum.
Tyrone, our trusted guide from Aquanauts Grenada, made sure even the weakest swimmers got a chance to see these fantastical works of art.
Nutmeg & Mace
They don't call Grenada the Spice Island for nothing  – nutmeg, mace, cinnamon, clove, all call it home. Nutmeg and mace are the biggest exports and thousands of products are created from them: jams, jellies, syrups, body creams, oils and, my favorite, ice cream.
See how it's grown, processed and then consume it yourself. N.B. Nutmeg is sprinkled on most everything, especially the ubiquitous and, undeniably, delicious Rum Punch.
Patrick's
It might not look refined but, who cares, when it tastes so good. Yes, you can eat fancier meals on the island, but when you've sampled their green banana salad, you might not want to go anywhere else.
Rum
It's not a Rum Punch without the rum and the island has its fair share of distilleries to visit. The River Antoine distillery has been making it the same way since the 1800's and is the oldest water propelled plant in the entire Caribbean. Their highest proof we tried was 138(!), so no taking that one on the plane. It's flammable, but, oh so, tasty.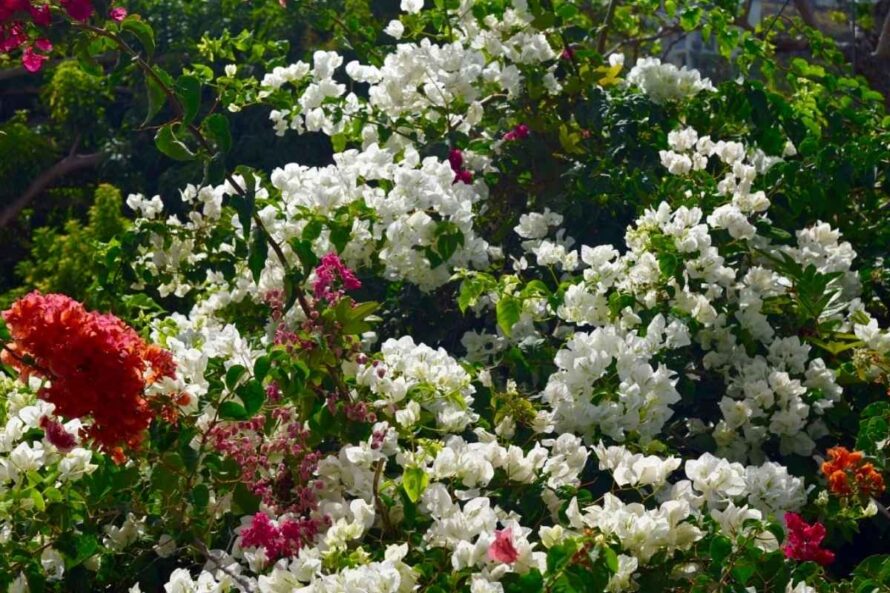 Bougainvillea
I was once told by a very famous editor to never use the phrase "bougainvillea-covered" as an adjective in any piece ever, way too over-used. In Grenada, the big bad "B" is the island flower. Nothing to do but call everything bougainvillea-covered, so there!
Chocolate
From Tree to Bar – that's how it's done in Grenada. This is seriously fine chocolate, made for those who let it melt in the mouth, savoring every nib. No one dares put the words milk and chocolate together in a sentence here.
Don't miss whacking open a cocoa pod and popping the fruit directly into your mouth. Its citrusy sweetness surprises you every time. The Grenada Chocolate Festival was established two years ago to pay reverence to this almost perfect food!
The Vibe
A mellowness I have not tasted in the most expensive of wines – that's what I encountered in Grenada. Add in some Sun + Rum + Chocolate, all topped with Nutmeg = what keeps 'em coming back. Ask anyone who has been there.
Plus the Cocktail!
Calabash Coconut & Nutmeg Punch
An easy and yummy rum cocktail recipe straight from the Calabash Hotel on the island of Grenada! It's got coconut and nutmeg, just in case it wasn't Grenadan enough!
Ingredients
2 oz Dark Rum
1 oz Coconut Milk
1 oz Whole Milk
½ oz Cream of Coconut
½ oz Nutmeg Syrup (honey or simple syrup)
Freshly grated nutmeg
Instructions
In a cocktail shaker filled with ice, combine dark rum, coconut milk, milk, cream of coconut & nutmeg syrup.
Fill with ice
Shake, shake, shake
Strain into glass and top with freshly grated nutmeg


NB: I was the guest of Pure Grenada and their hospitality was fantastic.  I cannot thank them enough. Everything I write is, of course, my own opinion!