After recovering from the dizzying heights of Cape Town's Table Mountain, I was ready for some luxurious TLC and the night ahead offered me nothing but! I didn't have to wait long as our first stop was Majeka House, the intimate hotel snuggled cosily in the vineyards of Stellenbosch, one of the best places in the world to for Stellenbosch wine tasting.
Only 50k outside of the big city, Stellenbosch is the second oldest city in South Africa (after Cape Town) and one of the first wine producing towns in the world, now manufacturing about 1 billion litres of wine each year.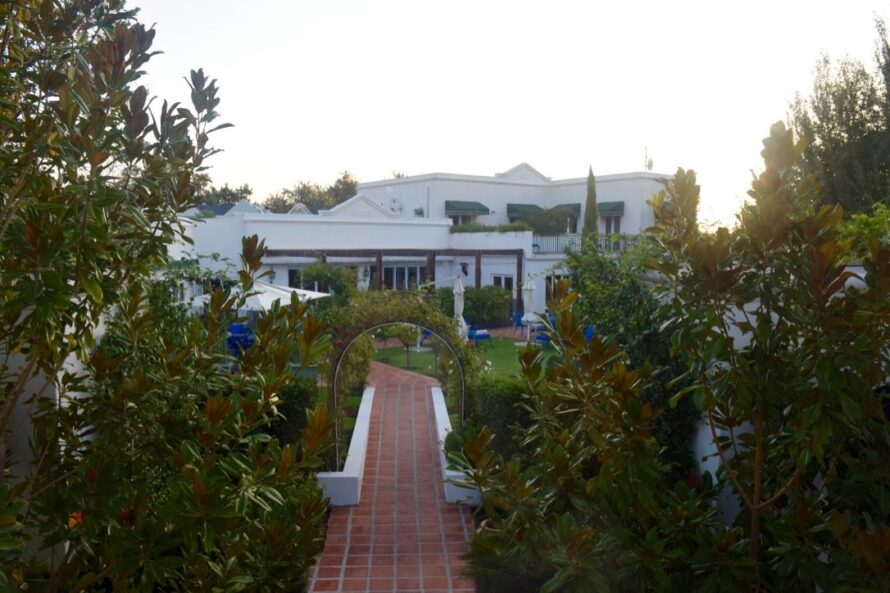 If you're coming for a Stellenbosch wine tour, then you'll need some place to say and that place would be Majeka House!  Lloyd van der Merwe, the owner, greeted us with a warm welcome upon arrival and took the time to escort us individually to our rooms to make sure everything was spot on. Mine had the homey deliciousness I craved, as well as all the creature comforts we love. I popped my iphone into the speakers provided, opened the French doors of my terrace, and sat writing a bit while grazing on the jelly-beans that are in every guest's complementary basket!
Huge beach towels pouring out of an adorable beach bag tempted me into throwing  on my swimsuit and indulge in a few laps down at the half indoor/half outdoor heated pool. I couldn't resist. The sun was still warm as I headed back to my room and I decided to sit in the plush garden under a few trees and order a cup of tea. Just the TLC I needed.
Back in the room, I dived into the bed for a lovely catnap before the main event of the evening: dinner at Makaron. Not only could I not wait for the food, but could not wait to sip the South Africa wines. 
We all gathered at MLounge, the hotel's funky cocktail bar, before dinner to sample a local favorite, the Fynbos Mojito. It's the same mojito we know and love with an injection of South African Fynbos infused Wilderer Grappa. Wilderer Distillery is the first private Grappa distillery in South Africa. Fynbos is a shrub known to have medicinal properties. The two play so well together that, not only is this concoction served at Majeka House, but it's also the official cocktail served on Table Mountain! It was definitely the healthiest mojito I have ever had. 
Makaron is not your typical hotel restaurant. Its accolades abound: winner of the Boschendal Style Award (for the most stylish restaurant in South Africa) and voted one of the top ten places to eat in South Africa by Eat Out Restaurant Awards. Chef Tanja Kruger was born and bred a South African, but, like a true connoisseur, has been all over the world eating and cooking. She takes local produce, puts it in her pot (excuse the lack of sophisticated culinary terms) and out comes a totally special and unforgettable dining experience.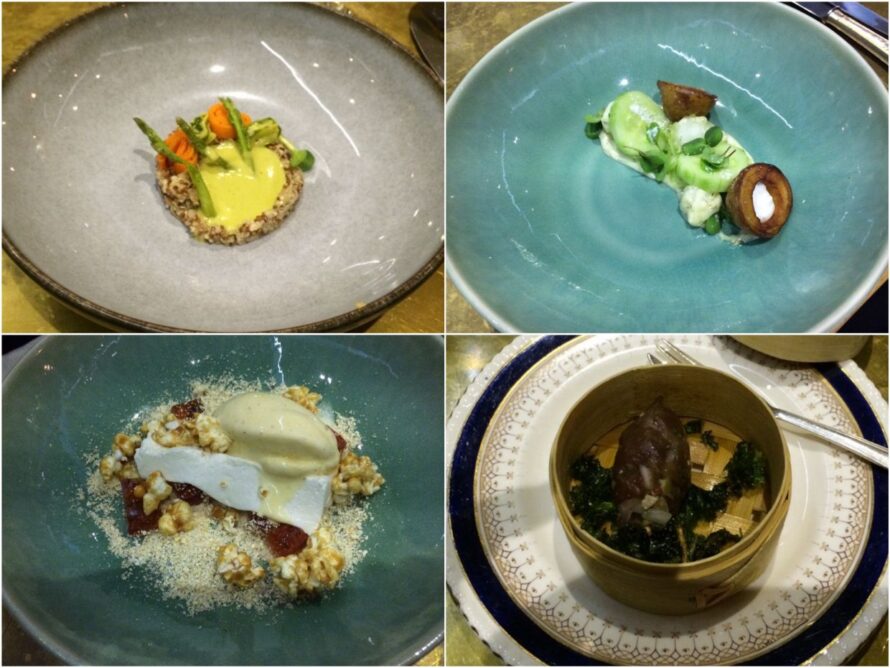 As a table, we chose to do the four course menu option. You can select an extra starter or dessert. There were no fancy names for the dishes, just a literal description of every ingredient in every dish, e.g. Ancient Grains, Asparagus Velouté, Courgette and Green Asparagus or Potato, Cucumber, Dill, Sheep's Labneh.  It was as if the chef were daring you to think you knew what would arrive in front of you.  Would Free-Range Chicken, Dumplings, Corn, Buttermilk and Chive look and taste like chicken with dumplings and corn?  Not here!  Chef Kruger had transformed them into a dish that could never be recreated at home.  But who would want to?  The thrill was being here at Majeka House in Stellenbosch, South Africa. There is also a South African wine pairing or beer pairing – we partook of the wine. Needless to say, we rolled our way out of the restaurant and into our comfy beds, happy as clams.
Who knew we could eat again after such an a amazing meal but with a breakfast this lovely in front of us we were obliged! To paraphrase Mimi Sheraton, former New York Times food critic, being hungry has nothing to do with eating.
We did a final tour of the property and, this time, our guide was the hotel cat. She allowed us into the Flamingo Villa with its striped pool that I almost jumped into, but was forced to refrain as we were off to Franschhoek for a little shopping, touring and, of course, eating again.
Majeka House
26-32 Houtkapper Street, Paradyskloof,
Stellenbosch 7600 Western Cape
Tel: +27 21 8801512 | Fax: +27 21 880 1550
NB: I was the guest of Ethos Marketing,  South Africa Tourist Board, and South African Airways.  It was one of the most amazing trips of my life and I can't thank them enough.