I never understand those who proclaim that it doesn't matter what a hotel room is like when you're traveling as you hardly spend any time there. All I wanted to do while staying at the Hotel Grande Bretagne in Athens was stay longer!
I might be out all day ruin exploring, mountain trekking, or ocean diving, but when I return I want my home away from home to be just that – a haven.
I know that boutique hotels are all the rage and I have been known to stay at many of them, but there is something so special about stepping into a historic European hotel. The Gritti in Venice, the Ritz in Madrid, Claridges in London, The Bayerische Hof in Munich, The El Tovar at the Grand Canyon – all of these bring me back to the days of Freya Stark, Jane Digby and all those female travelers who came before me.
These were the first luxury hotels and stepping inside the Hotel Grande Bretagne is like walking back into the Athens of yesteryear in all the right ways.  Opened in 1874, it lies in Syntagma Square – the true historical heart of Athens.  
The minute you pass through the doors of its majestic entrance, there is no doubt you have been sucked into the maelstrom that is modern Athens.  It's a normal day at the Grande Bretagne: swaths of tourists plunked down on the central ottoman checking their smartphones waiting to be led to the Acropolis, gangs of security toughies protecting the President of Austria who was in the house when I was there, GB employees bustling around to make sure everyone has what they want.  
Needless to say, it's a busy place but although you can feel like you are one of many, as soon as you are led to your room, peace and quiet are your only neighbors.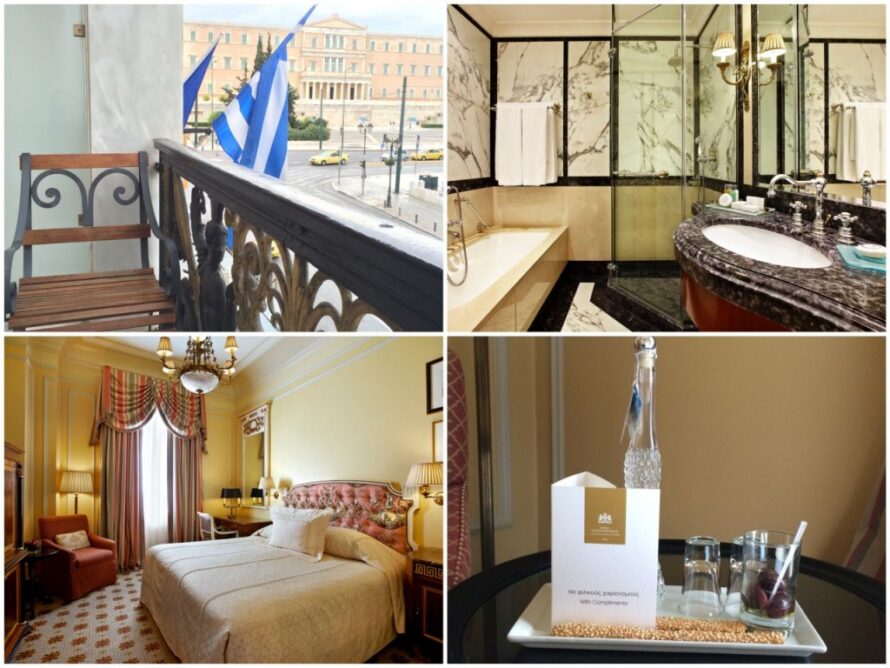 How can you not love a hotel room that greets you with a bottle of Ouzo, olives and sesame breadsticks!  It is practically inviting you to party! They had upgraded me from a standard double to a deluxe, which I found out meant there were french doors leading out to a balcony overlooking the square.  
As I thought I was going to spend time in the room working, this was such an added bonus.  I also could have moved into the bathroom and stayed there happily for weeks, never getting out of the tub.  As I was in town for the Tbex conference, lazing about was not in my cards.

After nights spent out on the town, it was nice to have someplace tranquil to enjoy my breakfast during the craziness of my Travel Blogging Conference. The breakfast room of the Grande Bretagne overlooks the site of all sites, the mother lode – the Acropolis. I made sure there was always enough time and hunger left to try the Greek delights that were on offer at the surprisingly delicious buffet – several kinds of local yogurt, rice pudding and flan, spinach and cheese pies and the little-seen sesame halva with masticha or chocolate. (I am going to let you in on a secret – I usually don't like breakfast but this was amazing!) 
The first morning I was there, Athena had woken up on the wrong side of bed and the Parthenon looked scary and threatening as the storm clouds rolled in and the rain began to pour.  Of course, there was always a GB umbrella available for me to grab and cover me as I ran to the metro!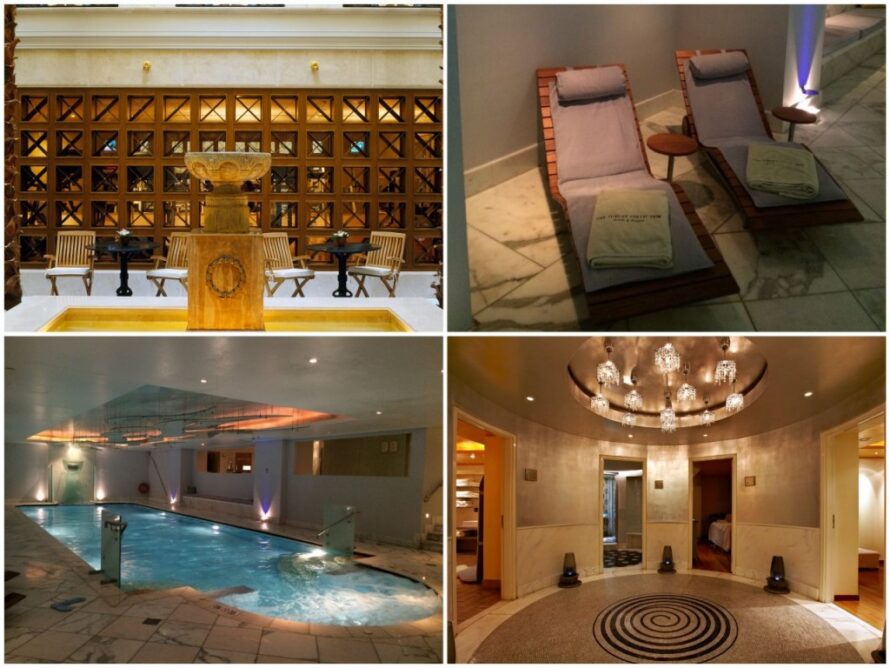 Four days constantly talking at Tbex and I was desperate for some R&R. Having lost my voice and with energy lagging, I used my last few hours at the hotel to enjoy its spa. Located on the lower ground floor, you would expect it to be a bit dark and cavernous but nothing could be further from the truth.  
The spa welcomes you in with its bright sunny double height sitting area with water, coffee, tea and tasty treats for you to try – I had just stuffed myself silly on sesame halva so I excused myself from their invitation to engorge myself again.  I changed quickly in order to lounge in the lounge.  
I made the mistake of going into the sauna & steam room before dipping in the pool as it was a tad too chilly for my sweaty, relaxed, recharged self to take in, but it was so pretty and inviting that I almost jumped in.
Almost is the operative word.  I really only had time for a little spa-ing and could have stayed a whole other day working my way through their treatment menu.  Instead, I checked out easily and was back to the airport feeling I had just arrived!
What makes the luxurious Hotel Grande Bretagne a Best Bits Worldwide: A Bit of Paradise?
The perfect combination of history, service, attention to detail, the in-house spa and equally important of all the amazing breakfast buffet with its fabulous view of the Acropolis!
NB:  A few of the photos were provided by the Hotel Grande Bretagne's press office.  If you would like to know which ones exactly, please email me.