Traveling through New Orleans to research a piece on the 10th Anniversary of Hurricane Katrina for Grazia UK, the Cypriot and I had to eat, right? Some of the best restaurants in the USA are at home here in the Big Easy, from old and revered, and I was there to report on it.  So I had to share this guide to the 10 Best Things to Eat in New Orleans, as well as its country cousin, Breaux Bridge
What I found is that most first-timers to NOLA (New Orleans, LA) want the dishes that were invented here! Loaded with fat, sugar and carbs: beignets, bananas foster, étouffée called my name and I answered with gusto. We didn't just stop eating in NOLA, but continued the foodfest out in Acadiana – true home to Cajun cuisine that Chef Paul Prudhomme made famous in the 1980's.
1. Beignets
Your first breakfast in New Orleans – even if you had breakfast at the hotel. Get in line or sneak in one of the side entrances to have the most touristy treat in town. Not experiencing a Café Du Monde beignet is like not hitting the Sistine Chapel in Rome. These just-fried clouds of dough and sugar wouldn't be around since the 1860's if they weren't that good. There may be places proclaiming that theirs are new, lighter, healthier, but just forget all that and head to Café Du Monde.
2. Bananas Foster
Need I say more! My favorite dessert in the world! The video says it all: a relatively new Nola institution invented in the 50's and eaten everyday until then. If it had been on the menu of every restaurant, I would have had it for breakfast, lunch and dinner. That perfect combo of bananas, rum and ice cream – which you can make at home.*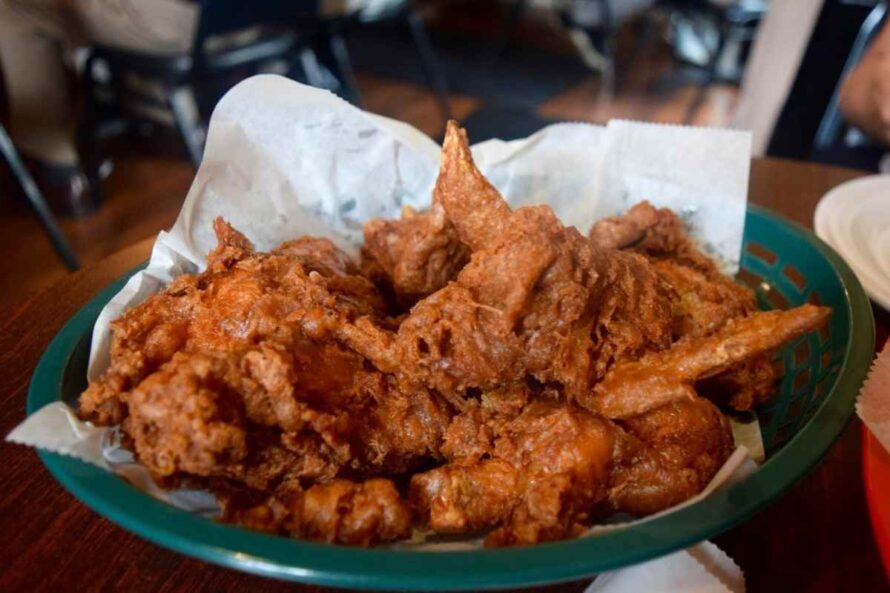 3. Fried Chicken
I was lucky enough to grow up tasting real southern fried chicken, Alabama-style. Nothing can really equate to homemade, but Willie Mae's gets as close as you can. Maybe it's the long wait outside, but the minute the hot, oily goodness arrives on the table it disappears before you can say yum. You have to be super cocky to call it "America's Best Fried Chicken" on the menu but there it is in black and white.
4. Po' Boy
All a Po' Boy really is, is a sandwich with stuff inside, but it's so much more in New Orleans. Fried Oysters and Shrimp crammed into a French roll slathered with special sauce. Domilise's is where we had ours, a little dive that cranks them out for the locals, but Parkway and Johnny's are competitors in the Po' Boy game.
5. Hot Sauce
I truly believe with the amount of hot sauce stores in New Orleans, that everyone visiting is required by law to have one on their person at all times. Of course, Louisiana is the state where Tabasco was born! Bottles are laid out as per their temperature and some even make you sign a waiver before trying. Be careful and don't go rubbing your eyes after handling a bottle of Crystal and I don't mean the champagne!
6. Grits
Grits, polenta, corn meal – whatever you call it, slathered in butter and topped with cheese, it's the breakfast of champions! Every breakfast menu is not complete without it in the south since, obviously, it's perfect side dish. You just don't get this up north or in London, so eat up.
7. Biscuits at Houmas House Plantation
As we headed out of town toward Breaux Bridge and our incredible swamp tour, we stopped along the way to see some of the sugar plantations that made the South rich, think Gone with the Wind. We stayed overnight at the most luxurious of them all, Houmas House, which already cost $1 million when Irishman John Burnside bought it in 1857. It's now a hotel and many a southern bride gets hitched here. Maybe it's because waking to the smell of the homemade biscuits served with maple butter is the only thing to tempt her out of bed.
8. Crawfish
Breaux Bridge is the crawfish capitol of the world. The Breaux Bridgians were the first to discover that the creepy crawly thing that most people threw away would taste good boiled with corn on the cob, potatoes, some cajun spices accompanied by a cold beer. Well, they were right. It takes a load of work for a little food, but it's fun and you get to eat with your hands and wear a bib. Really the best way to enjoy crawfish is to be invited to a real southern Crawfish Boil at someone's house..that truly is pure luxury.
9. Étouffée
Brown food, the Cypriot called it, and it just doesn't take a good picture. Purely Cajun and translated as smothered, it's just that. Hunks of crawfish in a shrimp shell stock with brown sauce smothering the rice around it, make it really one of the best comfort foods in the south. Don't forget the hot sauce.
10. Cocktails
A word or two about drinking in NOLA. A whole load of cocktails were invented here and are still being invented and you can try each one in the place it was born. My favs were the Milk Punch at Brennan's and the creations Nick Dietrich rustled up for us at Cane and Table.
Antoine's, the oldest restaurant in American, suggests you finish dinner with their Café Brulot Diabolique. A creation all their own from the 1890's, it's black coffee infused with brandy and orange liqueur, lit on fire at the table, and served in their own brulot cups.
Or grab the tram to Erato Street and Magazine. Slide into Barrel Proof, where, depending on how many of the over 100 different bourbons and whiskeys you choose to drink, you too can be writing your own lyric poetry by night's end.
Saturday Brunch in Breaux Bridge
It's not what you eat here, but the soundtrack that's playing around you, while you tuck in. Every Saturday, Breaux Bridge transforms into the music capitol of Louisiana. Start at Cafe Sydnie Mae (where the brunch has moved since Café des Amis closed) where the Zydeco band is in full force. The wait can be up to over an hour, so unless you get there early, have a cup of joe, dance with strangers and, then at 10:30, head over to Tante Marie. Grab a seat while the Cajun band sets up and tuck into biscuits & sausage. (The Cypriot found the only place south of the Mason Dixon line to serve Greek Yoghurt with fruit.) You'll meet people from all over the world hanging out in this tiny little village in the middle of LA.
Bananas Foster from Brennan's Restaurant  (Serves: 2)
Ingredients
¼ cup: unsalted butter
½ teaspoon: cinnamon, ground
¼ cup: dark rum
¼ cup: banana liqueur
1 cup: brown sugar
4 each: bananas, cut in half lengthwise, then halved
4 scoops: vanilla ice cream
Procedure
Combine butter, sugar, and cinnamon in a large sauté pan.  Place pan over low heat and cook, stirring, until sugar dissolves.  Stir in banana liqueur, then place bananas in pan.  When bananas soften and begin to brown, carefully add rum.  Continue to cook sauce until rum is hot, then tip pan slightly to igniter rum.  When flames subside, lift bananas out of pan and place four pieces over each portion of ice cream.  Generously spoon warm sauce over ice cream and serve immediately.
Best Bits: Travel Cheat Sheet
The Petit Grocery, 4238 Magazine Street, New Orleans
Cafe du Monde, 800 Decatur St, New Orleans
Brennan's, 417 Royal St, New Orleans
Willie Mae's Scotch House, 2401 St Ann St, New Orleans
Domilise's Po' Boy & Bar, 5240 Annunciation St, New Orleans
Houmas House Plantation, 40136 LA-942, Darrow, LA
Cafe Sydnie Mae, 140 E Bridge St, Breaux Bridge
Tante Marie, 107 N Main St, Breaux Bridge
Cane & Table, 1113 Decatur St, New Orleans
Antoine's Restaurant, 713 Saint Louis St, New Orleans
Barrel Proof, 1201 Magazine St, New Orleans
NB: We were the guests of the New Orleans CVB, the Louisiana Office of Tourism and Bourbon Orleans. A thank you to all the restaurants who invited us to join them in tasting the best of New Orleans!