Disclaimer: Some of these posts contain affiliate links. I may receive compensation if you click on these links and buy something, but, don't worry, it won't cost you a dime!
Covid-19 Update
Please check whether this destination and these establishments are open and ready for business. You can do this by going to their websites or calling them.
I truly believe the silence is what I love about winter. Skiing in Morzine, gliding down the snow-covered hills of the Vallée de la Manche in the Savoie Mont Blanc region of France, we couldn't hear a thing except the crunching of show under our feet.
In my opinion, this was the most luxurious ending of a long weekend spent skiing in Morzine. Jumping into a 30°C pool at our hotel, La Bergerie, right after was pretty fabulous as well.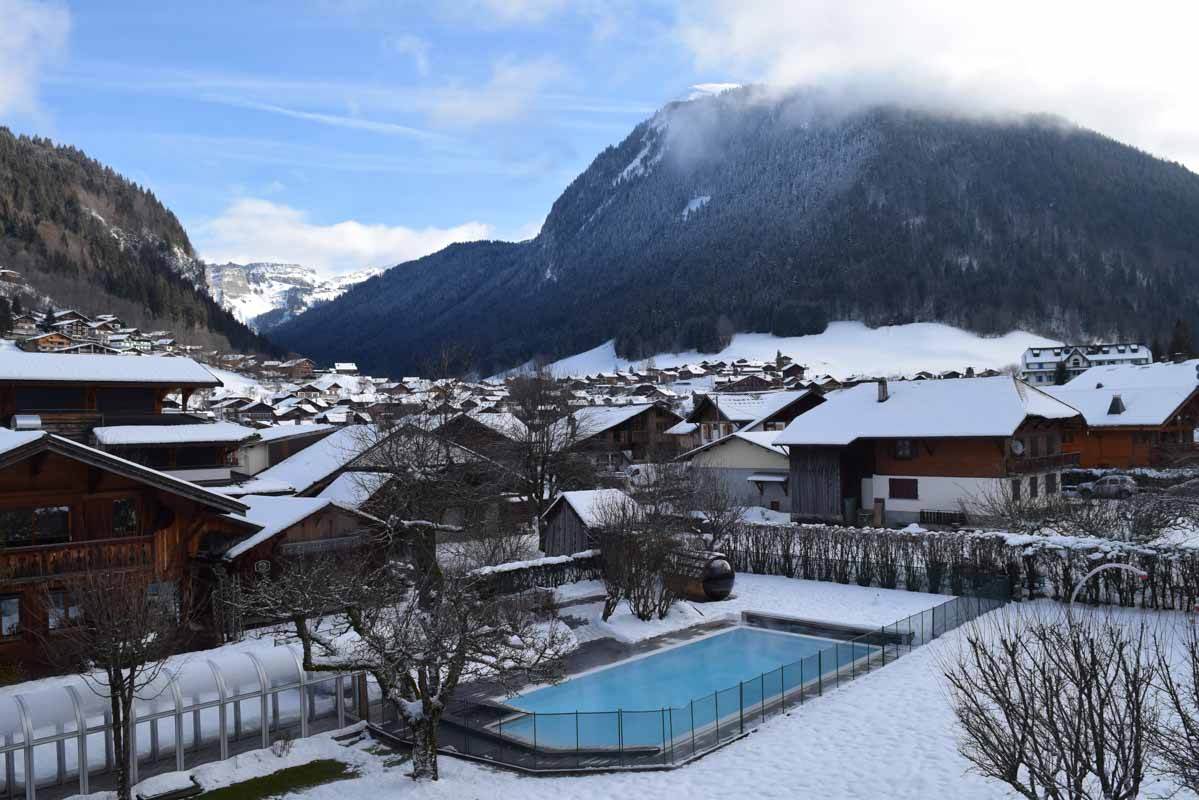 Skiing in Morzine and Avoriaz is really why the crowds make the journey. Less than an hour and a half from from Geneva airport, Morzine is the perfect short ski holiday for the Brits. We left Heathrow at 7:00am and were in Morzine by 11:00. You can grab your skis and be on the slopes by 12:00 and ready to eat tartiflette with a view of the Alps.
I learned very quickly why, although there may be a slew of other ski resorts that might be just as convenient, everyone who knew I was off to Morzine, got that envious look in their eyes. It truly is a special place. There is a sense of warmth you receive from all who greet you, as if this is the beginning of a long relationship, even as a first timer. Morziners just assume you will return.  
Why wouldn't they? The combination of renaissance Morzine and modern Avoriaz hovering in the mountain above, the diverse selection of restaurants, the charming, homey hotels, and, of course, the great skiing and winter sports accessible just footsteps away from the center of town are all indicators of why you would keep coming back.
Staying in Morzine
Two of the guardians of Morzine are Eric and Caroline Marullaz-Monné, owners of La Bergerie. Caroline's family has been welcoming visitors to La Bergerie, their hotel right in town. Eric's look of astonishment when I asked where the lockers were for our ski stuff told me everything. It's just not the kind of place where you would need lockers.
This is a family – one where return guests outnumber the new, where you grab your own room key after Eric and Caroline have gone to bed, and where the breakfast is a feast of homemade jams and honeys.
Although technically they have no restaurant, they will even make dinner for your children if requested. Nothing you could wish for won't be provided, if it is in their power.
Still, there is very little that would make your experience any better – roaring fires, huge terry towels and robes, down pillows, and views to die for.
What makes it feel so special is Eric and Caroline's assumption that once through the door you are part of their family. Don't miss sampling Eric's fabulous Swiss wine collection!
Skiing in Morzine
As anyone who reads my blog knows, I am not the best skier, having begun way too late in life. When you are battling the fear of heights and death by falling over a cliff, technique goes out the window and it's tough to progress. That has been my excuse until skiing in Morzine. Don't get me wrong; you can still find many fantastic red and black runs, but for someone who is not as confident shushing at speeds over 5 mph,
Morzine is the ski resort of your dreams. The Blue runs are perfect for the tentative skier! They are wide without worrying you are going to lose control and fall down a ravine. Even the narrower runs are tree-lined and picturesque, making the whole experience joyful, instead of stressed induced.
Madeline, my wonderfully patient instructor, was ecstatic when I was able to progress from 5 to 7 mph. (FYI – she was born and bred in Morzine, assuring us she would never live anywhere else. We even bumped into her entire family skiing down the slopes!)
There are even blue runs back to the village, so you can feel you are like any other seasoned skier, visiting both the ski resorts of Les Gets and Morzine without ever leaving a blue slope!
Night Sledging in Morzine (USA: Sledding)
If skiing is really not your thing, there are so many other ways to enjoy the snow, some more heart-stopping that others. Night sledging (or sledding as we Americans say) is pretty high on the thrill scale.
Heading down the same blue runs you may have thought were easy on skis can seem a bit hairier when you are heading down feet first on a small bit of plastic. After you master the breaks, you can glide down at your own speed and experience sunset over Savoie Mont Blanc, something you usually can't do on skis or a snowboard since the lifts shut after 4pm.
Indiana Adventures hosts these evenings, and it's a mixed bag of families, millenials and couples. After a short safety chat, a few millennials took it to the extreme and never looked back, convinced it was an Olympic sport. No need to worry; we were always accompanied by three guides  – one in front, one in the middle and one bringing up the rear – plus a emergency services person at all times.
It was a blast, and now that I know how it's done, I would do it again the next time. If the snow blowers are on, be prepared to get your hair matted! You end right at the bottom of Pleney, where a Vin Chaud at Tremplin can warm you up again.

Snowshoeing in Morzine
Skiing has its place, but the reason I keep returning to Savoie Mont Blanc is the snowshoeing. Not only is it an insane workout, similar to running on a beach in summer, snowshoeing can as vigorous or super easy as you want it to be, depending on how you feel that day.
Feeling like modern day explorers, you shimmy under snow-covered branches, step over fallen trees, and  follow animal tracks – deer, rabbits, and other woodland creatures that hide themselves when they hear the crunch of your footsteps.
You are alone with your guides and don't need to avoid the speedy snowboarders or impatient red-run headed skiers who swerve around you to get to the next thing. The only harm you can do to yourself is by slipping and falling in the deep snow – which can also be kind of fun too!
Eating in Morzine
Eating and drinking are all part of the fun of a weekend skiing in Morzine. The question is not where to eat, but how much cheese are you prepared to consume. Don't recoil in horror, you lactose-intolerants,! Morzine has a thriving local community so there is more than just Savoyard restaurants in town. Meat eaters and vegans alike have loads of options.
BEST BIT: Don't miss the recipe for tartiflette – one of the area's cheesy specialties below!
If you are an onion soup eater, start your weekend at Tremplin, located directly at the bottom of Pleney Gondola. Sit yourself directly under one of the heaters outside and watch the skiers race down the mountain and and hop right back up the gondola. You'll want to eat up, strap on your skis and join them.
The soup might stop you though  – don't expect the "traditional" rubbery cheese stuck to the top of your onion soup. The Morzine way is to enjoy the soup on its own with bread and cheese on the side. Their local cheese is way too good to just melt on the top of soup. Saying that, it's more than acceptable to plunk both the cheese and the bread into the soup and let it melt anyway!
If you are looking for fondue and all the other Savoie specialities, I can highly suggest La Grange. Their own version of fondue is made special by adding in ceps that add a distinctive woodsy saveur to it.  Make sure you request a sip of their homemade spiced rum before you leave – Christmas in a glass.
On the mountain, Le Vaffieu is the place to go. Easy to get to whatever your level; you can even walk there! If you don't want tartiflette, have their homemade vegetable soup (with cheese and bread on the side, of course). Come hungry as the portions are gigantic!
Bec Jaune is for those who have had enough of vin chaud and fondue and want a beer and items made from actual green vegetables. (More on their beer later!) A salad at La Dez'Alps in town could also make you believe, after three days, that food exists without a cheese option.
Their burger was one of the best I've had in Savoie Mont Blanc, thanks to the seeded bun, definitely not your normal bun-of-the-mill!
For a more refined evening, La Chamade takes local ingredients and puts a modern twist on them.  Local lake fishes, foraged mushroom filled amuse-bouches, lamb stew – a much more sophisticated menu for those who are ready for a change. You will be tempted by the divine aroma of the cheese fondue as it passes, so save room for their cheese course.
Do not expect the usual table-side cart. La Chamade takes it to another level and built an entire room dedicated to cheese – from around the corner and around the world.
I stuck to only local ones and had my choices of dozens. I wish I had time to return to sample all the other ones I missed!
Drinking in Morzine
I am not forgetting bars in Morzine – vin chaud, shots, spiked hot chocolate are everywhere. Bec Jaune and two cocktail bars are changing the drinking landscape. To find out more about these, you'll have head to A Lush Life Manual's Bar Guide to Morzine!
Avoriaz Ski Resort
I've left Avoriaz for the last even though you can ski both Morzine and Avoriaz in the same day. If your definition of a ski resort is somewhere where you can get away from it all, then head right up the mountain to Avoriaz and stay there.
High atop the mountain above Morzine, Avoriaz sits blending in with its surroundings. Blink and you could almost miss it. If it's a cloudy day, the resort is hidden away as if it doesn't even exist.
There's magic realism at play here in a place where there no cars, denizens dancing in the streets and the only way in and out is either by gondola, skis or horse drawn carriage. One day in Avoriaz, and I was bewitched.
Easy to forget that it emerged out of the imagination of ski legend Jean Vuarnet, also of the sunglasses fame. Pre-Vuarnet, shepherds watched over their flock by day during the long summer hours before heading back down the mountain to Morzine.
Vuarnet had other ideas. Having grown up in Morzine, he was a child of the slopes and returned to town with a gold metal in tow from the 1960's Olympics. Looking up, he thought, "let's put a ski resort up there," and it was done.
He wanted this resort to be different from the others – we know it now as "sustainable."  Heating was to be fuel-free, no cars were allowed, and, most importantly, the architecture itself would blend in with its landscape.
Skiing in Avoriaz is a dream, from the green baby slopes to the near impossible black Swiss wall, to cross-country to ski-touring and the views are outstanding, especially on a day as sunny as ours.
On your way back down the mountain from the top of Avoriaz, stop off one of the blue runs to buy cheese from the local farm, La Ferme de Seraussaix, that sits next to the slope. It's open both summer and winter = offering respite – and cheese – to all who pass.
There is only one road in for visitors with luggage, and that road ends in a car park outside of town. Leave your car there and then load up your bags into the taxis waiting outside. By taxi, I meant horse-drawn sleighs.
Head to your chalet, apartment or the Hôtel des Dromonts. As of now, there is only one hotel in town, and what a hotel is it! Opened in 1967, the edifice is actually not level, but you can't tell until you get indoors. The floors are all on different levels and it's all a bit Willy Wonka. The interiors reflect its swinging 60's beginnings and couldn't be more on trend.
It was all quiet for a few years, until the film festival came to town. From Steven Spielberg to Luc Besson, all most famous directors and their entourages descended on Avoriaz and with them, their fans. Since the 1970's, Avoriaz has been loved by skiers and snow-bunnies alike. They have tarted it up since the 60's, but kept its original decor, added a Pure Altitude spa, and now it's hipper than hip.
Lunch was spent outside at La Cabane – one of the many of the restaurants that line the slopes – listening to live singers crank out American songs with their French accents.  I only wish that former resident Johnny Halladay were alive to join in.
As I the sun got lower, and I put on my Vuarnets, I toasted to Jean and the town he built above Morzine. If you blink, you might miss it.
The recipe for Tartiflette!
Total Time:
1 hour
10 minutes
If you can't wait to ski in Savoie Mont Blanc, try making a tartiflette at home! The Tartiflette is a classic and all the ingredient are available almost everywhere! Photo is by Office de Tourisme du Val d'Arly M. Studio!
Ingredients
1kg of potatoes, peeled
250g of lardons (bacon)
2 shallots
1 garlic clove
100ml white wine
200ml of double cream
1 whole Reblochon cheese
Instructions
Preheat the oven to 200C
Cook the potatoes in a saucepan of salted boiling water for 5-10 minutes, or until tender.
Drain and set aside to cool slightly
Fry the bacon, shallots and garlic for 4-5 minutes. Add the white wine.
Slice the potatoes thinly and layer into an ovenproof gratin dish with the bacon mixture.
Pour over the double cream.
Season with salt and black pepper.
Layer the Reblochon slices on top.
Bake for 10-15 minutes or until the cheese is bubbling.

Best Bits Info
Avoriaz
PIN IT LATER
NB: I was the guest of the Savoie-Mont-Blanc Tourism Board and Morzine-Avoriaz Tourism I can't thank them enough for introducing me to the area. My opinions are always my own.