She sings, she plays violin, she's toured with Jeff Beck and Brian Wilson and now she's our Guest Bit. Violinist Lizzie Ball can get down and dirty with her fiddle or bow to Bach at the Proms.
Right now, she's touring the UK and joins Leroy Jones (the New Orleans trumpeter who blows them out of the water) on his national tour and will be in Manchester on 11 November. 
Take a listen and see why she is most definitely a Best Bit!
Where do you feel you really "savored the authentic" in your travels?
I travel a lot with my job as a violinist, so because the trips tend to be compact, I find I always try to make the most of any time off, even if its just a few hours, to experience the real vibe of the place if at all possible. I recently returned from performing in Vietnam and managed to grab a morning to look around the old town of Hanoi.
Amongst the bustle and noise of the atmospheric streets with old ladies cooking pho (the traditional Vietnamese soup) on the streets and a million mopeds everywhere almost knocking you down, I happened upon an little old Buddhist Temple where some elderly nuns where chanting and meditating inside: and the smell of the incense wafted out , the whole few minutes felt like a lifetime; and I felt a real sense of peace experiencing this special moment amidst a sea of busy crazy noise and activity.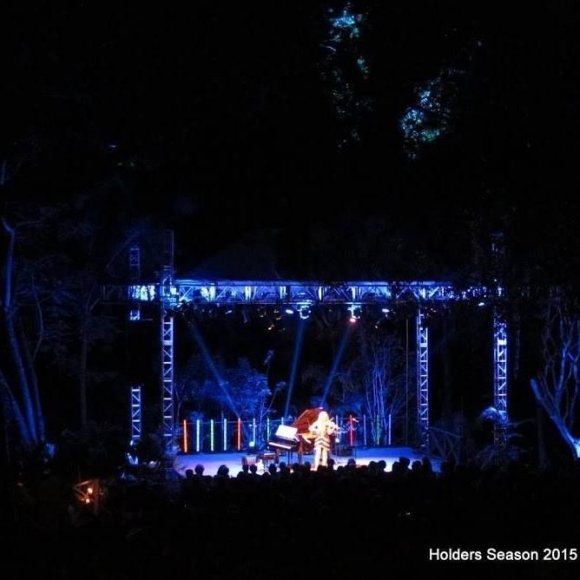 Where do you feel you experienced the most luxurious travel bit – depending on your own definition of luxury?
I recently performed at the wonderful Holders Festival in Barbados, which is hosted by the Kidd family each year (Wendy Kidd, Jodie's mother, is the creator of the festival, Stewart Collins is the Artistic Director). We were treated to wonderful accommodation and top notch treatment at Cobblers Cove Hotel which has the most incredible setting, food, staff and vibe. Will Oakley, the hotel manager, is exceptional.
What keeps you going back to your favorite haunt/city/Best Bit?
For a while I was deeply in love with Latin America (and it will always be dear to my heart) and continued to visit lots of different countries; mostly with work but also for vacations too. I lived in Buenos Aires for a while and just love the heady combo of tango, red wine, steak, colonial buildings and a slight edge of atmosphere, like it's not entirely safe, but somehow really alive. Kind of like how you imagine New York used to be back in the 70's. I also love going to Ballymaloe House Hotel in Cork, Ireland, as they have a real family feel there and you can experience Irish food , music, and hospitality at its very best and most authentic.
If you had to pick one anywhere in the world, what would be your following Best Bits:
Best Bed – Apricot Hotel, Hanoi
Best Bite – Ballymaloe House, Ireland
Best Brew – Sunset Marquis Hotel, LA. I had champagne-not a particularly unique drinks choice but the setting of this hotels almost 'secret' garden is sublime, and it followed a particularly memorable performance at the Greek Theatre in LA where at the time I was touring with Jeff Beck and Brian Wilson on a double bill tour, featuring as a member of both bands
Best Binge – I LOVE Murano Island in Venice for blowing out on amazing Murano glass jewellery and knick-knacks. I overloaded on earrings, cufflinks, necklaces, even Murano glass bottle stops!

Where have you left your heart?
Definitely Venice. Without a doubt the place that has blown my mind the most so far on my travels. I want to go back in the winter and see it in the mist……
We can't thank her enough for taking the time to reveal her secret travel Bits to us all!
Bio: Lizzie enjoys an international career as a violinist (and vocalist) that weaves between classical, jazz, rock and world music. More recently Lizzie has been carving out her own curated versions of classical fusion with her invention and creation of Classical Kicks (which has a residency at the famous Ronnie Scotts Jazz Club in London). The Classical Kicks band has recently toured further afield to Italy and Lithuania and has an ongoing collaboration with Bestival founder and DJ Rob Da Bank. As a solo artist, chamber musician and orchestral leader, Lizzie has performed internationally including the Wigmore Hall, Berlin Philharmonie, to the Teatro Colon Buenos Aires and Beacon Theatre NY, Madison Square Gardens NY (for Eric Clapton's legendary Crossroads Guitar Festival), as well as major Arts festivals in the UK, Europe, US and Latin America, including the BBC Proms, Latitude and Wilderness Festivals, and Morelia Arts Mexico. She has collaborated with artists from across the musical spectrum including violin legend Nigel Kennedy (as leader of his Orchestra of Life for 5 years), rock guitarist legend Jeff Beck (as a featured member of his band), she has toured the USA as a featured member of both Jeff Beck and Brian Wilson (Beach Boys) band as both violinist and vocalist. In her classical work she has performed with many notable classical chamber musicians. She has been critically acclaimed in the international press and has released numerous recordings in collaboration with other artists as well as her own solo albums.