On an island resort like Capri,  you spend most of your time in the hotel doing three things: sleeping, eating and lounging. Other activities, such as shopping and sightseeing, fall by the wayside as you grow lazier and lazier. If you are lucky enough to find the right resort, then sleeping, eating and lounging become otherworldly.
The Capri Palace Hotel went way beyond the criteria set. I even believe it set the bar a bit higher. I'm not the only one who is aware of its special-ness, having just won the Prix Villegiature award for the best "Most Charming Hotel in Europe."
I had a hint that the Capri Palace was going to meet all expectations. There was almost no way it couldn't. It had all the right ingredients: Italy, Italy and more Italy.
Mario & Rita Cacace founded what was to become the Capri Palace Hotel in the late 1950's. Nestled into the hills above Anacapri, the second smaller city on the island of Capri, it quickly became a haven for those in the know.
Their son Tonino took over when his father died and strove to make it into what he conceived as a "museum with art." Modern and contemporary works are ever present, decorating the entire hotel from the entrance to the bar to the suites. A few are named and decorated in the spirit of the great artists of the 20th century, including Mondrian, Magritte, and Warhol.
Sleeping
Upon checking into any room, the first thing we do as humans is to go toward the light. Literally dropping all bags and heading straight to the window to check out the view…
… what a view this was: the Mediterranean to my left, right and center with a hint of Ischia directly ahead in the distance.
I was given, as my home-away from home, one of the Capritouch Suites. Dressed head to toe in Loro Piana, the Italian design house known for its cool simplicity, the room melted into loads of blue and white to mirror the glorious Med outside.
The bathroom was big enough to house a whole other bedroom with its wall-to-wall tub, shower I could have moved into, and a lounge chair that was so comfy I never wanted to get out of it.
Let's not forget the incredible view! The terrace, set up with down-pillowed chairs and loungers, panned the entire front of the hotel.
I had also been left a gift of Capri-made treats – Limoncello and the traditional Caprese cake filled with chocolate and almonds. Would I have time to eat it all by myself? I certainly would try!
We took a tour of the other rooms in the hotel and they didn't disappoint. The Warhol Suite had a massive private pool with Warhol's famous Mao portraits looking up from above. Tubs the size of cars, outdoor terraces that covered most of Anacapri and views to die for.
Eating
My next view though was even more delicious than the first…looking down at my lunch of a perfect Neapolitan pizza at the hotel's Bistrot Ragù. Well, if you can't have a great pizza in Campania, the birthplace of the ubiquitous combo of cheese, bread and tomato sauce, then there is no hope! Delicious it was and it just started the wave of fantastic meals ahead.
A quick Aperol Spritz at the bar started off our first evening with aplomb. We were then escorted into dinner at L'Olivo, the hotel's two Michelin star restaurant.
Needless to say, there is no shortage of food. After having eaten my way through the bread course (grissini made with crema di latte di buffolo, homemade baguettes served with your choice of burro salata, anchovies, pomodoro, baccala, and Friarielli (a local bitter green), the pasta arrived. Spaghetti with Tartufi di Mare, clams local to the region, harkened back to my first trip to Capri 25 years ago when I ate this dish at every dinner!
Then came the drama!
This volcanic dish let off whisky foamy steam and was not only theatrical, but was tasted absolutely delicious.
No one could manage dessert, but Chef Andrea Migliaccio personally wheeled over the Infusion Cart from which we all selected our own individual digestive. All the herbs were fresh and he plucked the sage right from the bush for my Ginger & Sage Infusion. When we thought we our tummies were filled to capacity, the candy trolley was rolled up and planted in front of our table.  All cookies and candies were made in the kitchen and they even provided take-away bags for us to pick what we wanted to eat in secret! A Michelin starred Pick 'N Mix!
After a great night's sleep, I have to admit I was hard pressed to even put anything in my mouth. I couldn't resist having some fresh grapefruit juice after seeing these lovely hand-blown glass jugs made specifically for the hotel by Vittorio Moretti.
I am not usually breakfast person, but this breakfast was one of the most beautiful I have seen and even I had a hard time resisting. The de rigueur scrambled eggs and bacon were accompanied by homemade everything – cakes, bread, doughnuts. I refrained the first morning, but the second I was well-in!
Undoubtedly one of my best meals in Italy ever, Il Riccio hit a grand-slam home-run – like the Mets last night! Thank goodness I had saved my hunger for this meal.
The setting was divine, although the weather was tempestuous, it just didn't matter because we were here to eat. Sitting on the terraced cliff's edge, you felt as if you were as close to the water as you can be without getting wet.
Il Riccio (sea urchin in Italian) is the Capri Palace Hotel's beach club and one of the prettiest restaurants I have seen. The Sea Urchin pops up on every piece of pottery. Chairs, tables, the bar are doused in Majorelle Blue.
The food was as good-looking as the setting and…and this was just the starter: Seafood Salad, Fried Calamari and Prawns,
 Scabbard Fish With Eggplants and Cherry Tomatoes, Tuna Fish Tartare, Grilled Octopus with French Beans and Potatoes – just to name a few.
The main course was a Salt-Encrusted Turbot and a work of art itself. It deserved a place in the hotel's art collection, if you ask me!
Although a Sicilian specialty, no one can pass up a cannoli that looked just so good. We rolled out of there after two hours of eating to explore the Island of Capri and make some space for the dinner ahead.
Lounging
After a quick walk around town (more on that when I get to my Top Ten Best Bits of the island), we headed back to enjoy the spa. At its helm is the very esteemed Dr. Francesco Canonaco, founder of the world famous Capri Beauty Farm and its Leg School.
People come from far and wide to participate in what the Leg School has to offer: draining and revitalizing your gams.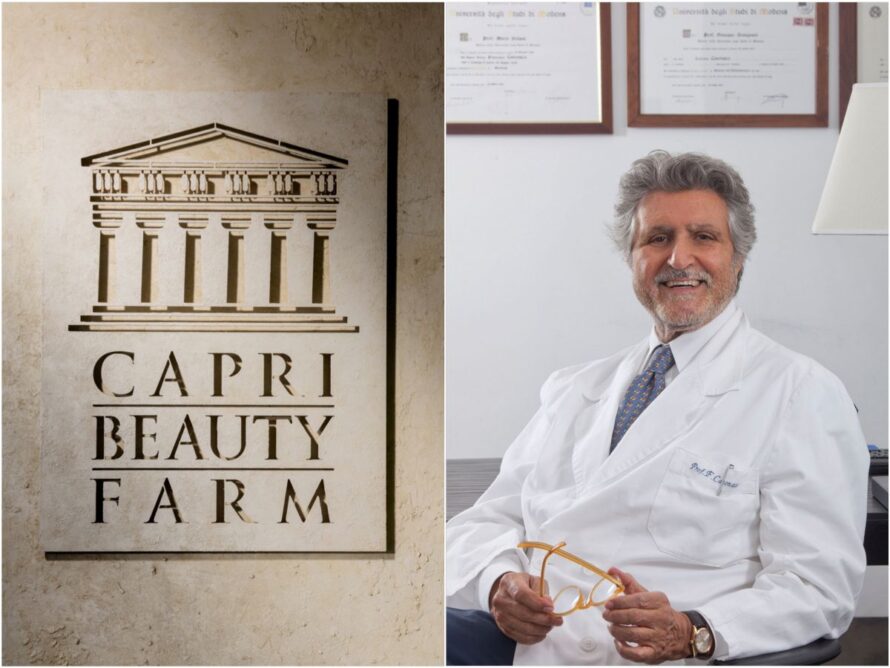 I was granted an audience with the doctor who agreed that I was to have no leg treatments, due to prior health issues, but a facial was in my cards and fabulous it was.
Having started my journey that morning from London at 2:30 am, I am sure I nodded off a few times but more importantly I emerged looking twenty years longer – better on my face than on my legs!
One extra bit that was the true test of a hotel – I was not feeling well my last morning and, although I had already checked out, they found me an empty room for me to lie down in before I could turn around. The service was spectacular and it made the difference between a good hotel and a great.
So after a short two nights, it was Arrivederci Capri.  Hopefully it won't be another 25 years until I return.
Rosalind Milani and I enjoying the beauty of the Island of Capri!
PS: I ate a quarter of the cake and gave my bottle of Limoncello to one of the other visitors who promised to take it home to Paris and keep it for me until I get there again!
Capri Palace Hotel, Via Capodimonte, 14, 80071 Anacapri, Island of Capri, Italy +39 081 978 0111
NB: I was the guest of  the Capri Palace Hotel & I can't thank them enough for inviting me to explore their lovely hotel and the Island of Capri after so many years. Everything I write is always my own opinion!
The pictures of Dr. Canonaco & the Capri Beauty Farm were provided by RMG & Co.