"Mykonos Greece" – two words synonymous with "party island" – deserves its reputation. It's truly the New York City of the Med – the island that never sleeps, open all night, and always ready for a good time. Still, those seeking refuge from all, can find peace on this tiny dot in the middle of the Cyclades.
 It's all things to all people and that's why they keep returning. I could do without the wind & coldish water, but something about this one, out of all the islands, keeps calling me back. Here are a few of the reasons why:
Bed…In town: Mykonos Theoxenia, hidden from view but right in town, no waiting for taxis, a glorious pool, it's the only one for me; Beachfront: The Santa Marina, right on Ornos Bay, sister hotel to the Hotel Grande Bretagne in Athens and we know how I feel about that (read here)!
Bite…Liasti – the best restaurant on Mykonos hands-down on little Lia Beach, Chef George Venieris, one of the founders of New Greek Cuisine, set up here and we are luckier for it. Don't worry – you'll get all your favorites – just so much better! Venture out to this quiet beach and this is how you will be rewarded: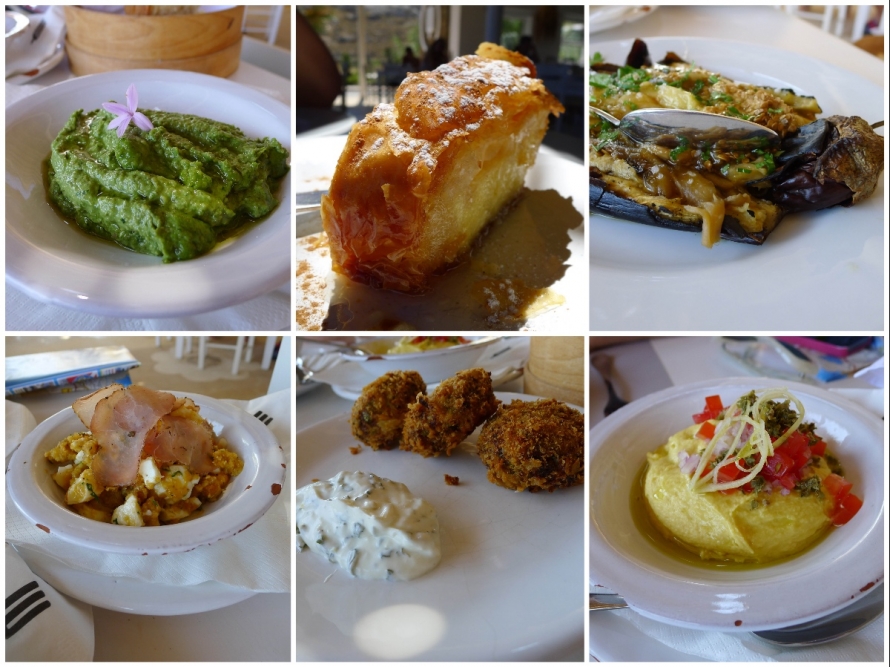 In town: To Maereio is worth the long wait – sit at the tiny bar with an Ouzo and sooner or later your name will be called, I promise!; Koursaros makes a great Spaghetti Lobster, the Cypriots's dish of choice; Souvlaki – the national dish – Pepper Souvlaki does the nation proud.
Brew…Needless to say, there is no place that doesn't serve a great mojito – you just have to decide where you want to sit to enjoy the view. I am mad about the beach bars. Five o'clock arrives and everyone is ready to party –  head to Bar Alemagou on Ftelia Beach & Kalua on Paraga Beach.
Binge…Louis Vuitton, Tommy Hilfiger, Ilias Lalalounis have all settled in Mykonos, luxury stores abound. Very few places in Mykonos carry traditional Greek products, but I found a few.
Tak..is – for lovely hand-woven scarves; Salachas – Joseph & Nicolas Salachas have been dressing Mykonos since 1935 – pop in – they have adorable things especially for kids;
Bathe…There is a beach for everyone, so sample them all – a quick guide: want to be alone – Lia Beach & Panormos; want to be with others & music pounding from 3pm: Paraga; want to be with others, music pounding & a view of yachts: Psarrou
Breathe…if you can't breathe on a Greek Island then something is all wrong.
Bolt…Easyjet & British Airways fly directly from London! Get on and three hours later – Greek salad for lunch. Make sure to have your hotel pick you up as the taxis are few and far between!
Best Bits: Travel Cheat Sheet for Mykonos, Greece